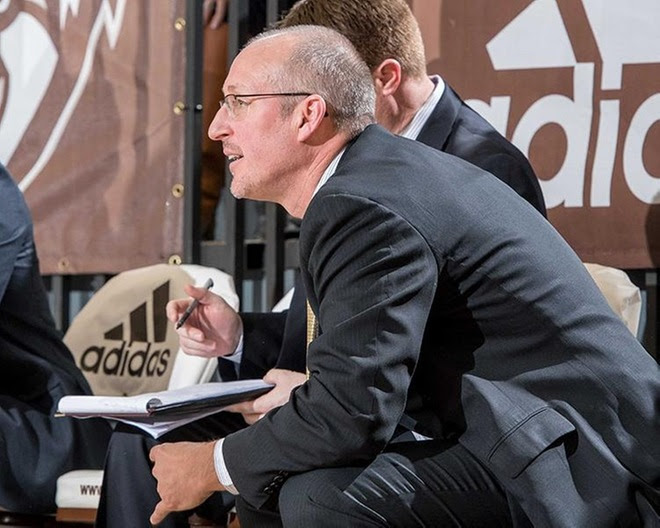 Courtesy of GoBonnies.com
Steve Curran has been promoted to associate head coach of the St. Bonaventure men's basketball program, Bonnies head coach Mark Schmidt announced Tuesday.
Curran has been an assistant coach at St. Bonaventure since 2010. Over his eight seasons, the Bonnies have posted four 20-win seasons with two NCAA Tournament berths (2018, 2012) and one NIT appearance (2016). Over the past seven years, the Bonnies have the third-most Atlantic 10 wins, 72, in conference regular season games.
"Steve has been with me for eight seasons at St. Bonaventure and I've known him for over 20 years, and he's been an integral part of our success," said Schmidt. "He has developed relationships all over the world that have resulted in many high-caliber players choosing St. Bonaventure. He's earned this opportunity and I am excited for him and his family."
In the 2011-12 season, Curran helped the Bonnies to 20 wins, the program's first A-10 championship and a berth in the NCAA Tournament. In 2015-16, the Bonnies finished 22-9 and went 14-4 in the A-10, a program record for conference wins.
This past season, Curran helped St. Bonaventure to a 26-8 record, an at-large berth in the NCAA Tournament and a second place finish in the Atlantic 10 in 2017-18. The Bonnies' 26 wins set the school record and their win over UCLA in the First Four was the program's first NCAA victory since 1970. In addition, the season included a 13-game win streak, which was the longest for the program since 1970.
While he is involved with all facets of the program, Curran is well-known for recruiting top Bonnies players including Youssou Ndoye, Jaylen Adams, Matt Mobley, Idris Taqqee, Courtney Stockard, LaDarien Griffin and Amadi Ikpeze as well as this year's new group of Dominick Welch, Kyle Lofton, Osun Osunniyi, Alpha Okoli, Bobby Planutis and Melki Moreaux.
Prior to coming to St. Bonaventure, Curran served as an assistant coach at Central Connecticut State for five seasons. Curran had previously worked as an assistant under Schmidt at Robert Morris from 2001-04.