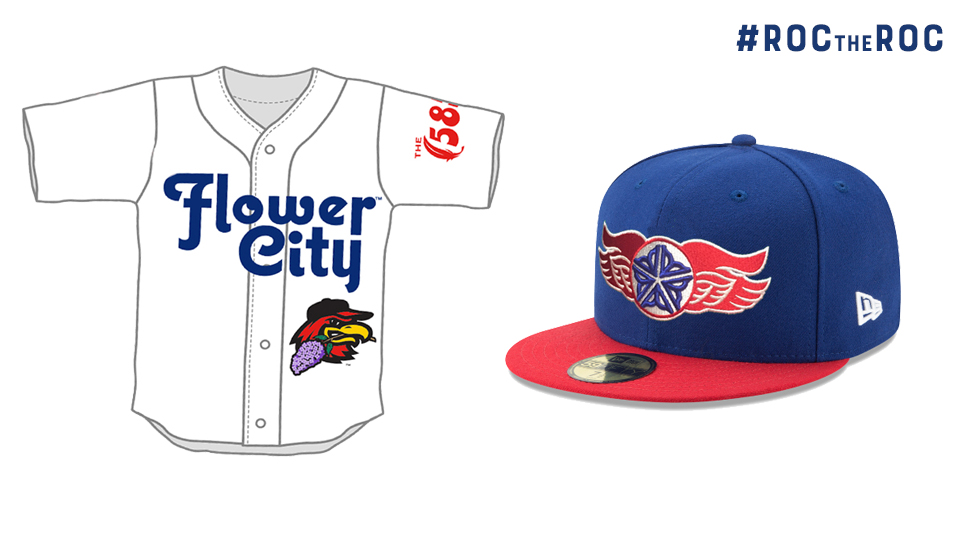 Courtesy of RedWingsBaseball.com
ROCHESTER, NY – Celebrate all things Rochester with the Red Wings on Wednesday, August 8 at ROC the ROC Night presented by the City of Rochester, ESL Federal Credit Union, Castle, C.P. Ward, Airport Transmission, The Exchange, and Brickwood Grill.
"We are very excited to partner with our beloved Rochester Red Wings for ROC the ROC Night," Rochester Mayor Lovely Warren said. "Flower City culture will be on full display at Frontier Field as our very own Boys of Summer don new uniforms and give fans a fun new way to celebrate all things Rochester while enjoying some baseball. I want to commend everyone on the Rochester Community Baseball team for continuing to think outside the 'batter's box' as they develop fresh experiences for Rochester's residents and visitors which bolster our efforts to create more jobs, safer and more vibrant neighborhoods and better educational opportunities for our city."
Rochester will be wearing caps and special jerseys on this night. The caps are blue with a red bill featuring a combination of the City of Rochester Flower logo and the iconic Red Wings logo made famous by the teams in the 1960s and 1970s. The jerseys feature Flower City across the chest with Spikes holding a lilac in his beak in the lower left front of the jersey. There is also a variation of the 585 area code logo on the sleeve with red feathers as the parentheses.
The first 2,000 fans will receive a Mt. ROC-more mini statue which will feature four legendary Rochesterians wearing a different style Wings cap: Susan B. Anthony, Frederick Douglass, George Eastman and Morrie Silver, courtesy of ESL Federal Credit Union.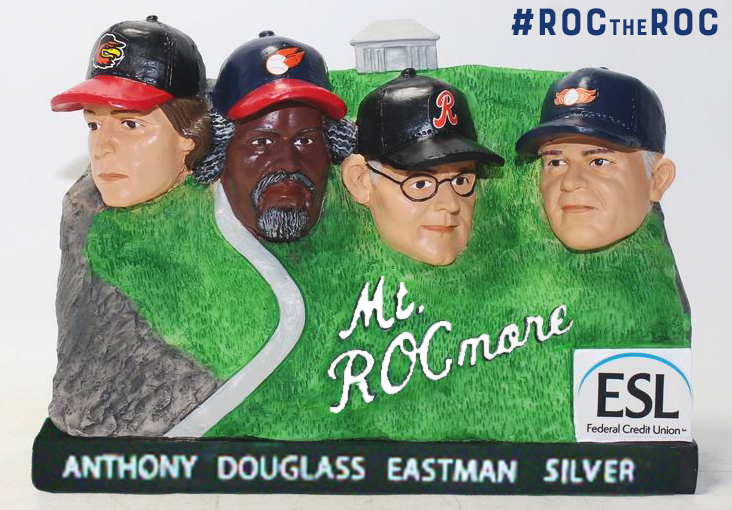 All Zweigle's hot dogs will be $1 and one stand will be dedicated to serving white hot dogs. Chicken French and a new dish, a white hot dog French, will be available at a pop-up stand near the main gate. Country Sweet boneless wings will also be available at Batter Up. There will be a pregame happy hour in the 10th Inning Bar featuring live music and Genesee Beer specials. Abbott's Frozen Custard will also have a truck in the Walk of Fame area. In-game music will be exclusively from Rochester-area artists and bands. All in-game promotions will also have a Rochester theme. 
The first 585 tickets sold beginning at 1 p.m. today will be $5.85. The next 716 tickets sold will be $7.16. Tickets can be purchased in person at the Red Wings Ticket Office or online HERE.
Merchandise will be available for the first time tonight at the Red Wings Team Store when the gates open at 5:30 p.m. and online at RedWingsBaseball.com tomorrow morning at 10 a.m.