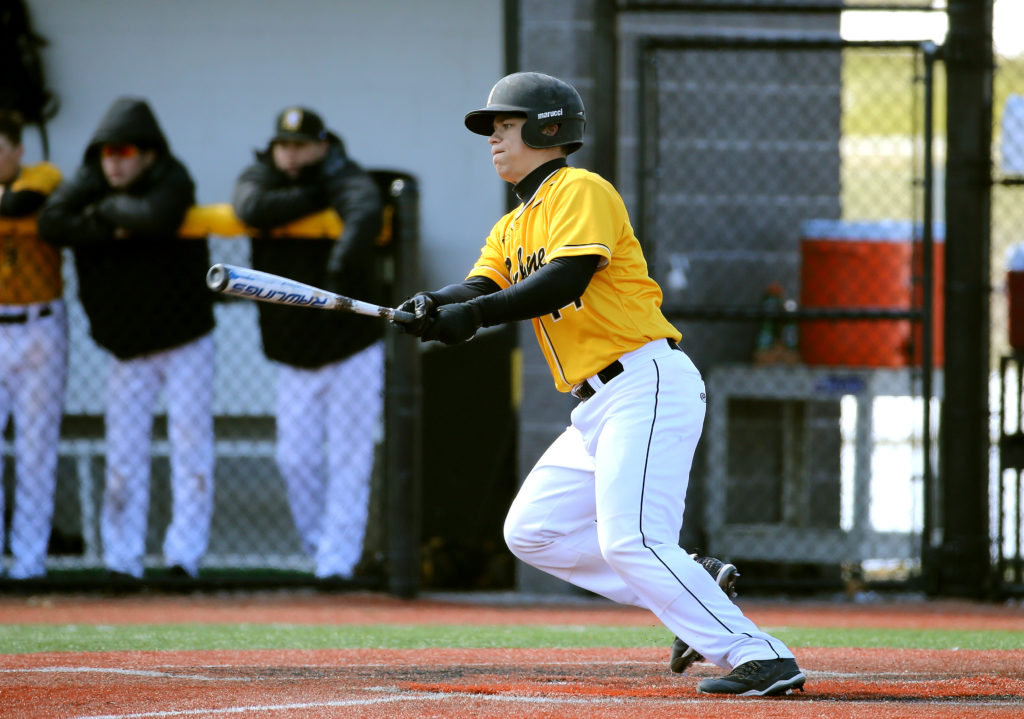 Continuing with a series of articles chronicling the Monroe Community College baseball team's journey to the NJCAA D2 World Series later this week in Enid, Oklahoma. 
BY PAUL GOTHAM
ENID, OK — It was the third inning of Sunday's East District Championship game. Westchester Community College's Sean Vanegas reached on an error to lead the frame. The freshman outfielder with 22 stolen bases on the season in as many attempts took his lead. The Vikings trailed Monroe Community College 2-1, and Vanegas presented a viable opportunity for Westchester to knot the game.
Vanegas never got the chance to score. Prior to a steal attempt, Tribune starter Matt Petrossi threw to first and forced the baserunner to retreat.  On the next pitch, Vanegas took off for second. It wasn't even close.
In the scorebook, it was marked simply CS (caught stealing), 2-6 (catcher to shortstop). Its influence over the game, though, was immeasurable.
Westchester CC, which stole 93 bases in 39 previous games, had three more opportunities to advance 90 feet. They thought better of it and remained tied to the bag at first.
The play represented months of work between pitching staff, MCC catcher Andrew Czubaj and Tribune assistant Cory Brownsten to incorporate an intricate combination of pick-overs (throws from the pitcher to first with a runner on the base) intended to disrupt an opponent's rhythm. It also showed the evolution of a young player.
"The pick attempt is very important for getting the runner's feet stopped," Brownsten explained. "The pitcher goes into his motion and the baserunner doesn't have his full lead where his feet are not out to where he's supposed to be. He's got no shot just like in the Westchester game. We picked and then we went right into it. He just took off without getting set. He had no chance."


Czubaj, responsible for the throw, is at the center of all motion. The sophomore backstop also plays a role coordinating the use of picks.
"The pitchers are starting to learn, so they do it on their own," Brownsten continued. "But he's learned when to call it, and you can see how that helps."
How much help? Opponents have stolen just 42 bases on the season while being thrown out 19 times (by comparison MCC has 139 thefts). How many more attempts might opposing runners have taken were it not for those numbers? One won't know, but the Tribunes, and specifically Czubaj, have controlled the running of opponents.
Getting to this point, though, has taken a series of adjustments for Czubaj with the goal of reaching 3.2 as in the amount of seconds it takes for a pitcher to start his motion and Czubaj to deliver a strike to the second base bag.
"It all had to with him calling a lot of picks and learning how to call the game with those picks just to start," said Brownsten who starred on the 2008 Monroe World Series team. The assistant coach earned a Gold Glove for his work behind the plate for MCC before going on to the University of Pittsburgh where he was an All Big East performer and eventually a 15th-round draft pick of the Atlanta Braves. "He's trusting us, and he's seeing how it works. It's working more and more."
Part of the work has involved Czubaj making changes to where he receives the ball and the release point on his throw.
"The question I always ask him is 'what's quicker you or the ball?'" Brownsten said explaining how by letting the ball get to him Czubaj could better get into his throwing motion. "When he caught the ball out in front of him, his arm lagged behind his body in the throwing motion. When he lets it get deeper he gets on top of the ball and he got it on a line.
"It's helped him in his transfer and with pulling down on his throw."
"Instead of sinking into second base, it takes off into second base," Czubaj said of his throws. "It took me trusting my arm strength and not rushing my throw to second base. Obviously, I want to be as quick as possible, but it took trusting my arm strength to let the arm do the work."
Czubaj's improvement behind the plate has coincided with his impact on the Tribune offense. Last season he scored nine runs and drove in another nine. In the district championship, he produced half the Tribunes scoring four times and plating another six.
"We always thought he had a ton of bat speed," Tribune head coach Dave Brust said. "He's a super strong kid. We needed to just get him more at bats, get him more comfortable and tweak his bat just a little bit."
Brust took Czubaj a .211 hitter a year ago and inserted him into the cleanup spot on Sunday, April 22nd. The sophomore responded going 3-for-5 with two RBI and two runs scored. It was the first of 18 straight wins for MCC.
Over that stretch, Czubaj has driven in 23 runs including his MVP performance in the district championship when he drove in six over three games.
"Ultimately, he got more at bats and matured into a good RBI guy," Brust said. "He lowered his hands and he gets the bat through the zone flatter, so he's hitting center of the baseball. His feet were very fast and he moved around way too much. We needed to calm his feet down so his hands could work."
For Czubaj it's been two years of work coming together at the right time.
"I've learned to trust my hand-to-eye coordination," Czubaj said. "I've been able to simplify things and just see the ball, hit the ball and not worry about the mechanics."
This weekend, Czubaj and his teammates will get a chance to continue their 18-game winning streak NJCAA D2 World Series.
Monroe (30-18) opens on Saturday against Brunswick (29-22) of Region 10. A 5 PM EST first pitch is scheduled David Allen Memorial Park.