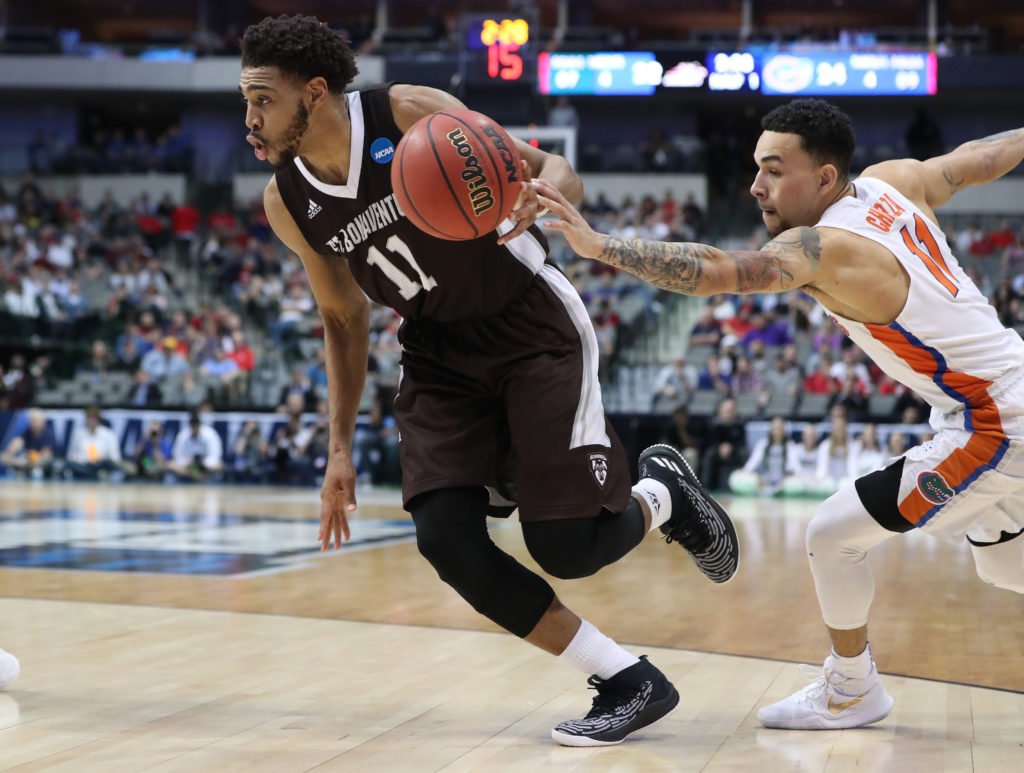 By CHUCKIE MAGGIO
The yellow shirt will still make St. Bonaventure basketball fans chuckle, one of those "we can laugh about it now" moments.
The 2012-13 Wolfpack student section tee was innocent enough, albeit a dud compared to many of its successors. The front featured wolf eyes and brown scratch marks, a more intimidating version of the school mascot. The color hadn't been used in a decade, so the athletic department decided it was time to switch things up.
The back of the shirt was the eventual punchline, specifically the year's slogan: "No Sleep 'Til Brooklyn."
With the Atlantic 10 Men's Basketball Tournament moving to the Barclays Center that March, the Beastie Boys song became an easy rallying cry as the defending champion Bonnies hoped to be playing on Selection Sunday once again.
There ended up being just one issue: Bona didn't make it to NYC. On the final day of the the final regular season before the A-10 included every team in its conference tournament, SBU lost a win-and-you're-in game to Fordham, which entered with two league wins and a 36-game conference road losing streak. George Washington and Charlotte each won, keeping the stunned Bonnies out of the 12-team tourney.
That year was unlike any in A-10 history. The 16-team monolith featured 11 teams with 17 or more wins. Five programs won at least one NCAA Tournament game, including a Butler squad coached by current Celtics coach Brad Stevens that spent two weeks in January ranked ninth in the country.
The public consensus entering the post-Andrew Nicholson era was that the Bonnies had talent but were in for a rebuild after the graduation of their first round pick. A six-game losing streak from Christmas time to mid-January was confirmation, while the two-game skid to end the season was the nail in the coffin.
Since that March day, Bona has designed five new Wolfpack shirts and racked up 104 wins, an effective way to help fans forget the program's only losing season this decade. The 2018-19 season will be another post-Big Dance campaign, but it has been met with little apprehension from the Bona Faithful.
The apprehension lived and died in about a week, commencing when Bonnies coach Mark Schmidt interviewed for the Pittsburgh head coaching vacancy and concluding when he decided to return to Bonaventure. Schmidt often remarked that Jaylen Adams, his A-10 Co-Player of the Year, gave teammates courage. Year after year, Schmidt does the same for the fan base; as long as he's the head coach, Bonnies fans have confidence in every aspect of the program.
The incoming freshman class started and finished at Putnam Science Academy, an all-boys school in Connecticut with 179 students and a perennially successful basketball program.
On March 8, the night before the Bonnies were set to play Richmond in the A-10 Tournament quarterfinal, Putnam guard Kyle Lofton posted a Twitter video announcing he was attending SBU while being mobbed by his teammates. Lofton was already on campus 74 days later when one of those teammates, center Osun Osunniyi, announced at the team banquet that he had chosen Bonaventure over offers from Syracuse and Georgetown.
In that two-and-a-half-month span, Schmidt and staff constructed one of the most promising recruiting classes in school history. Including Lofton, the class features three three-star recruits according to Rivals.com; Buffalo native Dominick Welch, Western New York's all-time leading high school scorer, and California kid Alpha Okoli, who played for athletic powerhouse St. John Bosco High, were also rated three stars.
Schmidt also nabbed 6-foot-6 forward Melkisedek Moreaux, who was rated the 79th best junior college player in the nation by JucoJunction.com, and Mount St. Mary's transfer Bobby Planutis, who will be eligible to play in the 2019-20 season.
Osunniyi, who grew nine inches in high school and is described as a prototypical late bloomer, was only a two-star recruit when he committed to La Salle in 2017 but became a sought-after signing when Explorers coach John Giannini was fired on March 23.
Over 2,000 people viewed the Periscope video that featured Osunniyi putting on a black long-sleeve St. Bonaventure basketball shirt and sending fans into a social media frenzy. Bona fans exalted in not only landing another center, but beating out the hated Orange to get him.  
Star ratings from scouting services don't mean anything in November; the Bonnies know that as well as anyone after making March memories with two-star commits like Nicholson and Adams. With Schmidt's acumen for player development, however, it's worth wondering what a collection of three-stars can achieve in their four years on campus. Jalen Poyser, a four-star Canadian guard, will make his debut as well after sitting out last season due to a transfer from UNLV.
The freshmen-to-be have even overshadowed the formidable returnees this offseason.
Courtney Stockard played as well as anyone in the conference from late February on, making him a near-lock for preseason all-league first team. SBU doesn't go on their 13-game, dance-clinching win streak without LaDarien Griffin's timely playmaking on each end of the floor. If Amadi Ikpeze was able to transform his body last offseason and become a starting-level forward for a team with little margin for error down the stretch, one can only imagine how much he will improve this summer. Rising senior Nelson Kaputo will have a legitimate chance at the starting point guard job, while fans clamoring for Tshiefu Ngalakulondi to see playing time could get their chance in year two. Josh Ayeni, still out of basketball activities with a knee injury according to sources, is the only player sidelined from workouts right now.  
Sports fans loathe rebuilding years, entering the season with little expectation of being successful enough for postseason play. The sheer excitement Bonaventure fans are already exhibiting for the 2018-19 season, even with last year's backcourt of Adams and Matt Mobley in the thick of preparation for professional basketball, is evidence of the expectation that a repeat of 2012-13 is not in the cards.
St. Bonaventure has never made back-to-back NCAA Tournaments. By reloading the roster with young scorers and length, adding both talented guards and a potentially great big man, Schmidt and company are sending a message: It's time to make more history.