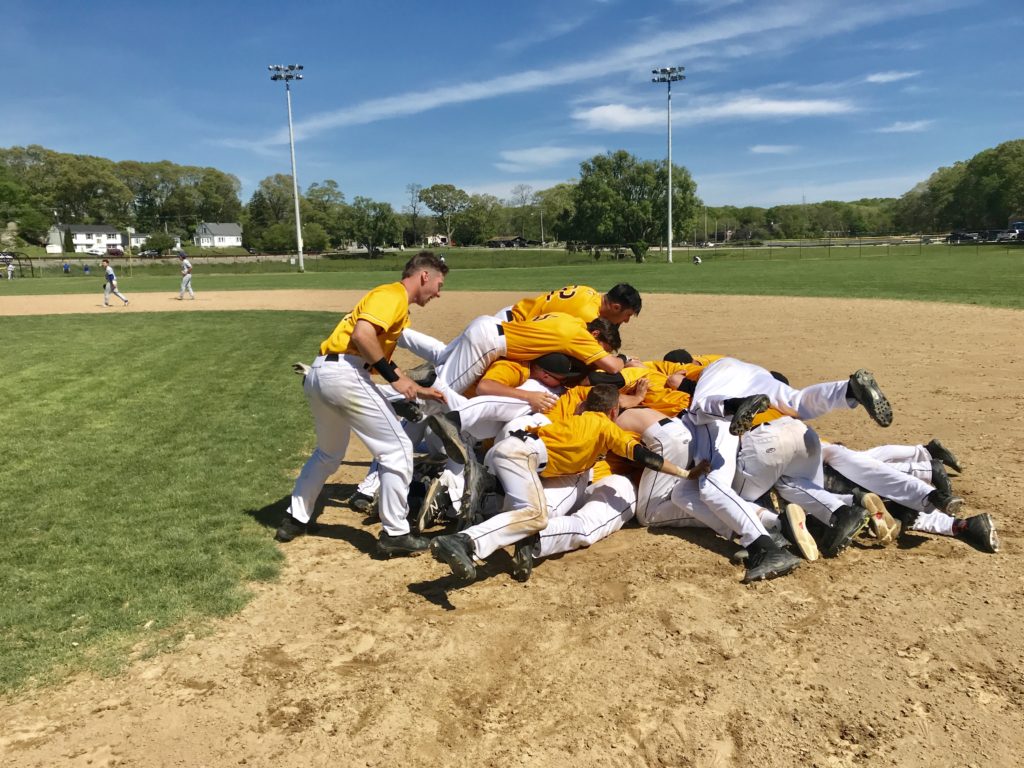 By PAUL GOTHAM
GROTON, CT. – Sam Loew was due. Andrew Czubaj knew it was a matter of time. Cas Sobaszek wanted to get something started. The combination carried the Monroe Community College Tribunes to the East District Championship and a spot in the 2018 NJCAA DII World Series.
Loew's one-out single to left center capped a dramatic extra-inning rally to send Monroe to its ninth NJCAA World Series appearance in program history. The freshman third baseman who had just one hit in eight at bats during two wins the previous day, plated Czubaj from second for the walk-off win.
"I figured the odds were in my favor," the Binghamton, New York native said with a smile. "I haven't been hitting the ball well at all in this tournament, so I was like all right, don't try to do too much. We don't need a home run. We just need a base hit.
"I planned to stay inside the ball and hit it to right, but it was a little in. I just hit it to left instead."
We won – World Series here we come! FIO all the way! 18 in a row! pic.twitter.com/zEuep3QOrM

— Shelly Marketell (@marketell) May 21, 2018
Czubaj scored from second on the play as MCC erased a one-run deficit in the bottom of the 10thto defeat UConn-Avery Point (UCAP), 4-3.
"They're a heart and soul group of guys," Monroe coach Dave Brust said of his squad. "They were not going to roll over. It was going to have be earned because Avery Point is not going to give you anything. Just the fact that we strung hits together. It was the right guys in the right situation.'
No hit for 5 2/3 innings, the Tribunes strung together four straight hits in the decisive inning.
"I knew we were going to piece together hits when we needed," Czubaj said. "I just always had that feeling deep down that we were going to get those hits."
Trailing 3-2, Sobaszek ignited the rally with a one-out single to center. The freshman shortstop stole second and moved to third on an errant throw to set up Czubaj for the tying run.
"I was just looking for something over the middle of the zone," Sobaszek explained. "I watched a fastball and a slider over the middle and just froze me up. Then I saw that slider again and put a good piece on it and it fell in front of the centerfielder."
Czubaj, who went 6-for-9 with five RBI in Saturday's two wins, knotted the game with a single inside the third-base bag.
"As soon as Cas was on third, I knew the infield was coming in," the tournament MVP said. "I knew I had to punch it somewhere. Just keep it off the ground. That's all my thought was. I got a hanging curve ball up, and I just hit it hard."
Phil Ferranti followed with a single to set up Loew for the game winner.
"I'm not surprised it was Cas starting it," Brust stated. "I'm not surprised it was fueled by "Czuby" and Ferranti. Sam Loew was the right guy at the right time."
WORLD SERIES BOUND #CHOOCHOO #18straight #rolltribs pic.twitter.com/uTzBMrW66N

— Andrew Czubaj (@Czubaj27) May 21, 2018
Hitting out of the three and four-hole, the combination of Czubaj and Sobaszek produced 10 runs and seven RBI for the three games of the championship.
"Cas has been a spark plug all year," Brust said. "He really serves a lot of roles in the three hole. He can start an inning. Him being on base it certainly opens up a lot of doors because he's such a good base stealer. He draws out more fastballs for Czubaj and Ferranti. He also has the ability to drive in runs. His athleticism in the three hole is incredibly valuable.
"Czubaj has really evolved into a quality RBI guy. You can't be fooled by his batting average. I'd like to see his batting average with runners in scoring position. That's the number that really matters."
Frankie Pizzo (Shenendehowa) started and allowed two runs in the third inning on two hits and two walks. From there he settled in and hurled three shutout innings to keep the game within reach.
"That was the right situation for Frankie," Brust noted. "You know emotionally he's in it. His ability to pitch in a pressure-packed baseball game was evident.  He was not fazed by the moment. He also made some adjustments with his own mechanics and found ways to get more sink on his fastball and got his breaking pitch dialed in.  He really turned into a pitcher. That's what got him through the number of innings he completed."
Trevor Sherwood came out of the bullpen and threw three shutout innings before surrendering a one-out single in the 10thto UCAP's Ryan Bagdasarian. Mike Chivotti reached on an error, and Jordan Bryant came on in relief.
UCAP took a 3-2 lead in the top of the 10th.
Bryant hurled 2/3 of an inning for the win.
Monroe climbed out of an early two-run hole.
Czubaj battled back from an 0-2 and led the Monroe fourth with a walk. He eventually scored Monroe's first run when TJ Lucey (Fairport) worked a full count and reached on an error to cut the UCAP lead in half.
Jonathan Catapano got the Tribs first hit of the day with his second home run in as many days – a solo shot to left center.
UCAP's Gary Costello started and threw the 5 2/3 of no-hit ball. Michael DeRosa and Mike Rocchetti had a single apiece in the Pointers' two-run second. Omar Montalvo started the inning with a walk.
With wins in 2007, '08, 09 and 2016, the championship was the ninth overall for Monroe and fifth in the last 11 years.  Brust has led the Tribs to two of those titles. UCAP has won five district championships over that same period. The last time these two teams met, UCAP edged MCC, 7-6 for the 2015 crown.
"I wish it would make the disappointment better for the guys who went through it in '15, commented Brust. "I have so much respect for Avery Point. They're well coached. They have excellent players. Any time you beat them it's a feather in your cap. It feels really good to be on the other end this time."
Mired in a slump a month ago, MCC fell to 12-18 at one point. With Monday's win, their 18th straight, the Black and Gold improved to 30-18 on the season. They advanced to the NJCAA DII World Series in Enid, Oklahoma May 26 – June 1.
"It feels great," Pizzo said. "We worked our butts off all winter. This is just the cherry on top of the cake for us.  We all came together as a team. We did it together. There's no other way we would have done it."