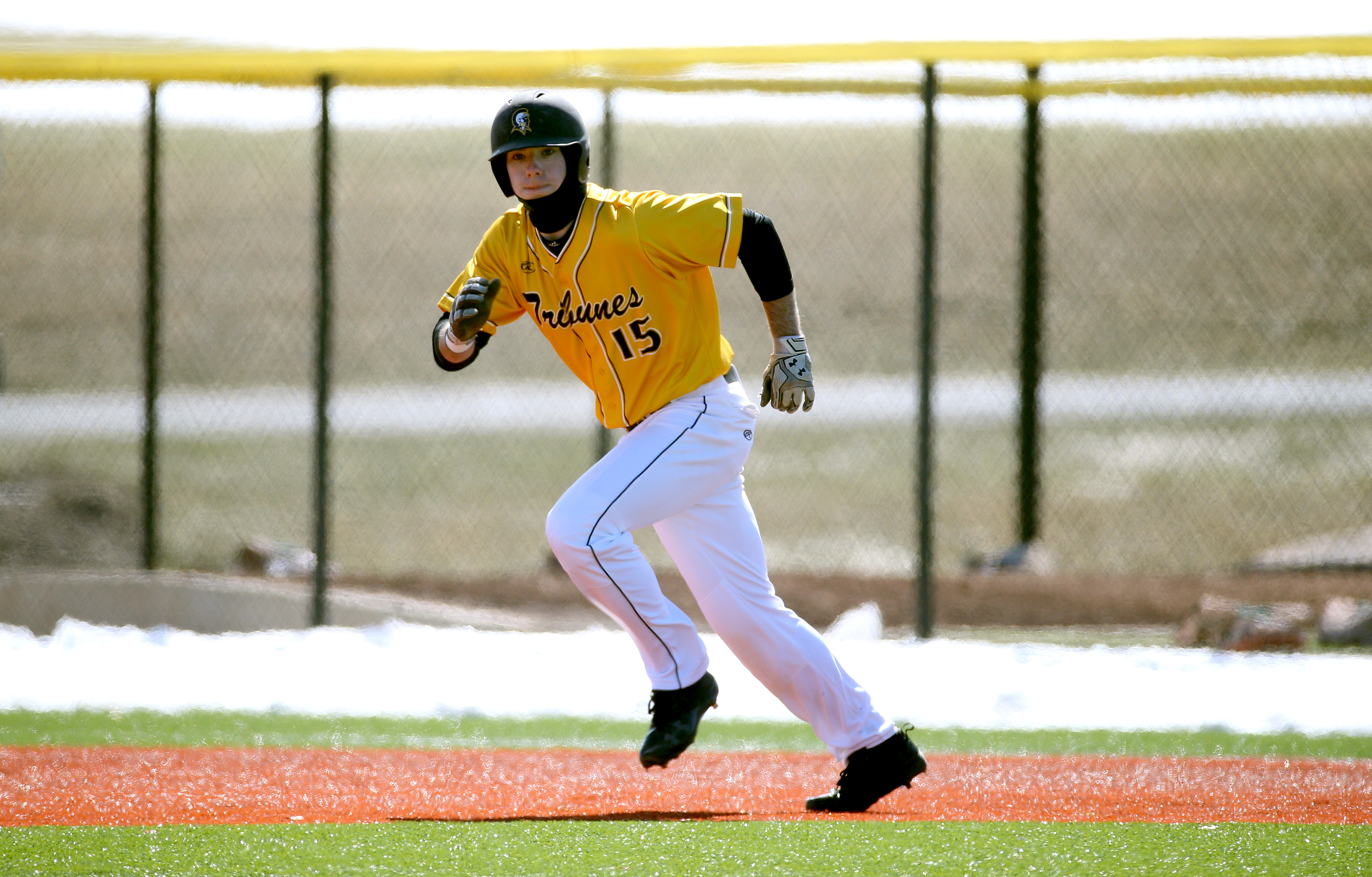 By PAUL GOTHAM
ROCHESTER, N.Y. — Scrawled in black Sharpie on the lineup card inside the Monroe Community College dugout read the note "No Takes!"
Brennen Smith (Webster Thomas) took his coach's message to heart.
He also made an adjustment at the plate.
The freshman outfielder needed just four at bats to complete a rare cycle in game one and finished the day with eight RBI to pace Monroe CC to a sweep of Genesee Community College (14-0/13-1) in NJCAA action Saturday at Tribune Field.
"It's just trying to attack the first three pitches," Smith said of coach Dave Brust's message. "That's what he told us, and that's what I did today, looked to swing at the first three pitches. Our whole lineup did it. We were aggressive early in the count."
Batting out of the two-hole, the 6-foot, 195-pound Smith connected on a two-run home run in the first inning. He cleared the bases in the second with a triple and singled home a run in the third.
"Just trying to see the ball well, see it deep and try and get my hands through it," Smith explained. "I've been having an issue with my hands swinging long. I shortened up and was able to put the ball in play."
The adjustment paid immediate dividends for Smith who had six hits in his previous 29 at-bats entering Saturday's NJCAA doubleheader.
"It was just making sure his hands weren't buried behind his body," Brust added. "Just trying to get him to rest his bat on his clavicle. Put his hands in a good place.
"He certainly is a terrific athlete. He's very strong. He has all the ability to be outstanding college hitter. Getting him to trust what I had to say or at least trust me enough to try it is a good step for him."
Monroe scored six in the second with Phil Ferranti (Webster Schroeder) and Sam Loew (Binghamton) driving in a run apiece.
The Tribunes put the game out of reach with five runs in the fourth. Ferranti, Loew and Jonathan Catapano (McQuaid Jesuit) started the stanza with back-to-back-to-back doubles.
Smith came up with two-on and one out needing a double of his own to complete what he started.
"It was in my mind," Smith said of needing the double for the cycle. "But at the end of the day I just wanted a pitch to hit. We had a guy on second base. I just wanted to get the run in. I wanted the double, but more importantly I just wanted to get the run on the board."
Tribune starter Tim Brown (Brighton) had more run support than he needed. The sophomore left-hander allowed just one hit in the five-inning game. He struck out three, walked one and hit one batter. He retired 12 of the first 13 he faced and won his fourth game of the season.
"Tim knows exactly what to do," Brust said. "He throws strikes. He challenges early in the count. If he pitches ahead, he can offer his change-up. His change-up's outstanding. When he's up by any amount of runs, he's in a good place. They're going to try to be aggressive, and that's where he really pitches at his best."
Game two starter Matt Petrossi (Fairport) allowed one run on three hits. The freshman right-hander struck out seven and walked one.
"He's pitching well," Brust stated. "He's pitching ahead in the count. He's hitting with his breaking ball. He throws a ton of strikes."
"Your guys get strike one a lot," Brust said echoing the words of guest coach Dave Childers who joined the club for the weekend. "That's how you pitch with a lead. They're not walking anybody, so the defense sits back and deals with what's hit at them. The field plays bigger for the defense. It fits the style for those guys."
Just a week ago, the Black and Gold were mired in a stretch where they had lost eight of nine. With the doubleheader sweep, MCC (19-18) has now taken seven straight.
"We saw it coming," Brust said. "We knew we had a group of kids, never doubted that for a second. We're just getting through our growing pains. Let's face it. A majority of our big-time contributors are freshmen. Now they're getting the feel for winning and how it's fun. The game is fun."
The Tribunes have scored in double figures in each of those last seven games.
"We're hunting fastballs. Guys are more aggressive at the plate. We knew they were good enough to be what they're doing. We're hacking. I'm telling guys 'you got a green light. Run and hit.'
"Now we're seeing what can happen. Let guys be athletes and go play."
Justin Bunting (Greece Athena) reached base all four times he came to the plate in game one with a pair of singles and two hit by pitch. Bunting walked twice and had another hit game two.
Ferranti, Loew and Andrew Czubaj (John F. Kennedy/Buffalo) all connected on round trippers in the nightcap. Czubaj drilled his fifth home run of the season -a two-run shot in the fifth. Ferranti's inside-the-park home run was his second of the season. Loew delivered a walk-off job with a 3-run shot to clinch the run-rule victory. It was Loew's first career tater – a no-doubt blast from the moment it left his bat.
Monroe led 7-1 after five inning before putting six more runs on the board to end the game in the sixth.
"It feels great," Smith said. "It's awesome. We got a great group of guys. The chemistry is unreal. I'd go to battle with them. It's a great group of guys."
Monroe and Genesee have a scheduled doubleheader for Sunday. A 1 PM first pitch is scheduled at Genesee Community College.
Notes: Dave Childers, this weekend's guest coach, was a a teammate with Brust at Ball State University where both played during the late 1980s. Earlier in the week, former Tribune Jimmy Latona joined the staff. Latona will spend the rest of the summer playing professionally in the United Shores Independent League.