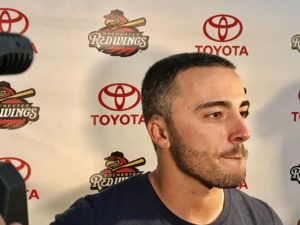 By PAUL GOTHAM
ROCHESTER, N.Y. — Seconds before he started his post-game interview,  Zack Granite ducked into the office of Rochester Red Wing manager Joel Skinner.
"You did everything right on the play," Skinner said to his centerfielder.
The second-year Wing wasn't have much for consolation and in front of the cameras he didn't side-step any questions.
"It was just a muff," Granite said of his ninth-inning, three-base error which led to the winning run. "It's just one of those things."
Syracuse Chiefs Alejandro De Aza lifted a one-out fly ball into right center. Granite chased it down going to his left and had the ball in stride when it bounced out of his glove.
De Aza, running doubles out of the box, cruised into third base. Chris Dominguez followed with an RBI sacrifice fly to give Syracuse (2-2) the final margin of victory at 2-1.
Granite had excuses at his disposal for use. With a 5:30 PM start, the play happened at twilight when visibility can get tricky trying to find a fly ball as the Frontier Field lights haven't yet taken full effect. There was the frigid air which has hung over Frontier Field for the past week causing a trio of false starts to Opening Day.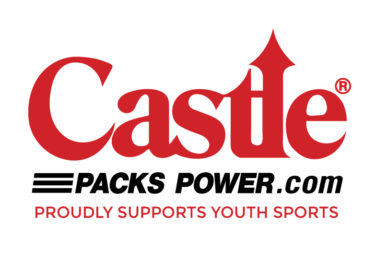 The Staten Island native could have fallen back on the fact that Red Wing reliever, Tyler Duffey, had retired all seven of the batters he faced on ground balls. On a night when the ball wasn't carrying, playing shallow would have given the centerfielder a better chance to take away a hit.
Add to that De Aza had one hit in three previous at bats and hadn't hit the ball hard in any of those trips to the plate.
"He did a good job of getting to the ball," Skinner noted. "He was playing pretty shallow. He did the hard part. That just happens. That's baseball."
It was obvious that Granite originally thought he caught the ball as he allowed his weight to continue carrying him into the right center alley as De Aza scampered around second.
"It hit my glove. I don't know. I'm not used to that. Tough play. We'll put it behind us and we'll get at it tomorrow.
"It won't happen again. Don't worry about that."
Duffey took the tough-luck loss. The right-hander retired nine of 10 he faced without surrendering a hit nor a walk.
"Nobody likes that result," Granite added. "Nobody likes costing the game, but we got 139 more. We're going to play as hard as we can play every single game."


Aaron Slegers started and went six innings. The 6-foot-10 right-hander, who went 15-4 as a Red Wing in 2017, allowed one run on five hits. He struck out one and walked one needing just 66 pitches (49 for strikes) to get to the seventh inning.
"It felt good throwing strikes," Slegers said. "That's kinda my game plan attacking hitters. I'm happy to fill up the strike zone today and get the team into the sixth."
He left the game tied at one and did not figure in the decision when Granite's error occurred.
"Sometimes wacky things like that happen," Slegers said of the error. "He's the best centerfielder I've ever played with in my career. We've played a lot of games together. He's played center field a lot."
Jake Cave scored Rochester's lone run in the third. The Wings right fielder got aboard with a one-out single and eventually scored on a wild pitch, but the Wings left 15 runners on base and finished 0-for-10 with runners in scoring position.
So smooth.

So pretty.

Gregorio Petit delivers the @ESLFCU Opening Day Play of the Game! pic.twitter.com/9e7bIOyrEF

— Rochester Red Wings (@RocRedWings) April 10, 2018
"Our guys did a good job of getting on base," Skinner said. "You want to try and take advantage of that. That's part of the recipe of scoring runs is getting on base. Tonight we just didn't come in with some big hits."
The game was the Wings fourth attempt to open the 2018 season. After weather caused postponements to all three games of the season-opening series Buffalo, the Wings were able to play Monday.
Weather has affected the start to the past three Wings seasons.
Syracuse centerfielder Victor Robles left the game in the second inning after landing awkwardly on a play in centerfield. MLB.com rates Robles as the No. 6 overall prospect. He is the only player within the top 100 to grade out 70 or above in 3 categories (75-grade speed and 70-grade arm and field).
VIDEO: Washington #Nationals top prospect, Victor Robles (ranked No. 6 in MLB), injures his left elbow/wrist after diving for a ball awkwardly in the second inning Monday night in Rochester @MLBPipeline @News_8 pic.twitter.com/uoSCBDK6ya

— Dan Fetes (@danfetes) April 9, 2018
Rochester and Syracuse continue their series Tuesday night with a 5:30 PM start at Frontier Field.