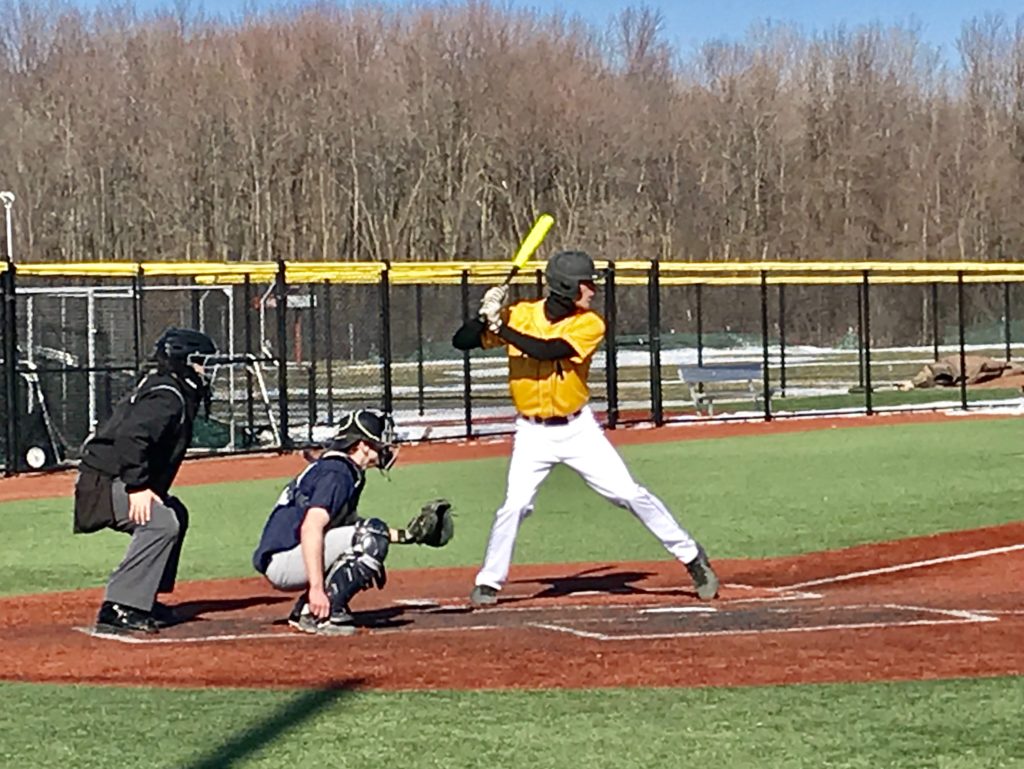 By PAUL GOTHAM
ROCHESTER, N.Y. — Late in the second game of Sunday's afternoon twin bill, Monroe Community College coach Dave Brust was bemoaning the fact that his Tribunes did not take full advantage of all their opportunities to produce runs in their home opener.
The emphasis was on full advantage.
MCC pounded out 31 hits on their way to a doubleheader sweep (15-2/10-2) of Ithaca College JV in non-league action on Tribune Field.
"They know they should have scored more runs," Brust said of his squad which collected 17 hits in the night cap.  "I don't need to tell them that. They knew we were going to say that, and they take responsibility for it. This group of guys does not need to be reminded often about the little things that are needed to win baseball games."
Matt Pilarczyk (Bishop Reding Catholic/Milton, ONT) paced a 14-hit attack in the opener, and Phil Ferranti (Webster Schroeder) drove in three and scored three with six hits on the day as the Tribunes improved to 9-6 on the season.
"These are games that we should win, and that we should win handily," Brust added. "Put your work in. Put your hard hat on and let's get out of here with two wins. They knew exactly what we were going to say. Which is perfect. They know exactly what we want them to do."
Five different hurlers tossed an inning apiece in the opener, and four pitchers combined on a 2-hitter in the game two.
"We have really good athletes," Brust noted. "Guys who really want to play hard. They want to win. They want to be successful. I don't have to hold something over their heads to try and get something out of them."
Frankie Pizzo (Shenendehowa) struck out two of the three batters he faced to start game one. Eric O'Brien (Douglas Freeman/Richmond, VA) tossed a scoreless second. Ryan Marketell (Webster Thomas) fanned two over an inning of work. Trevor Sherwood (Batavia) got out of a jam with an inning-ending double play in the fourth, and Maximo Fernandez (A. Philip Randolph/Bronx) set down one on strikes in a scoreless frame.
"We lost to them last year because we didn't show up," Brust said referring doubleheader split on the road last April. "We didn't play hard. We didn't grind. Guys like Frankie Pizzo and Stu Martin were in everybody's ears reminding them of that."
Ferranti brought home Cas Sobaszek (Rush-Henrietta) with a one-out double to ignite a four-run first, and MCC never looked back. Hudsen Hagland (Tilton School/Charlestown, NH), who went 2-3 with three runs scored in the game, followed with a double of his own. Andrew Czubaj (John F. Kennedy/Buffalo) capped the inning with an RBI single.
Anthony May (C.W. Baker/Baldwinsville) highlighted a six-run second with a two-run triple as Monroe sent 10 to the plate and put the game out of reach. Pilarczyk and Czubaj added an RBI as did Jonathan Catapano (McQuaid).
Sobaszek finished the day 3-6 with three runs scored and two stolen bases.
Czubaj had three RBI and two runs scored.
TJ Lucey (Fairport) had a hit, two walks and scored three runs in the game one.
Matt Wagner (Bishop Smith/Pembroke ON) was 2-4 with an RBI and a run scored in game two.
Justin Bunting (Greece Athena) had two hits in two at bats with a walk, two runs scored and an RBI.
Logan Martella-Tasick (Penfield) finished 2-4 with an RBI and a run scored.
Tim Brown (Brighton) struck out four over three innings of work in game two. Martin added a scoreless stanza. Mitch Hoffower (Rush-Henrietta) fanned three and faced the minimum over two scoreless. Evan Lang (Burlington Central/Burlington ON) hurled a scoreless seventh.
Brennen Smith (Webster Thomas) had an RBI triple and two walks on the day.
Monroe hosts Lackawanna College on Tuesday. First pitch of game one is scheduled for 2 PM.