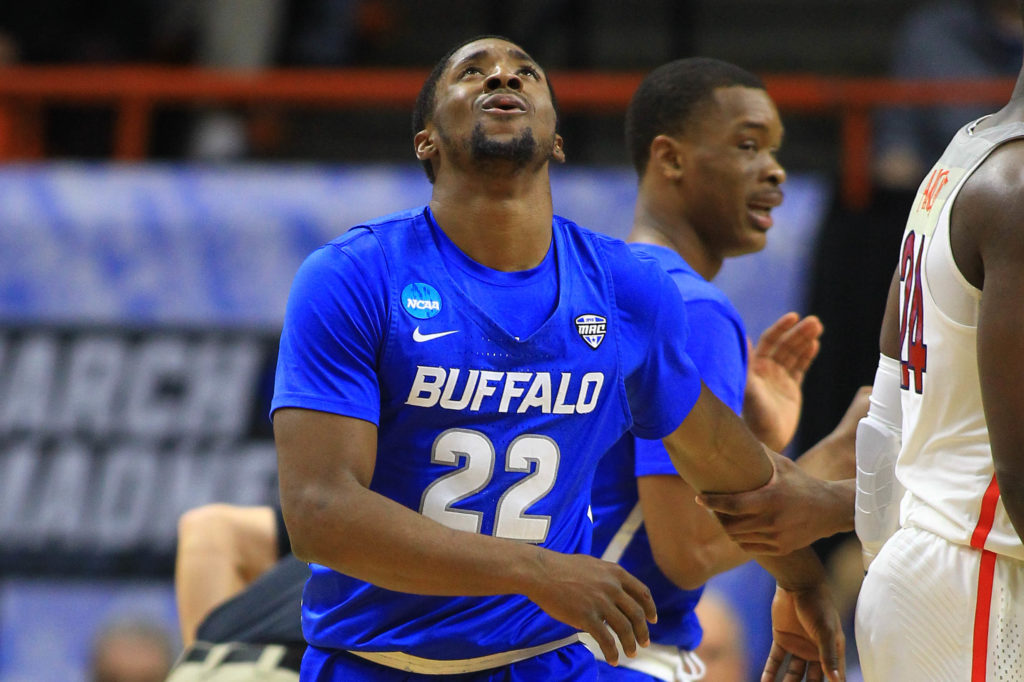 Courtesy of UBBulls.com
BOISE, ID – The University at Buffalo men's basketball team earned its first-ever NCAA Tournament win in emphatic fashion by beating fourth-seeded Arizona, 89-68, in the first round of the NCAA Tournament at Taco Bell Arena on Thursday night. The Bulls outscored the Wildcats, 40-20, over the final 16 minutes of the game to earn the victory.
The Bulls were in control the entire game and led for most of it. Going up against a bigger Arizona squad featuring two starting seven footers, including All-American candidate Deandre Ayton, the Bulls countered with their quickness and guard play.
Wes Clark and Jeremy Harris played fearlessly taking it right at the Arizona big men. Clark finished with 25 points and seven assists. Harris had 23 points and seven rebounds. C.J. Massinburg scored 19 points, including 5-of-8 from beyond the arc. Massinburg led the Bulls' three-point barrage. Buffalo shot 15-of-30 from deep compared to just 2-of-18 for the Wildcats.
Entering the game, Arizona was the top rebounding team in the PAC 12. But it was the Bulls' relentlessness on the glass that was a major factor in the win. Buffalo outrebounded the Wildcats, 32-31, marking the first time in 13 straight games Arizona was outrebounded.
Davonta Jordan and Dontay Curuthers were two of UB's unsung heroes at the defensive end. While the two players combined to only score two points, their lockdown defense helped force eight second-half Arizona turnovers.
Nick Perkins came alive in the second half to score all of his 13 points. He and fellow big man Ikenna Smart, who finished with four points and four rebounds, held their own against the Arizona big men. The duo helped hold Ayton to 14 points on only 6-of-13 shooting from the field.
"I can't say enough about our guys, just fought and battled," head coach Nate Oats said. "I felt like we had a shot; I didn't think we were going to win it like that. I really felt like we were going to win this game. I like our guard play, I said it from day one."
The Bulls will now play 5th-seeded Kentucky on Saturday afternoon after the Wildcats defeated 12th-seeded Davidson, 78-73, in their first-round game. Tipoff is slated for 5:15 pm EST.