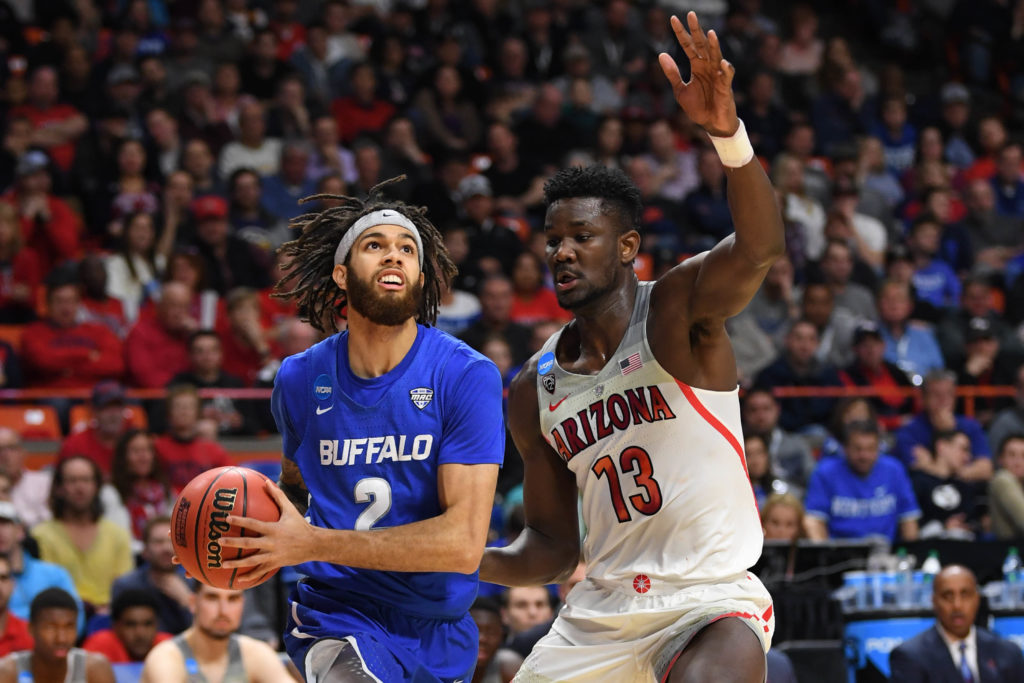 By PAUL GOTHAM
If the Arizona Wildcats want to start pointing fingers to assign blame for their first-round loss Thursday night, they can start with the NCAA Selection Committee and the coaches of the Mid-American Conference.
"We felt like maybe we had a bad seed," UB head coach Nate Oats said after his No. 13 seed Bulls knocked off No. 4 seed Arizona, 89-68. "We thought we were better than that."
Putting pressure on Arizona's back court, the Bulls converted six second-half Wildcat turnovers into a 11-0 advantage off those mishandles.
"I watch enough Pac-12 games to last myself about five years," Oats said. "Nobody puts any kind of ball pressure on them. We've got two of the best defensive guards in the country in (Dontay) Caruthers and (Davonta) Jordan."
"They were 312th in the country in percentage of points from 3. We wanted to make them shoot a lot of 3s. We're fortunate that they shot 2-for-18. And some of that was due to us and some they just missed."
UB limited Arizona (averaging 80.9 points per game entering play) to 10 points on three field goals over the final nine-plus minutes of the game.
"We do play that hard all the time. We've given ourselves a blue collar mentality, we give out a hardhat after every game. We have charges, floor dives, loose balls, deflections, we tally up the whole thing, and give the hardhat out to whoever wins the blue collar points we call them.
"We were seventh in the country in scoring, but we score off our defense. So we keep preaching defense, defense, defense. It was pretty good tonight."
Wes Clark (25) and Jeremy Harris (23) combined to lead the Bulls with 48 points.
"Wes and Jeremy kind of carried us through the MAC tournament," Oats added.  "Wes is a third team All MAC selection. Supposedly there was five better point guards in the MAC than him. The other coaches, I guess, didn't want to give them a first team. Jeremy is a second team All-MAC guy. Apparently there are five players better than him in the MAC."
CJ Massinburg had 19 points in the win and Nick Perkins 13 – all in the second half.
Rochester native Caruthers finished with two rebounds, an assist and a steal for UB.
UB will square off with No. 5 seed Kentucky in Saturday's second-round game. A 5:15 PM tip off is scheduled. The game will be televised on CBS.