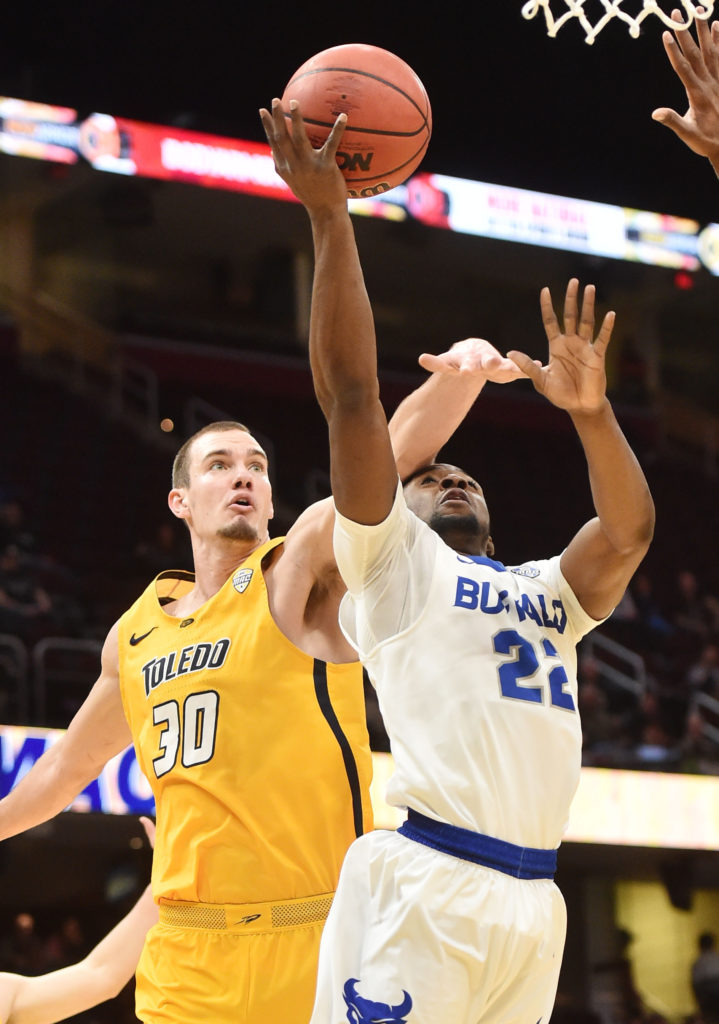 By PAUL GOTHAM
From Culver Road in Rochester to Dallas, Texas on to Boise, Idaho and back. It's a first for Section V boys' basketball. A coach and former player both appearing on college basketball's biggest stage.
When Dontay Caruthers takes the floor Thursday night with the UB Bulls, the former East High Eagle will etch his name and that of his former coach, Darrell Barley, into Section V boys' basketball lore.
The duo represents the first Section V player – coach combination to go on and play in the NCAA Tournament.
"To be the first player and coach to say we've been to the Big Dance," Caruthers said about the place in history he shares with his former coach. "It's very special just because he used to talk to me about picking the right college. He was there for me every step from seventh grade through high school."
No. 13 seed UB (26-8) opens South Region play against fourth-seeded Arizona (27-7) at Taco Bell Arena.
"He used to tell me stories about the NCAA Tournament when he went," Caruthers added. "Sometimes we would watch games together, so to be here now is a great feeling."
The MAC Defensive Player of the Year last season, Caruthers scored 28.2 points, grabbed six rebounds and added five assists to lead Barley's East Eagles to the 2014 NYS Class A final.
The 6-foot-1 guard recovered from a lower leg injury earlier in this season that forced him to miss 11 games. He returned to the lineup on January 19th and has played more than 21 minutes over UB's last five games. The Rochester native is averaging seven points, 2.3 rebounds and 2.1 assists in 23 games played this season.
"He is a key part of UB being as good as they are," Barley said. "It's just great to see his maturity and the man he has become. When he was sitting out earlier in the season, he was on the bench cheering for his teammates."
UB finished 15-3 during the regular season and grabbed first place in the Mid-American Conference (MAC) East. The Bulls capped their conference tournament run with a 76-66 win over Toldeo in the championship game.
The NCAA Tournament appearance will be UB's third in four years, the last two under head coach Nate Oats. The Bulls made their first trip in program history to the Big Dance under former head coach Bobby Hurley in 2015. After missing out a year ago, the Bulls enter the field of 68 with a lineup of five juniors, a sophomore and a freshman among the top eight players.
"They're the toast of Buffalo," Barley said of his former player's current team. "I know they're celebrating, and everyone on campus is smiling. He's getting to experience a place where he's never been before."
After appearances in the 1994 and '95 NITs including a trip to the tournament semi-final in the latter year, Barley led Canisius to the 1996 NCAA Tournament under former head coach John Beilein.
"Our run coincided with the Buffalo Bills going to the Super Bowl for four straight years," Barley said when referring to the buzz surrounding sports during the 90s in Buffalo. "Canisius basketball was a part of that."
The Golden Griffins lost to Utah in first round action of the Midwest Region. The school has not returned to the tournament since then.
"Throughout this year, I think that Big 4 basketball was huge in Buffalo. It was kind of like a revival."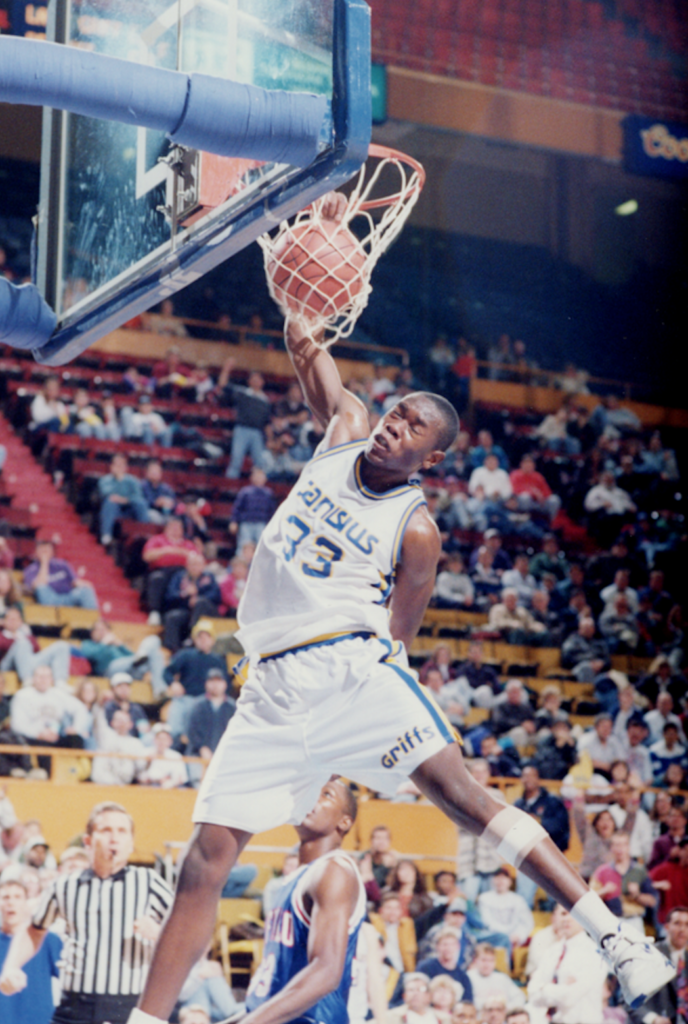 C.J. Massinburg leads four Bulls in double figures with 16.9 points per game. The junior guard also grabs a team-high 7.4 rebounds. Nick Perkins (16.6 ppg), Jeremy Harris (15.4) and Wes Clark (14.6) help pace a UB offense which leads the nation with 25 80-point performances this season.
Worth noting: All five of the schools (Cincinnati, South Dakota State, St. Bonaventure, Syracuse and Texas A&M) that handed the Bulls losses during their non-conference slate earned spots in the NCAA Tournament.
DeAndre Ayton (touted as the top pick in the upcoming NBA draft), leads Arizona (27-7) with 20.3 points and 11.5 rebounds per game. Allonzo Trier scored 18.4 per game for the Wildcats which are making their 33rd appearance in the Big Dance.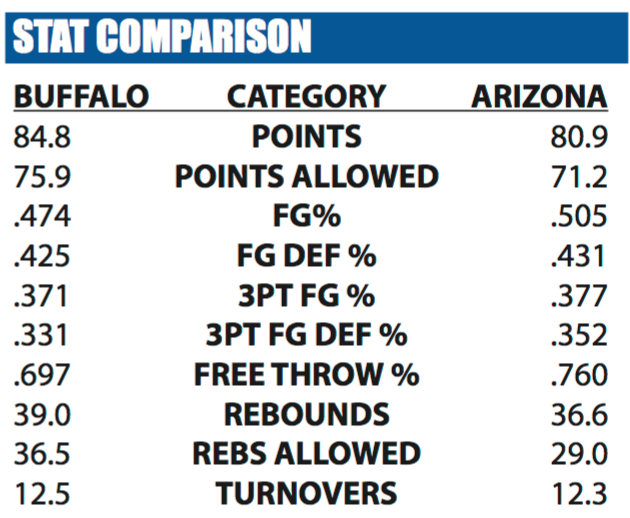 Thursday's 9:40 (approx.) tip time will be televised on CBS.