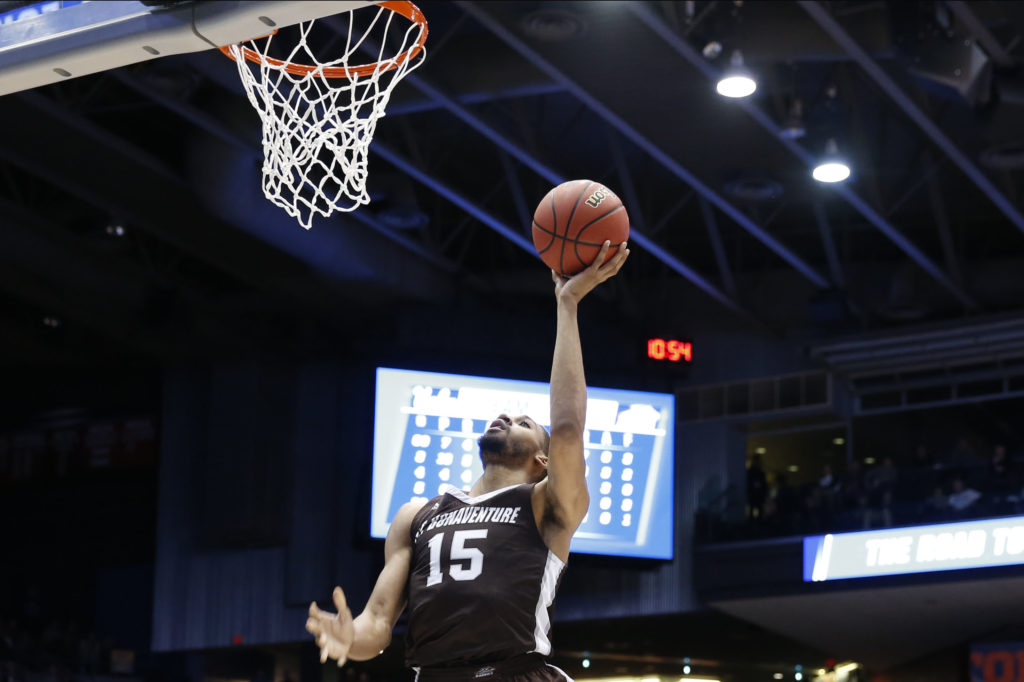 By JOE CERAULO         
  DAYTON, OH – For the first time in 48 years, the St. Bonaventure Bonnies have won an NCAA tournament game, defeating the UCLA Bruins in Tuesday night's First Four matchup 65-58.
            The Bonnies looked flat early, as Bruin guard Aaron Holiday single-handedly accounted for his team's 8-5 lead just over two minutes in.
            After falling behind 17-9, the Bonnies harassing defense caught up to the Bruins.
            Eight unanswered points, capped off by a LaDarien Griffin slam to tie the game at 17, electrified the University of Dayton Arena crowd, which from the moment both teams took the court heavily favored the Bonnies.
            Less than two minutes later, junior forward Courtney Stockard put a pair of Bruins on a poster with a two-handed throwdown after driving baseline.
            While Atlantic 10 Co-Player of the Year Jaylen Adams was held without a basket through his first eight shots, Stockard provided almost all of St. Bonaventure's scoring early.
            Despite Adams's off night offensively, Stockard gave him plenty of credit for his own success.
            "Without this guy here next to me (Adams) it wouldn't have been possible," Stockard said of his performance. "They keyed in on him, I got some good looks early, and he found me."
            Adams's first bucket came toward the end of the half and put the Bonnies up 25-22.
            They would enter the locker room with a five-point lead thanks to an Idris Taqqee jump shot in the closing seconds of the half that put the Bonnies up 28-23.
            UCLA was far from done though.
They fought back early in the second with hot shooting much like they opened the game with.
            A free throw by Kris Wilkes put them up 35-34 less than five minutes into the half, giving them their first lead since 4:52 remained in the opening half.
            After disappearing for the final 17 minutes of the first half, Holiday returned to the score sheet early and often in the second. His three with under 10 minutes to go gave the Bruins some cushion, a five-point lead that they would hold on to through the official under-eight timeout.
            As the Bonnies clawed their way back into this game, Stockard led the charge. However, without Adams and his fellow senior captain Matt Mobley contributing on offense, their chances at finishing on the right side of the win column would be slim.
            Mobley realized that just in time.
            With 5:34 left, up two, he brought the nearly sold-out UD Arena crowd to its feet with a jumper from the left elbow, forcing UCLA head coach Steve Alford to call timeout.
            About a minute later he made the crowd roar again with a deep three from straight on.
            It was with less than four minutes to go, down seven, when Holiday showed why he's regarded as a potential first-round pick in this year's draft.
            In just over two minutes he propelled the Bruins to a 7-0 run. Just like that the game was once again tied.
             After being shut down by Holiday for the entire night, it was Adams's turn to answer with 49 seconds left, and he delivered.
            Just inside the three-point line, having only hit one of 15 shots from the floor thus far, Adams put up a jumper and watched as it captured nothing but net.
            The only word that could describe such a shot would be Bill Raftery yelling out "Onions!" as Adams once again delivered in a clutch moment.
            He certainly showed incredible audacity by taking such a shot.
            Adams had no offensive success in the first 39 minutes of Tuesday's game, but when it mattered most the all-time leading scorer among St. Bonaventure guards drained the game-winning shot.
            Onions, indeed.
            Down four with less than 25 seconds remaining, Holiday let his emotions get the best of him. He drove into the paint, out of control, and Griffin was right there to meet him and draw the biggest charge of the many that Mark Schmidt's Bonnies have taken this season.
            In addition to this charge, Griffin contributed all night defensively.
            He recorded three of the team's 11 steals and limited UCLA center Thomas Welsh, who averaged a double-double on the season, to just two points.
            "It was a challenge," Griffin said of guarding Welsh. "To average a double-double in the Pac-12, with the talented bigs they have, it was a challenge, but I was looking forward to it."
            Griffin wasn't the only Bonnie who stepped up defensively late in the game.
            With 12 seconds left, Mobley drew another charge from Holiday, his fifth and final foul of the evening. He then went to the line and iced the game with a pair of free throws that brought the score to where it stood when the clock hit zero…
            65-58.
            Turning defense to offense was something the Bonnies did all night against the highest scoring team in the Pacific-12 conference.
            They forced an astounding 20 turnovers, while only coughing the ball up six times themselves.
            Off those turnovers, they managed to come away with 30 points while the Bruins only scored three from their takeaways.
             "Our half-court offense wasn't great, and they have great size, but plus-27 in points off turnovers, that's the difference," said Schmidt.
               Switching to a zone defense, a rarity for Schmidt's Bonnies, led to those turnovers as Alford admitted after the game to having prepared mainly for a man-to-man defense.
             "As big as they were we outscored them by 10 in the paint, so it (the zone defense) was effective," Schmidt said. "We were active, we had deflections and points off turnovers was the difference."
            Another flaw in Alford's team's preparation was perhaps overlooking how dangerous Stockard could be offensively.
            "You got to pick your poison," Alford said. "You got Adams and Mobley who consistently average 40 points and Stockard has averaged 10, 11 (points) all year long, and he missed his last game with a hamstring injury. Two of those three guys we pretty much eliminated so defensively we gave ourselves a chance."
            While Stockard's performance may have taken the Bruins by surprise, his teammates knew exactly what he was capable of.
            "It was good to see him put in work," said Taqqee. "I've been playing with him for three years now. Even though this was his first year back (from injuries) I've seen what he can do. It's crazy. It's a good feeling."
            With their first NCAA tournament win in 48 years, and a school-record 26th win of the season under their belt, the Bonnies boarded a 2 a.m. flight to Dallas where they will take on the No. 6 seed Florida Gators Thursday night at 9:57 p.m. ET on TruTV.
            Despite maintaining his composure throughout the press conference, Schmidt got emotional discussing what this moment meant to him ahead of the team's trip to Dallas.
            "That 2 a.m. flight's going to be the best flight of my life."