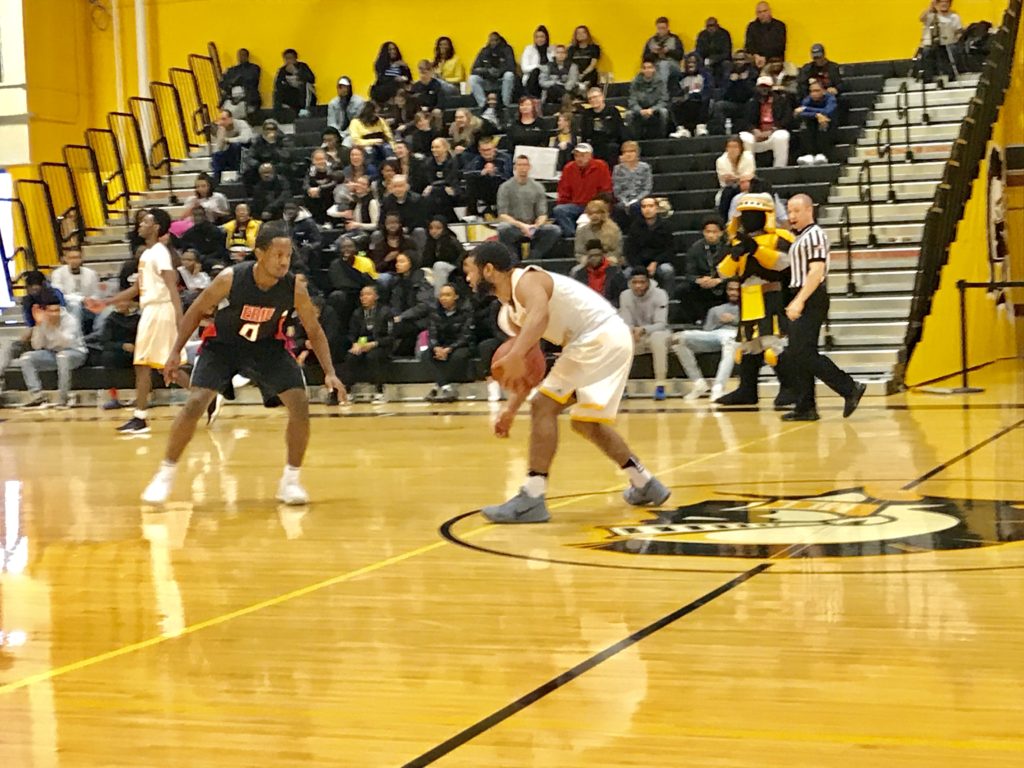 By PAUL GOTHAM
ROCHESTER, N.Y. —  It took a late-game adjustment that was out of character to unseat the Monroe Community College men's basketball team. It also involved some good fortune, depending upon one's perspective.
Tournament MVP Kasey Walker-Gregg scored six of his game-high 21 points as the Erie Community College Kats closed on an 11-4 run to defeat the Monroe Tribunes, 66-59 in the Region 3 Division II final, Sunday afternoon on Monagan Court.
Walker-Gregg connected on his fourth 3-pointer of the game with 2:04 remaining, and Erie CC won its first  regional championship since taking back-to-back titles in 2011 and '12.
Tied at 55 with 4:54 to go in the game, the Kats scored five straight on their way to the game-clinching run.
Erie CC head coach Alex Nwora pointed to a late defensive change as the difference.
"When we made our run, we went zone," Nwora said. "We never play zone. I think that threw them off a little bit, and we made a little run to get a cushion."
Kyle Harris gave ECC a lead it did not surrender when hit his third trey of the day. Pedro Marquez converted a putback, and the Kats never looked back.
"We got lucky; I'm going to be honest," Nwora conceded. "We missed shots today, but we rebounded well."
With the win, Erie (18-9) avenged three regular-season losses Monroe (23-6).
"It was a good move by him at that point of the game," Monroe head coach Jerry Burns said. "It did hurt us. I can't say it didn't. But I thought that we were tentative whether they played man or zone. The whole game we were tentative. We only scored 59 points."
Trailing by as many as 10 in the first half, MCC rallied and when Majesty Brandon found Charles Prater cutting through the lane, the Tribunes took their first lead of the second half at 45-44.
Brandon converted a Mike Kelly, Jr. feed on the break to give the Black and Gold a 54-53 edge with 5:45 left on the clock.
It was Monroe's last advantage of the game
"I thought the difference in the game was every time we would get close or get the lead, they would get an offensive rebound," Burns stated.  "We would get a stop and they would get an offensive rebound and either bang a three or get fouled. Those were crucial. In these kinda games, we always say 'one and done' and we couldn't get that."
Erie outrebounded Monroe 46-32 for the game.
Monroe got the better of Erie on December 6th, 84-67 and 82-69 on February 10th. The Tribunes edged ECC, 67-66 two weeks later. On Sunday, though, MCC shot 20 of 57 (35.1 percent) from the floor including 6 of 21 (28.6 percent) from behind the arc.
Brandon led Monroe with 18 points. Wes Nelson added 12, and Gilberto Cue had 10. The Tribunes had won 10 of 11 games entering play on Sunday.
"These kids, they've fought hard," Burns lamented. "They played their tails off right to the end. It was just unfortunate. That's one of those things."
ECC's Kyle Harris scored 16 points. Shavon Anisca had 11 on 5-of-10 shooting. Michael Motley chipped in with nine points and grabbed a game-high nine rebounds. Mohamed Diakite collected eight rebounds for the Kats.
Monroe's Brien Wilson had seven points and four blocks.
Erie is the fourth team in four years to win the Region 3 DII title with Niagara County CC winning in 2017, Monroe in '16 and Genesee CC in 2015.
Harris and Ansica joined Walker-Gregg on the All-Tournament team.
Brandon and Nelson represented Monroe.
Genesee Community College's Rahmel Thompson rounded out the team.