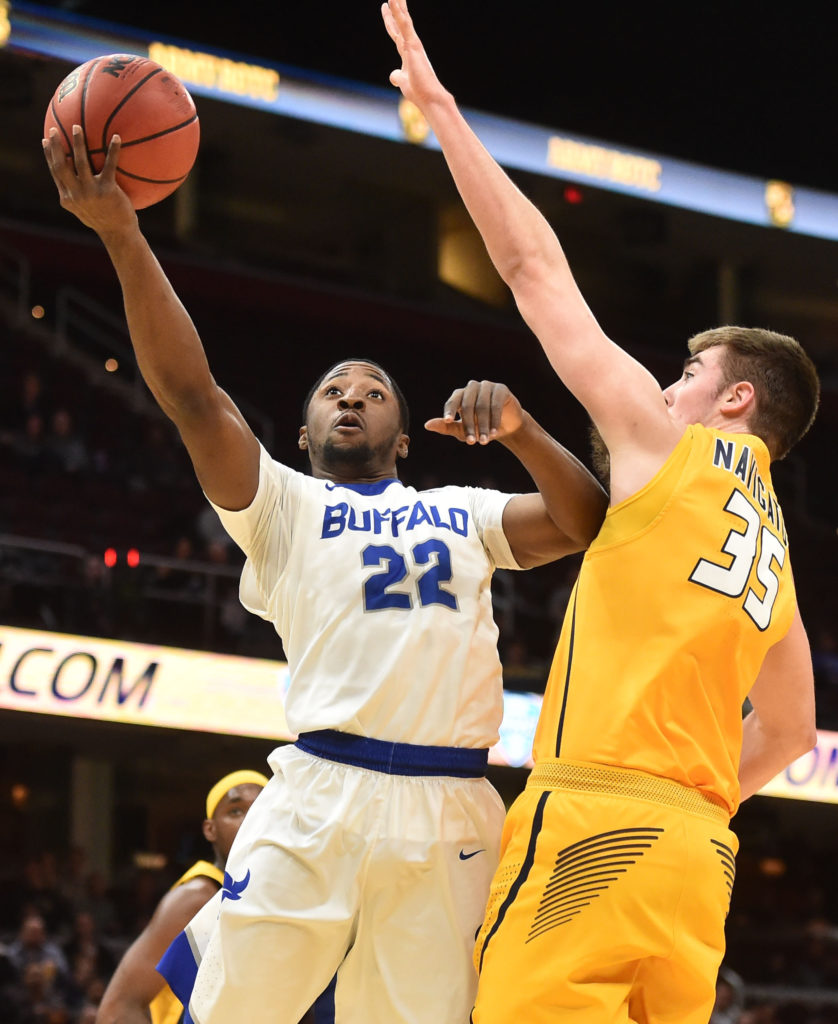 Courtesy of UBBulls.com
CLEVELAND, OH – For the third time in the last four years the University at Buffalo men's basketball team was crowned Mid-American Conference Champions following a 76-66 win over Toledo in the title game at Cleveland's Quicken Loans Arena on Saturday night. The Bulls became the first team since Kent State nearly 20 years ago to win three MAC titles over a four-year span.
Wes Clark, who only became eligible to play for the Bulls in late December, wasn't going to let his only chance to play in an NCAA Tournament slip away. The senior guard carried the Bulls all night with 26 points, five rebounds, three assists and four steals and was named the MAC Tournament Most Valuable Player.
"I can't say enough about just the fight and resilience of this group," head coach Nate Oats said.  "You know, stuff didn't really go our way tonight.  Give Toledo a ton of credit, I thought they did a great job without Fletcher, but our guys hung in there.  And their lack of depth and just our resilience finally paid off there in the last whatever it was, four, five, six minutes when we kind of cracked that thing open.  But I tell you what, it's nice to have Wes Clark on your roster in a championship game, I know that."
Nick Perkins added 16 points, including some key buckets late. Jeremy Harris, who was a major contributor in the quarterfinals and semifinals, finished with 10 points and eight rebounds. Harris was also named to the All-Tournament team.
Buffalo led for most of the game, but never by more than 10 points. The Bulls had to rely on their defense to hold off a feisty Toledo squad who kept coming at them. Numerous times the Rockets cut the lead to two points in the second half, but the Bulls always seemed to have an answer.
The Rockets finally tied the game, 63-63, with a three-pointer with 5:32 left in the game. However, Clark, as he did all night, nailed a jumper on UB's ensuing possession, then came up with a steal and drained two free throws to quickly give the Bulls a four-point lead.
After the Bulls forced a Toledo miss at the other end and C.J. Massinburg grabbed the rebound, Perkins hit arguably the biggest shot of the night when he drained a three-pointer from the top of the key to extend the UB lead to 70-63 with 2:50 remaining. The Rockets would get no closer.
The Bulls will now play in the NCAA Tournament for third time in school history. UB will find out its opponent and location during the NCAA Selection Show on Sunday at 6 pm.