By JOE CERAULO           
WASHINGTON D.C. – For the second time in three years, a St. Bonaventure team with NCAA tournament expectations had its season ended at the hands of the Davidson Wildcats, losing 82-70 Saturday afternoon.
             Not quite two weeks removed from beating Davidson in one of the best college basketball games of the season, the Bonnies knew how difficult a win Saturday would be without junior Courtney Stockard, who scored a career-high 31 points in that triple-overtime thriller.
            Stockard missed Saturday's game with a hamstring injury suffered Friday night against Richmond.
            Good news for St. Bonaventure was that Jaylen Adams, who didn't get going offensively until the end of Friday's game, was on the board early. He drained the team's first three less than two minutes in.
            The teams would trade threes early on, with Davidson having more success from deep than the Bonnies.
            The Wildcats were 10-18 from beyond the arc in the first half and held a consistent two-possession lead for most it, entering the locker room with a 37-31 lead.
            The game got closer in the second half, as an Amadi Ikpeze sky hook with six minutes remaining brought the Bonnies within two and got the student section to its feet.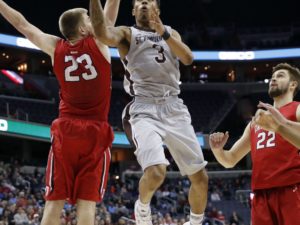 "Playing all year in atmosphere's like that, you know that when the crowd is into it you just got to relax and stick to the game plan," said Davidson senior Peyton Aldridge of the raucous Bonaventure crowd. "Stick to attacking, and that's what we did."
            The Co-Atlantic 10 Player of the Year finished with a game-high 24 points on 6-7 shooting from deep.
             Freshman guard Kellan Grady finished just behind Aldridge with 23 points in the Wildcats' victory and cited the last meeting between these two teams as motivation.
             "It's a gratifying feeling," Grady said of today's win. "To battle for three overtimes and just come up short is obviously disappointing, but we didn't hang our heads after the game, so it's a great feeling to be able to win in the conference tournament with a chance for the championship."
              While Aldridge didn't get going immediately out of the half, senior guard Rusty Reigel shined for the Wildcats when they needed him most, delivering two big threes early in the second.
            "He (Reigel) wears Davidson on his heart," said Wildcats head coach Bob McKillop. "I coached his dad and his brother. He's wanted to go to Davidson since he was a little kid, and when you have a kid like that in your program he's going to fight, and he fought."
            McKillop also added that he believed St. Bonaventure was a tournament team and should not be on the bubble.
            After touching on the topic Friday, senior guard Matt Mobley, who finished with 17 in the loss, elaborated on his team's chances after the game.
            "I think we have a little better chance than a couple years ago, but nothing's a guarantee," Mobley said. "I think we put ourselves in a good spot, so we'll see what happens."
             Bonnies head coach Mark Schmidt, who went to three NCAA tournaments as a guard for Boston College from 1981-1985, also weighed in on what his team's accomplished this year.
            "I don't know if we could have done any better," said Schmidt. "We won 13 straight, we had some huge non-conference wins and we've had some big wins in our league. I don't think there was a hotter team going into the postseason than us."
             He also brought up the snub from 2016.
             "Everybody talks about two years ago. Our resume is better than it was two years ago, and in my opinion, we should have been in then. I think we're going to have a good day tomorrow. Those guys deserve it."
             Lost in the madness at this conference tournament was that Friday's win over Richmond tied a school record in single-season wins for St. Bonaventure with 25. That record was set by the lone Final Four team in school history.
            All that's left for the Bonnies to do now is wait, as they'll find out their future tomorrow at 6 p.m. during the NCAA Tournament Selection Show on TBS.