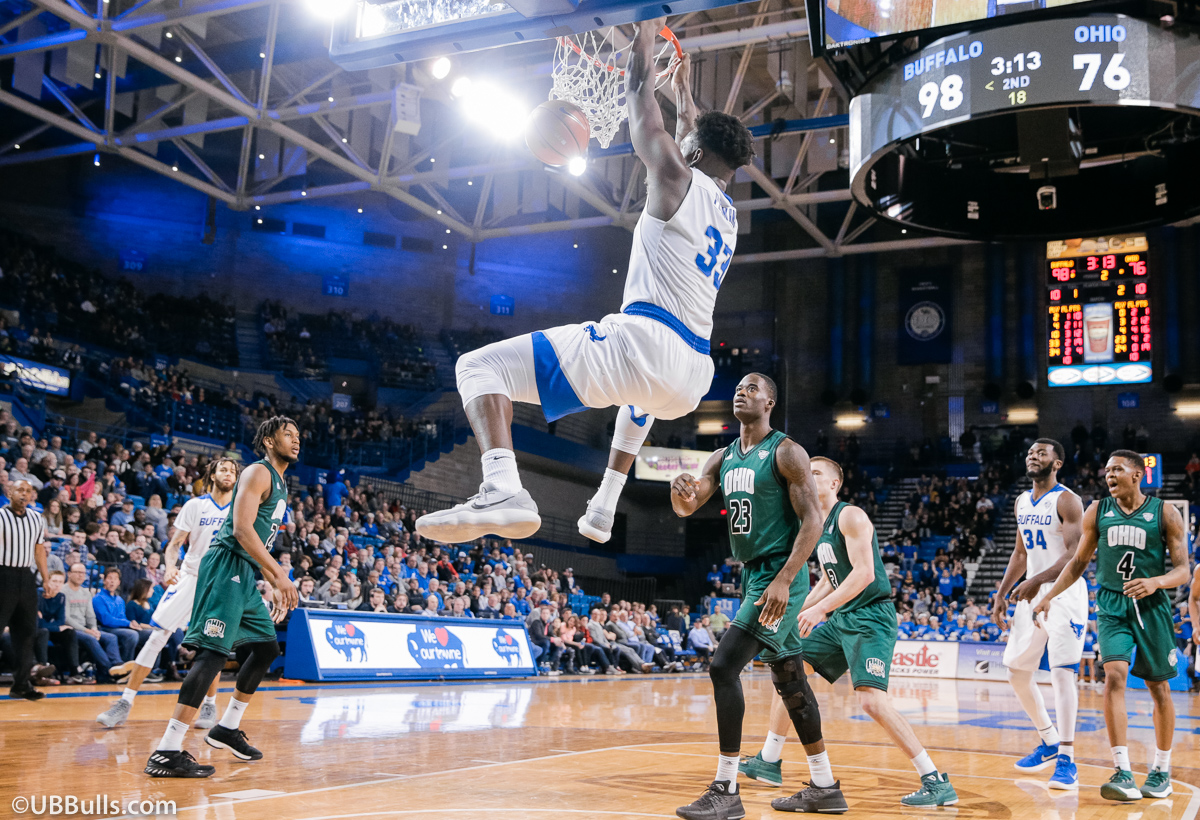 Courtesy of UBBulls.com
BUFFALO, NY – The University at Buffalo men's basketball team scored 108 points on Saturday afternoon, its most ever in a Mid-American Conference game, as the Bulls defeated Ohio, 108-82, in front of 6,198 fans at Alumni Arena.  The Bulls improve to 21-8 on the year and 13-3 in the MAC, tying the program record for conference wins in a season.
The Bulls continued their hot shooting as they shot 50 percent or better for the eighth straight game, as they were 52.7 percent from the floor.  Buffalo found itself in an early hole though as Ohio hit six of their first nine three-pointers, racing out to a 13-5 lead.  The eight-point deficit was the largest that UB has had to come back from in conference play.  UB quickly erased the Ohio lead, scoring eight straight points.
The Bobcats continued to lead by five at 26-21 with 9:53 left when UB scored six straight points to take its first lead of the game.  The two teams were tied at 31-31 with 5:53 left when the Buffalo offense turned it on, scoring 25 points over the final 5:53 of the opening half as the Bulls hit their final eight field goals of the half.  Buffalo took a 56-41 lead into the break, its highest scoring output in a first half this year.
Ohio never got any closer than 12 in the second half on Saturday, pulling within 65-53 with 16:26 left.  A fast-break layup from Dontay Caruthers, followed by a Jeremy Harris triple put UB back up 70-53.
The Bulls led 70-57 when they went on an 11-0 run as a pair of free throws from Wes Clark gave the Bulls an 81-57 lead. Caruthers had five points during that run.  The Bulls continued to lead by over 20 for the rest of the afternoon, getting its lead up to as many as 28 on a put-back tip-in by junior CJ Massinburg. A dunk from junior Nick Perkins gave UB 100 points for the third time this season and a late layup by redshirt freshman Dominic Johnson gave the Bulls 108 points, their most ever in a MAC game.
In all, 12 different Bulls found the scoring column led by 21 points from Perkins, who went 7-of-10 from the floor, including 7-of-8 from inside the arc.  Caruthers had 19 points, his highest scoring total since coming back from his injury.
Massinburg had 15 points and eight rebounds as he moved into a 13th place on UB's all-time scoring list surpassing Rodney Pierce.
A pair of Bulls finished with double-doubles as Clark had 12 points and a career-high 11 assists.  Junior Jeremy Harris added 12 points and 10 rebounds.
Jordan also had an impressive afternoon finishing with 11 points, seven assists, and five rebounds.  Freshman Jayvon Gravesadded six points, while Ikenna Smart had four points and three rebounds.
Redshirt freshman Brock Bertram picked up his first career start and had two points and three rebounds in eight minutes.  Johnson, freshman James Reese, and junior Montell McRae all had two points as McRae added three rebounds.
The 108 points are the ninth most in school history and the most in any game since scoring 111 against Buffalo State during the 2011-12 season.  They were the most scored against a Division I opponent since 1997-98 when the Bulls put up 110 against Chicago State.
The 27 assists were the most in a game by UB this season and they were the most by a MAC team this year against a Division I opponent.
UB had a huge advantage on the glass as it outrebounded Ohio, 48-32.  UB had 16 offensive boards, which it turned into 22 second chance points.  UB also held leads of 58-30 in the paint and a 56-14 advantage in bench points.
Buffalo has just one more regular season home game remaining as the Bulls look for their 14th home victory, which would tie a program record.  That game will be Tuesday night as the Bulls host Akron at 7pm.  A win on Tuesday night and the Bulls will lock up the top seed in the upcoming MAC Tournament.
Tuesday night will also be senior night, as the Bulls will honor Wes Clark, Ikenna Smart, and Gabe Agorioge.