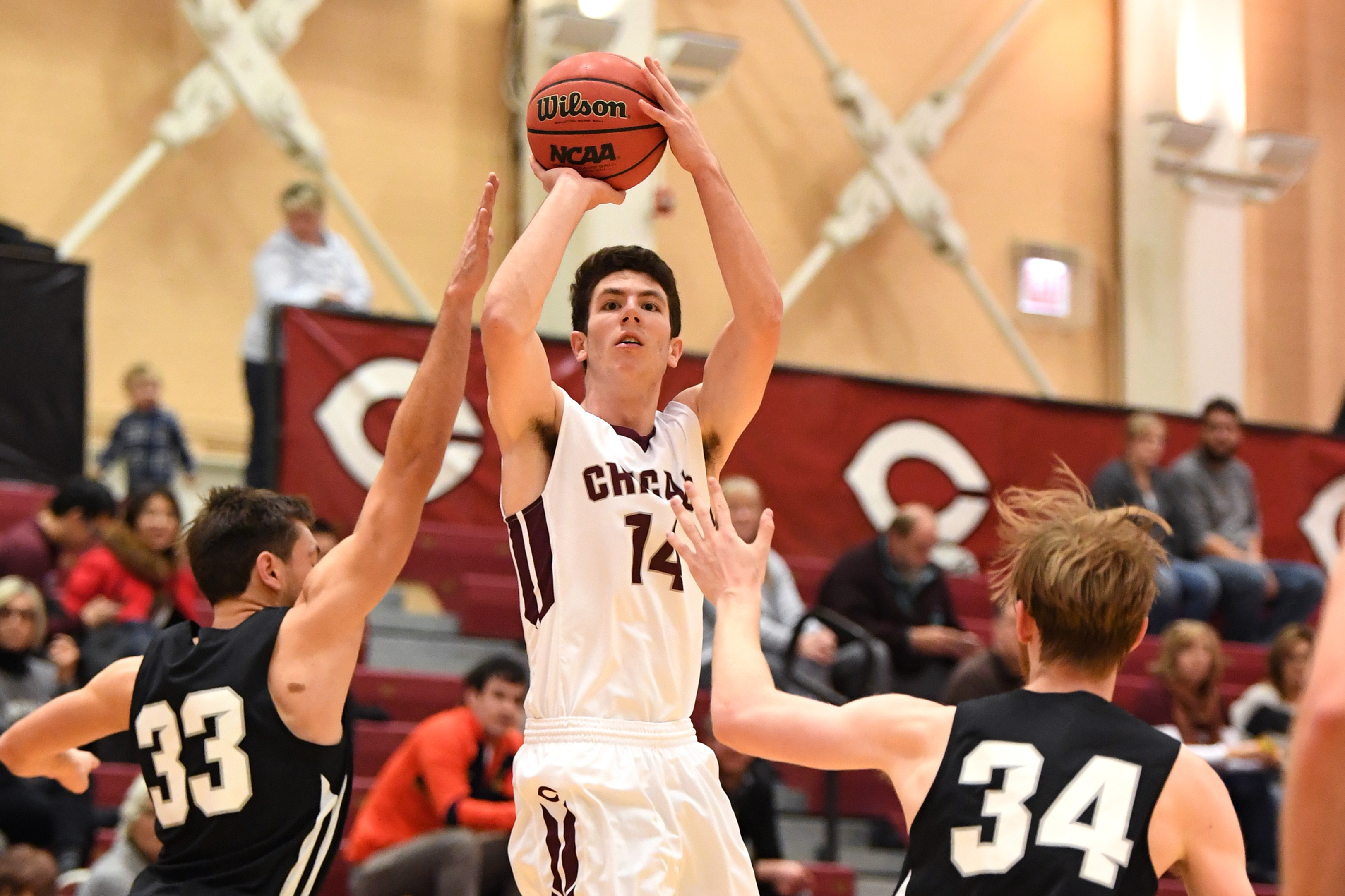 By PAUL GOTHAM
ROCHESTER, N.Y. — Every time Jake Fenlon takes the court with the University of Chicago men's basketball team, he has a chance to reestablish a program record. Friends and family will get an opportunity to see the Flower City native add to history this weekend when the Maroons visit the University of Rochester Palestra for a UAA matchup with the Yellowjackets.
"It should be fun," Fenlon said by phone earlier this week. "I'm really looking forward to it because it's the best opportunity where everyone who saw me play in high school can see me play in college.
"This is my fourth time playing a college game in Rochester. The previous three have been great, had a lot of family and friends at every one of them. I'm lucky that a lot of them should be able to get to the game on Sunday."
Earlier this month Fenlon set a University of Chicago program record hitting career 3-pointer No. 206. Since then, the 6-foot-4 senior has increased that number to 217.
"Obviously, it's something I thought about," Fenlon said. "I don't know if it's really settled in. It'll be cool holding a record."
Breaking the mark wasn't without some irony, though, as Fenlon explained. The previous record holder was no stranger to the Rochester native.
"Jesse Meyer held the record before me. He was an alum who called me when I was a senior in high school. Coach (Mike) McGrath had him call me when I was in high school as a recruiting pitch. He contributed to selling the school and ultimately helping with my decision to come to the University of Chicago.
"My freshman year when I got there, I was lucky to have some minutes off the bench. I established myself as a 3-point shooter. Jesse started joking with me freshman year that I was going to end up breaking his record. As the years went on it looked more and more likely."
That Fenlon has had success at the collegiate level comes as no surprise to Jack Leasure, Fenlon's high school coach for his senior season at McQuaid Jesuit.
"He put a ton of time in," Leasure recalled . "You can't be a shooter like he is and not put a ton of time in."
Fenlon set the single-game 3-point record at McQuaid when he poured in 11 treys as part of a 43-point performance  during his senior season with the Jesuit Knights. Last year, he established the UChicago single-season mark with 76 threes made.
"As far as his range and how quick he got rid of it, he was one the best shooters I've ever been around," said Leasure who still holds the career (411) and single-season (125) records at Coastal Carolina University. "It was a pleasure to coach him. He was consistent in his shooting routine and his habits. He developed a ton of confidence from that and he was able to see it pay off at the next level."
An Economics major, Fenlon currently leads the Maroons scoring 16.8 points per game. He is hitting 39.1 percent (90 of 230) from the floor including 36.6 percent (63 of 172) from long range.
Although he says there is no pressure, Fenlon might feel some incentive to succeed.  His backup, Mattia Colangelo, is the son of current Philadelphia 76ers President of Basketball Operations and General Manager, Bryan Colangelo.
"It's definitely cool," Fenlon said laughing. "Mattia is a good friend of mine. I don't feel pressure having him play behind me. If the roles were reversed, I'd be happy for him. When I was a sophomore I played limited minutes. He'll have his time the next couple years.
"The biggest part is I'm glad to have him there. He's a good friend. It's pretty interesting. He's got a lot of good stories about his father."
UChicago (7-9/ 3-2 UAA) will play at No. 13-ranked Emory (14-2/5-0 UAA) on Friday night before traveling to Rochester for Sunday's tilt with the No. 22 Yellowjackets (13-3/4-1 UAA). A noon tipoff is scheduled Sunday at the U of R Palestra.