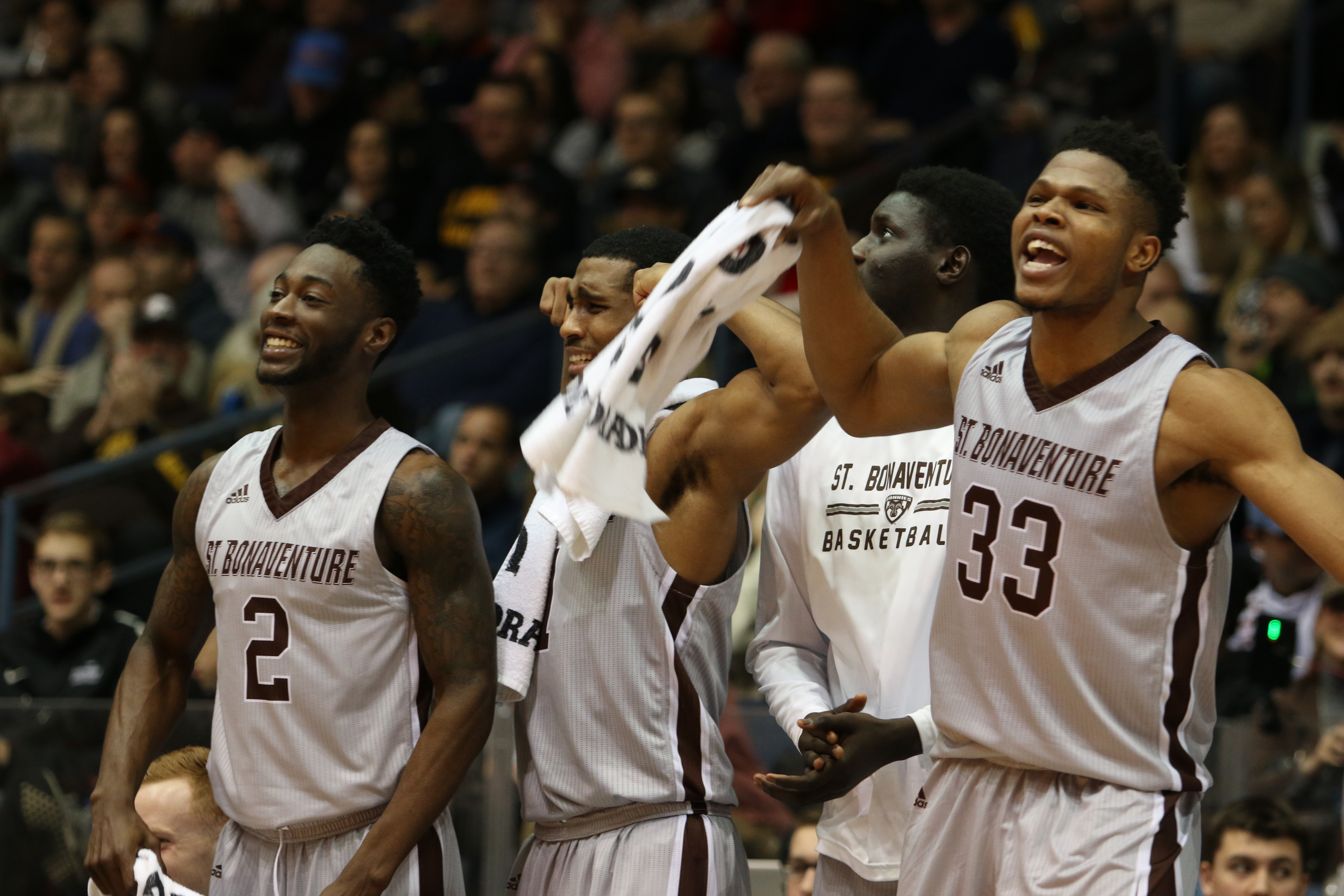 By PAUL GOTHAM
ROCHESTER, N.Y. — The last time Matt Mobley hit a buzzer beater he touched off a controversy. This time the St. Bonaventure senior guard added another dramatic chapter to Bona lore.
Mobley's deep 3 at the buzzer proved to be the game winner as the Bonnies defeated the University of Vermont Catamounts, 81-79 in the annual ROC City Classic, Saturday.
In a contest that saw 12 lead changes and eight ties, Mobley tilted the scales one last time when he took a Jaylen Adams pass in transition and found the bottom of the net from the right wing.
"When I saw Jay dribbling up the court, everybody was in the paint really," he explained. "I was just wide open. I was just calling for the ball, and he passed it to me."
The shot sent the more than 5,000 on hand from Bona Nation into hysteria.
"I was just as open as I was in practice," the Worcester, Mass. native said. "Jay made a great pass. I just knocked it down."
GAME. WINNER. pic.twitter.com/HUI3AEgc2E

— Bonnies MBB (@BonniesMBB) December 16, 2017
That Mobley connected should have come as no surprise. The Bonnies leading scorer entered play averaging 19.6 points per game and hitting better than two from behind the arc.
But on this day, with the Catamounts defense denying him the ball, Mobley had taken just two shots. Neither put points on the Blue Cross Arena scoreboard.
Six Bonnies scored in double figures. Mobley's only three points on the afternoon came at the final horn.
"I just wanted to stay aggressive," Mobley said. "Didn't shoot a lot of shots. My team was doing a good job."
The basket came just four seconds after Payton Henson's tip-in gave Vermont a 79-78 lead.
"It's five seconds left," Adams explained. "Everybody was just kinda jumbled up. My first thought was to get to the cup. When I got across half court, I saw everybody in the paint. I saw Matt open, so I kicked it to him."
In his fourth game back from injury, the Bonnies star found Mobley for his sixth assist of the day.
"Jay made a great play," Bona head coach Mark Schmidt said of his point guard whose name is included on the pre-season watch lists for the Wooden Award and Naismith Trophy as well as the Oscar Robertson and Bob Cousy awards. "Usually, if you're a young guy, it's five seconds on the clock as a guy with the ball you're looking to do one thing. You're looking to jack up a shot. Jay had the understanding, the basketball IQ to make a great pass, and Matt made a great shot."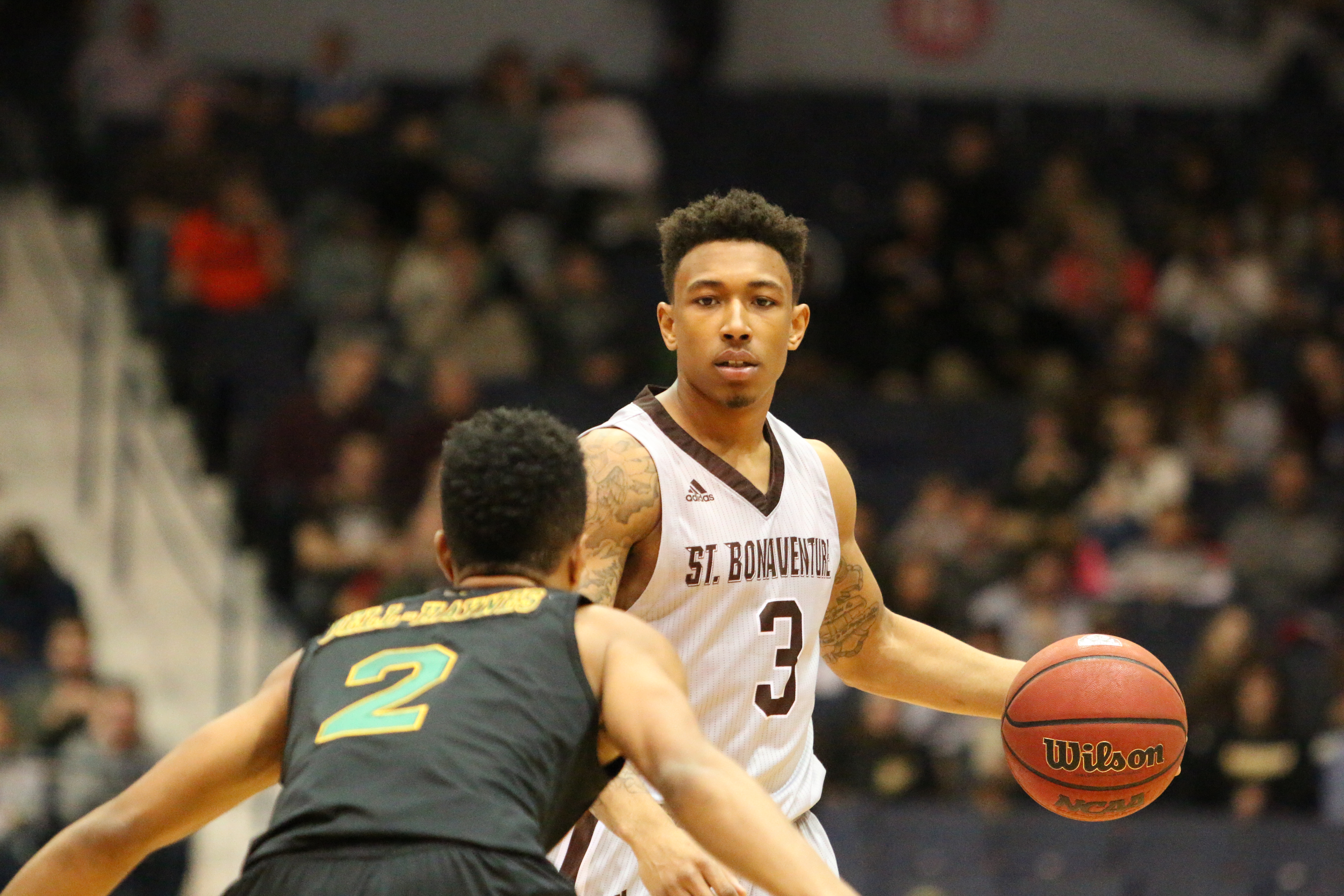 The play almost didn't happen. Schmidt wanted a timeout that he never received.
"I can't call timeouts," the 11th-year coach noted. "Once the ball is inbounded, the player has to call timeout, so it was useless. I wanted to call timeout when the ball went in, but thank God, they didn't see me.
"There wasn't much coaching in the last five seconds of that game. I can take as much credit as you want to give me, but that was two players making a really good play."
"We had a lot of guys in the paint," Vermont coach John Becker said. "You got to protect the basket for a drive. I'll probably wish we could have fanned out to shooters once we saw the ball was under control there. It was hectic. It was loud. Adams didn't have much time to pass the ball which is a pretty courageous thing to do."
With the win, St. Bonaventure improves to 8-2 for the first time in Schmidt's tenure. Less than two seasons removed from when they were unjustly left out of the field of 68, Adams and his teammates are looking to get the Bonnies back to the NCAA Tournament for the first time since 2012 when Andrew Nicholson led the Brown and White to the Atlantic 10 Championship and the conference's automatic bid.
"Everybody knows what the goal is," Adams said. "I think it's understood in the locker room. Seniors going to lead. We got the right guys and a deep team. We'll see where it goes."
With the loss, Vermont falls to 7-5 on the season. An NCAA Tournament team a year ago when they went undefeated in America East play before taking the conference championship, the Catamounts have dropped five games on the road, three to teams (Kentucky 73-69, Bucknell 81-77 and Marquette 91-81) who also punched tickets to last year's Big Dance.
"We've been in every game," Becker said. "We've won a couple close games like this. Unfortunately, I guess you lose a couple like this every once in a while. We've been on the other end of this, and we know how this feels. We'll tip our hat to St. Bonaventure. We'll let this sting. I think we all feel sick to our stomach right now and that's okay. We'll be back."
The loss spoiled the homecoming for Rochester native Anthony Lamb. The former Greece Athena Trojan led all players with a game-high 27 points on 6-of-11 shooting from the floor including 2-of-4 behind the arc. The sophomore forward converted 13 of 14 free throws to go with game highs of eight rebounds and two blocks.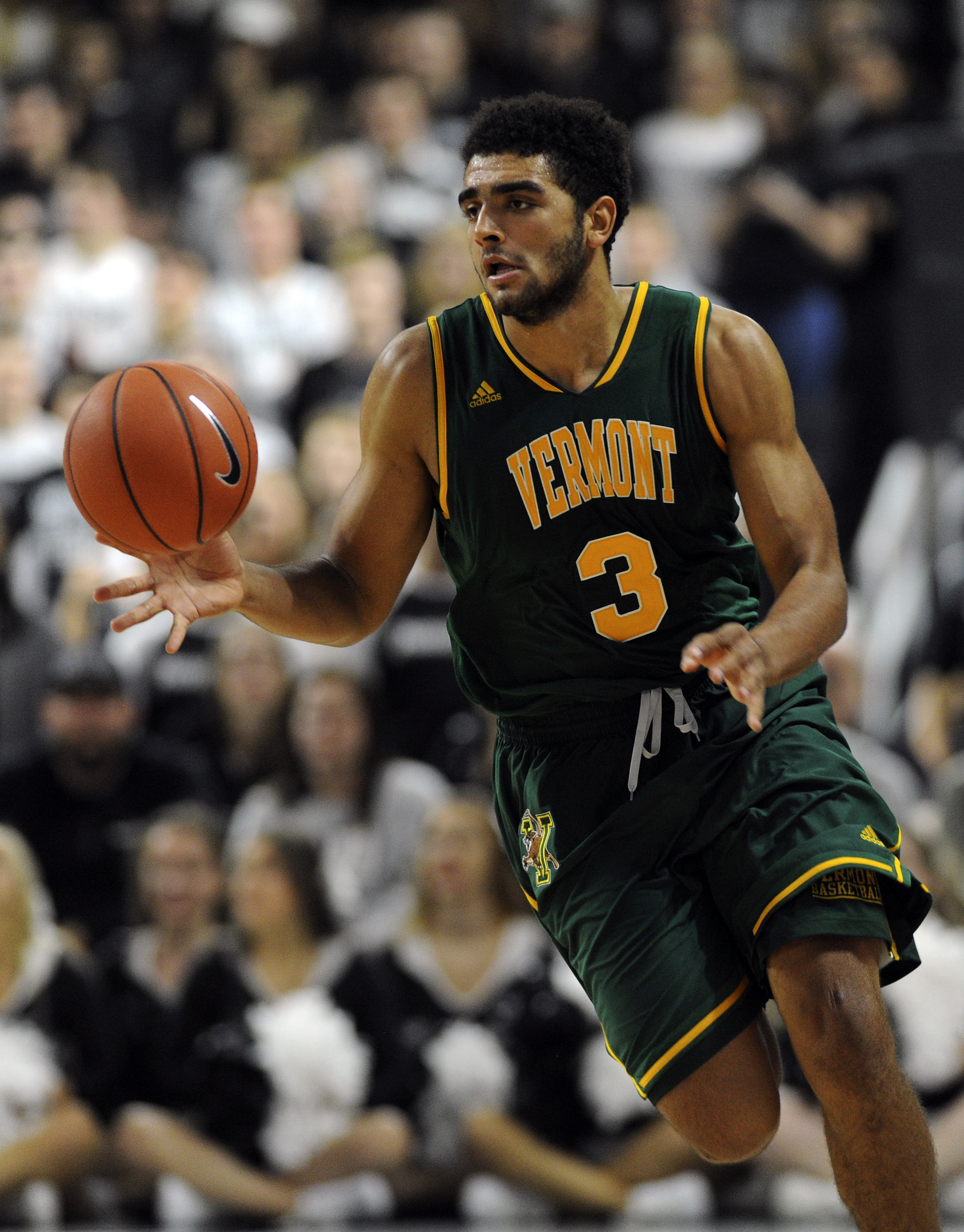 "I really wanted this game for my team because we're trying to get everything together," Lamb said. "I know this would have been a big win against a really good team. We're going to learn from this one and go forward and get better.
"I felt like we had a lot of good stops at the end, but we didn't get the one that counted. We'll watch and try to learn from it."
The America East Conference Rookie of the Year last season, Lamb leads the Catamounts with 15.6 points and 5.8 rebounds per game. Saturday's outing was five off his career-best showing of 32 points against Northeastern last Saturday.
LAMB'S RETURN MORE THAN A HOMECOMING
A two-time Section Five Class A1 Tournament MVP and four-time All Tournament member, Lamb led Greece Athena to three straight sectional titles.
"Anthony is a special kid," Becker said. "You guys know that having seen him throughout his high school career. We're extremely fortunate to have him in our program for all the things he brings to our university and to our program not just as a basketball player."
Last February, Mobley connected from behind the arc in what appeared to be a buzzer beater to give the Bonnies a win over A-10 foe VCU at the Reilly Center. A premature court storm resulted in a technical foul and eventual loss.
Mobley's shot on Saturday doesn't yet carry with it the post-season implications of Matthew Wright's dagger in the Bonnies double overtime win over Saint Joseph's in 2012 or the Jordan Gathers "shot that shook flatbush." Wright helped Bona clinch a top-four seed in that year's conference tournament with his shot. Gathers took down top-seeded Saint Louis in the 2014 A-10 tournament.
"I've had a couple buzzer beaters, but I'll take this one for sure," Mobley said.
Yes, Matt. So, too will Bona Nation.