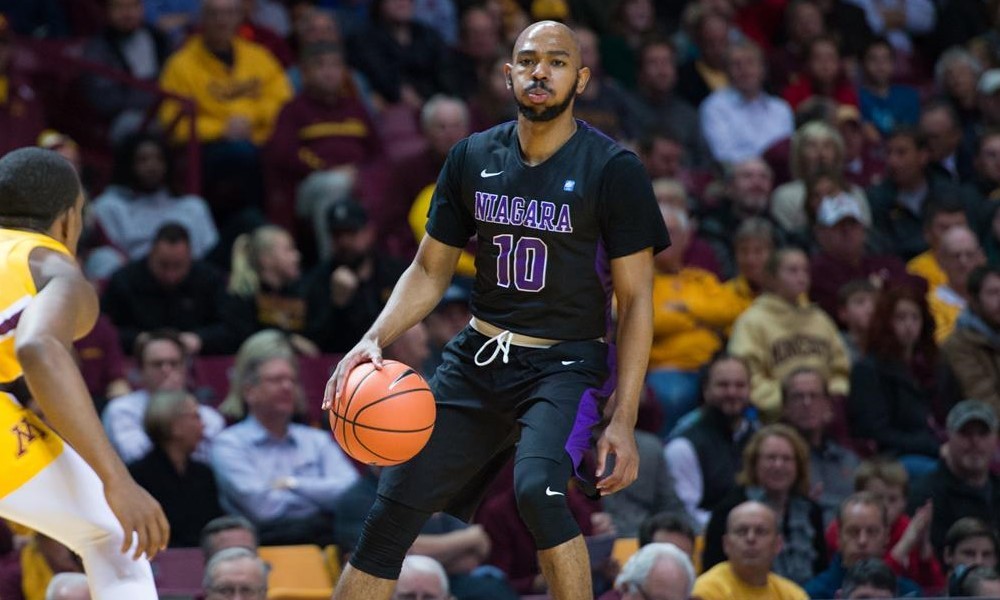 Courtesy of PurpleEagles.com
EDISON, N.J. – Kahlil Dukes was named MAAC Player of the Week for the first time in his career announced on Monday. For the third consecutive week, a Niagara University men's basketball player has been named player of the week.
Dukes' backcourt teammate Matt Scott earned MAAC Player of the Week honors on November 27 and December 4. The duo is the highest scoring combo in the NCAA at 47.8 points per game.
Dukes averaged team-highs in scoring with 28 points per game and in assists with 6.0 per game in two games. For the week, Dukes shot 50 percent from the field, 58.8 percent from the 3-point line and 85.7 percent from the free-throw line. In Niagara's win at New Hampshire, Dukes notched his first career 30-point with a game-high 31 points, including 22 points in the second half. Dukes, who is tenth in the NCAA in 3-pointers per game, went 8 for 11 from beyond the 3-point line. The eight 3-pointers are tied for the second most in program history, are the most in the MAAC and are tied for sixth most in the NCAA this season. 
VIEW THE COMPLETE CONFERENCE RELEASE HERE.
Dukes followed his career-high 31 points performance with a team-high 25 points and while dishing out a career-high 11 assists for his first career double-double against St. Francis. Dukes made a game-high nine free throws, which are a season-high.
The Purple Eagles are back on the road to face Norfolk State on Saturday, Dec. 16 at 4 p.m.