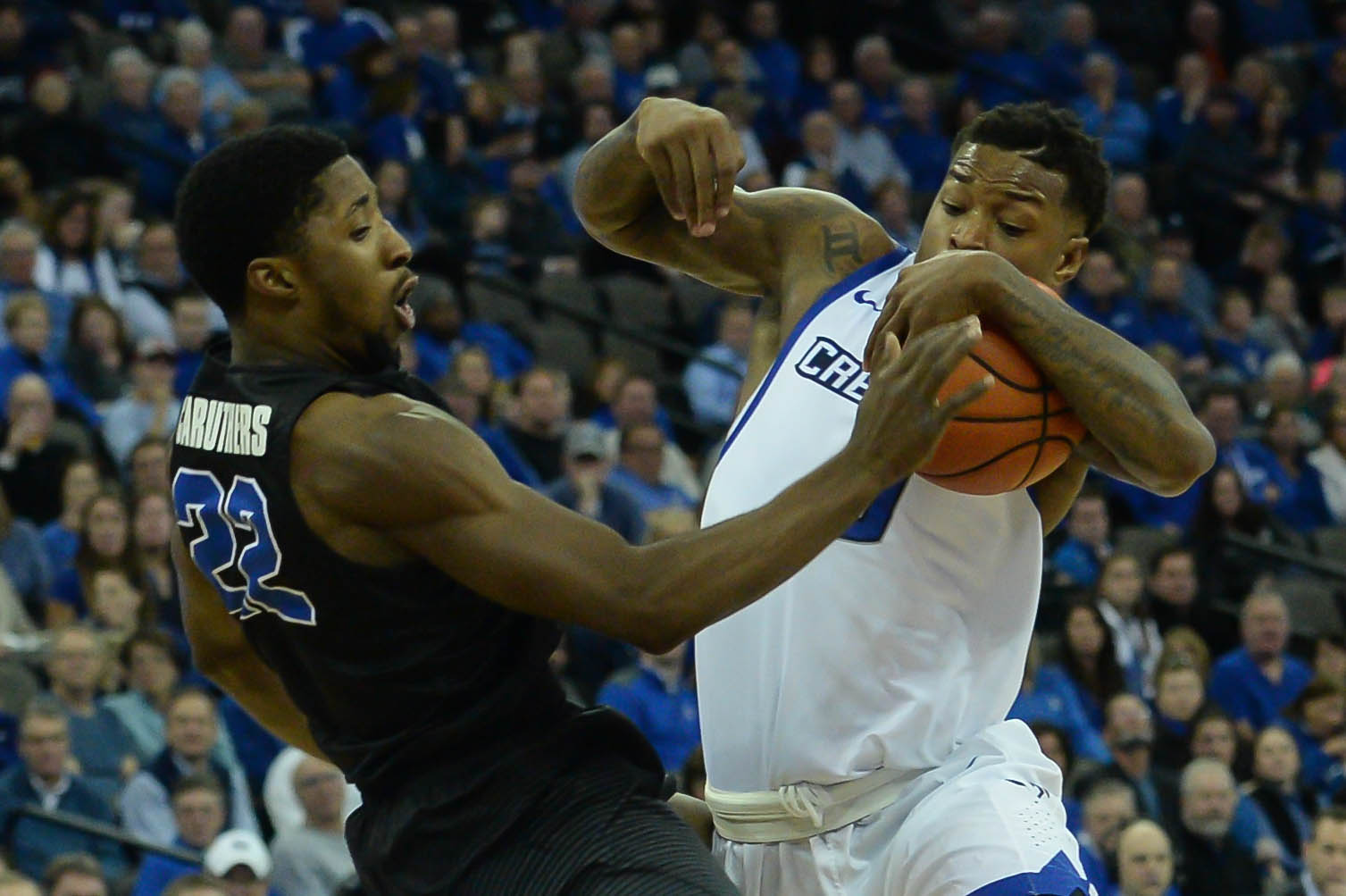 Courtesy of UBBulls.com
LEWISTON, NY – The University at Buffalo men's basketball team led wire-to-wire on Wednesday night, tying the school record for points scored in a road game with a 106-87 win at Niagara.  The Bulls had three players score over 20 points as UB shot 58% from the floor to improve to 4-2 on the season.
The Bulls opened the night on a 17-6 run over the first six minutes of the game, and early on there was no doubt that UB was in for a special offensive evening.  With Buffalo leading 31-23 with 5:52 remaining, UB went on a 12-0 run, capped off by a steal and fast-break layup from Dontay Caruthers to give UB a 43-23 lead with 3:09 left.  The Purple Eagles ended the half on an 11-3 lead as the Bulls took a 46-34 lead into the break.
UB held Niagara's dynamic duo of Khalil Dukes and Matt Scott to just 17 combined points at the half.
The Bulls kept up the offensive explosion in the second half, rattling off 60 points over the final 20 minutes of play.  UB led 60-47 with 15:35 left when the Bulls went on a quick 7-0 run as a layup from Nick Perkins gave UB a 67-47 lead.  UB continued to build on the advantage as back-to-back huge plays put the Bulls up 75-50.  The first play came on a diving steal from Caruthers, who tossed it to CJ Massinburg for the fast-break dunk.  That was immediately followed by a Massinburg rebound, which he lobbed to the rim, setting up freshman James Reese for a perfect alley-oop dunk.
The Bulls took their largest lead of the night with 9:03 remaining when Caruthers stole another pass and threw it up to Perkins for a huge fast-break slam, putting the Bulls ahead 85-59. Even with the big advantage, the Bulls continued to run up and down the floor as shown by the block and defensive rebound from Jeremy Harris with 4:38 left that he tossed up to Jordan, who slammed it home to give UB a 100-72 lead.
UB got its 106th point with 1:34 left as senior walk-on Gabe Agorioge banked in a three-pointer, tying the school record points in a road game, which was set March 2, 1974 at Rochester.
"I thought our effort was good and we were really locked in defensively from the start tonight," said head coach Nate Oats.  "I thought our transition offense was great tonight and we got a lot of points off our stops, but we still have some things we need to work on like not getting outrebounded and limiting our opponent's three-pointers.  But, for this being our first true road game of the season, it was a really good win that we can build off of."
The Bulls had three players score over 20 points, led by 25 points from Massinburg, who also added eight rebounds and four assists.  Harris and Caruthers each recorded new career highs with 23 points each.  Harris added seven rebounds, six assists, two blocks and a steal.
Caruthers was extremely efficient from the floor as he went 10-of-11 from the field.  He also had four assists and a game-high three steals.  Perkins finished the night with 16 points and seven rebounds.
Jordan had eight points, four assists, and a game-high seven assists.  Reese finished with four points, as did junior Montell McRae.  Freshman Jayvon Graves didn't find the scoring column, but he still made an impact with three assists, two rebounds, and a block.  Agorioge had the first three points of his career, while fellow walk-on Colby Moultrie also got into the game late.
The Bulls recorded 26 assists as a team and just nine turnovers all evening.  The 26 assists are the most in a game by a UB team since recording 26 against Notre Dame College back on Dec. 28, 2012.
UB will return to Alumni Arena on Saturday afternoon for their final Big 4 matchup of the year when they host St. Bonaventure at 2pm.