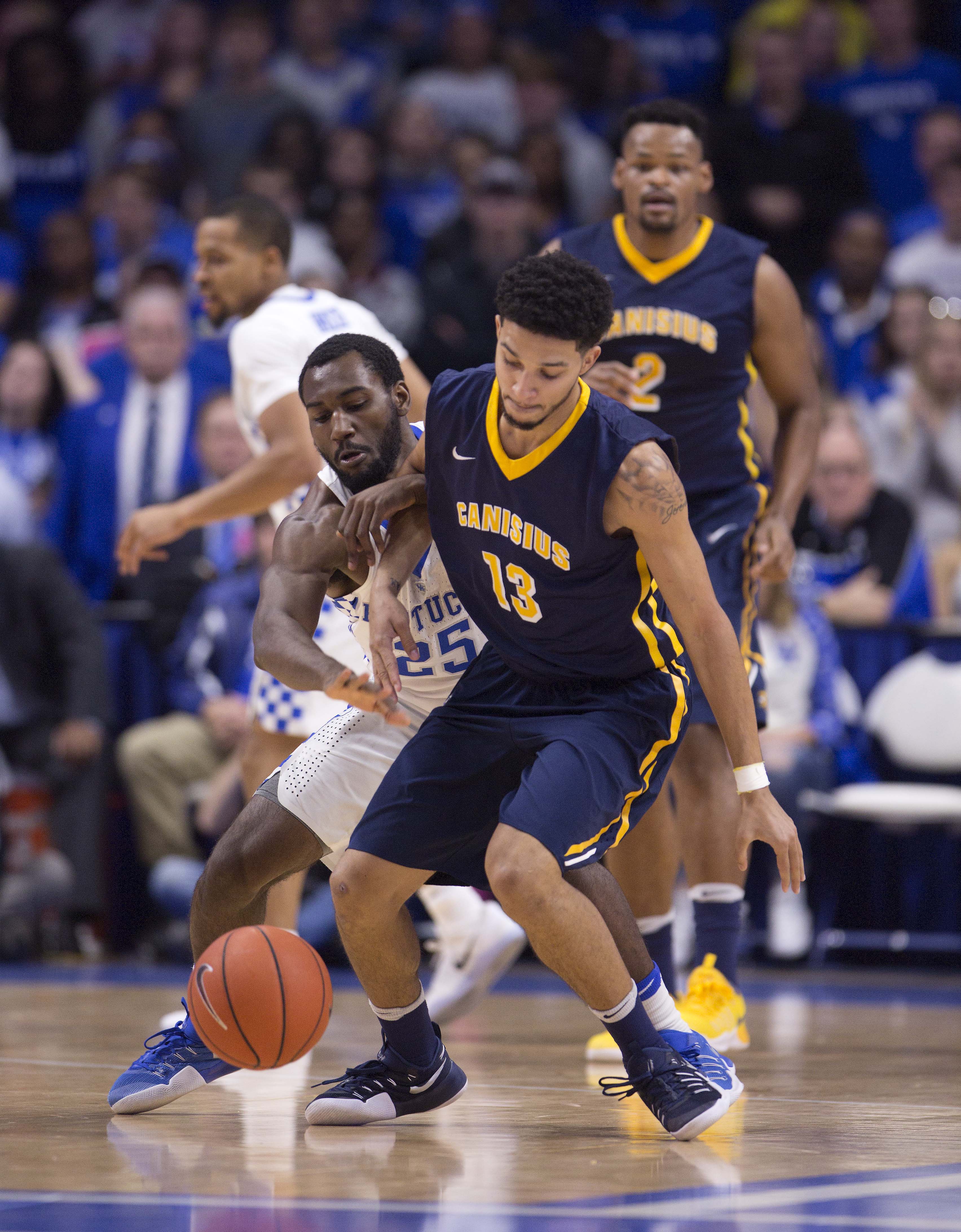 Courtesy of GoGriffs.com
BUFFALO, N.Y. — Canisius sophomore Isaiah Reese posted the first triple-double in school history on Saturday as the Golden Griffins defeated Youngstown State 104-84 in the Koessler Athletic Center. Reese was good for a career-high 23 points and 11 assists and he also matched a career-high with 11 rebounds in the win, as Canisius moved to 1-2 on the season.
Five Canisius players scored 20-or more points in the victory, led by sophomore Spencer Foley, who scored a career-high 25 points on the power of 8-for-9 shooting, while hitting 6-of-7 attempts from behind the 3-point line. Fellow sophomore Malik Johnson scored a career-high 22 points and dished out seven assists in the win, while senior Jermaine Crumpton added 21 points and five boards to the winning effort. For the game, Canisius shot 62.3 percent from the field and 56.5 percent from 3-point land, and the team ended the night with 29 assists on 38 made field goals.
For Youngstown State (1-2), Braun Hartfield scored a game-high 33 points for the Penguins, who entered the game ranked eighth in the nation in scoring average at 106 points per game. Youngstown State shot 44.8 percent from the floor, 43.5 percent from behind the 3-point line and 58.3 percent from the charity stripe in the loss.
Canisius turned a six-point lead midway through the first half into a 16-point cushion in the span of 2:57, as the Griffs used a 14-4 run to pull away from the Penguins. Canisius led 54-39 at the break, and stretched its lead to as many as 24 points at 71-47 with 14:15 left to play after Johnson drained a 3-pointer from the top of the key.
Youngstown State battled back and whittled Canisius' lead to 75-69 with 7:14 left to play, but out of a timeout, the Griffs used a 13-5 run over the next 3:09 to push their hold back to 13 points at 87-74. Saturday night marked the 47th time in school history where the Griffs have posted 100-plus points on the scoreboard in a game.
Head Coach Reggie Witherspoon's Postgame Comments
"I thought we played well tonight for the most part, but we need to improve on taking care of the basketball and we need to continue to work at the art of rebounding. With that said, we came out here tonight and really got ourselves rolling by making a bunch of threes early. We gave ourselves a chance to succeed because we played unselfish basketball and we showed some maturity in understanding how to play against [Youngstown State's] style of play."
"I'm not sure you can play back-to-back games against two more contrasting styles. At Air Force, we saw a Princeton-style offense at 7,000 feet above sea level. Here tonight, Youngstown State is looking to run and they are going to press you the minute they get off the bus. I thought we made a few mistakes because of fatigue as the game went along, but I'm happy how the guys really locked in and concentrated on what we need to do when they got back in the game in the second half."
"Getting a triple-double in the college game is so hard. I know Jason Capel had the first one in UNC history because I was on the other end of it. They are rare because you need to have a guy like Isaiah who can score, who can rebound and who can be creative enough to get double-digit assists. It's one heck of an accomplishment, that's for sure."
Game Notes
• This was the sixth all-time meeting between the two schools, with Canisius leading the series 6-0.
The 104 points scored are the most for Canisius in a regulation game in the Koessler Athletic Center since the team defeated Elmira 105-74 on Feb. 28, 1989.
• Canisius is now 16-10 all-time in home openers played in the Koessler Athletic Center.
• Foley started the game going 6-for-6 from 3-point land. The six makes from behind the arc in the first half set a new Koessler Athletic Center record for treys in a half.
• Foley's 22 points in the game's first 20 minutes are the most for a Canisius player since former Griff Malcolm McMillan had 22 points in the first half at Hofstra Nov. 13, 2015.
• Reese's 11 assists are the most for a Canisius player in a home game since Billy Baron had 13 assists in a Canisius win over Siena Dec. 8, 2013.
•  Johnson's seven assists are the most for him this season, and gives him five-or more assists in 17 of his first 37 career games.
Canisius, which entered the game ranked third in the nation in free-throw percentage at 88.6 percent, shot just 53.6 percent (15-for-28) from the line in the win.

Up Next
Canisius will start a four-game road trip Tuesday, Nov. 21 when the team travels to play at Tennessee State in Nashville, Tenn. Tipoff is set for 8 p.m.