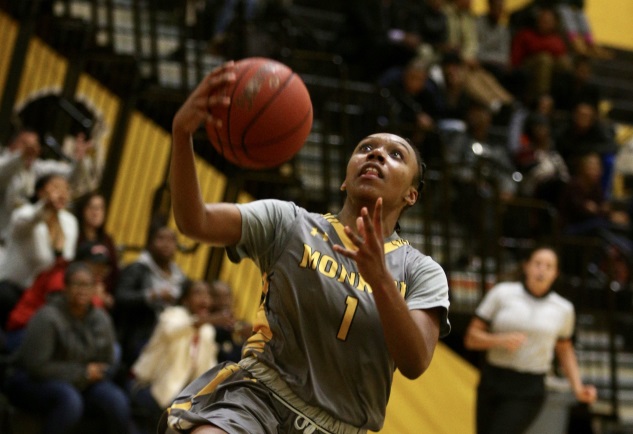 By PAUL GOTHAM
ROCHESTER, N.Y. — On a night when they struggled to find their 3-point shooting touch, the Monroe Community College women's basketball team showed the ability to manufacture a win.
Five scored in doubled figures, and the Tribunes handed out a season-high 25 assists in a 97-54 victory over the Mercyhurst NE Saints in Region 3 action on Monagan Court, Wednesday night.
Torrie Cash registered her second straight double-double, and Sierra Green posted a game-high 22 points as the Tribunes (7-1/2-0) won their fifth straight game.
"It feels good," Cash said of the win. "We could have played a little better, but it's still good to be 2-0 in the conference."
The sophomore guard scored 20 points on 7-of-15 shooting and grabbed a team-high 10 rebounds.
"Tonight, it was more of me rebounding and going to the basket," she explained. "My shot wasn't on. I noticed that, and I was driving."
Monroe used a suffocating defense to hold Mercyhurst NE scoreless for their first 11 possessions of the game en route to an early 12-0 lead.
Shalix Hines started the scoring for the night converting one of two from the free throw line and following that with a catch-and-shoot 3-pointer from the top of the arc. Cash found Lanay Rodney in the lane for a lay in.
Two possessions later, Hines led Rodney into the open floor for a layup. Erica Abitante knocked down a baseline jumper, and Rodney scored underneath to push the advantage to a dozen.
The Tribunes eventually forced an eye-popping 45 turnovers for the game which they converted into 42 points.
"We started out the game in man-to-man," Cash explained. "Then we switched it up and went zone. That really changed the momentum. That's what got us a lot of turnovers."
Green came off the bench and connected on 7 of 20 shots from the floor and 6 of 18 from long range.
"I feel like I make a bigger impact coming off the bench than starting and being shaky," the sophomore guard said. "I'm comfortable with that role."
Monroe, which entered play hitting 37.9 percent from long range, started the game 8-of-41 (19.5 percent) from behind the arc and finished hitting a season-low 22 percent (11 of 50).
"It was a bad shooting night," Green said. "We knew that. We adjusted from there. We can't always have a good shooting night."
At the same time, the Tribunes collected 25 assists on 33 made field goals.
"Giving the extra pass opens up more for us," Green said of the Tribs generating assists on 76 percent of their made field goals. "The more we swing the ball, the easier the shots become."
Rodney added 16 points on 8-of-16 shooting. Taliyah Brisco and Abitante chipped in with 13 points apiece. Brisco and Hines both dished out a game-high five helpers.
Brisco and Cash both had four steals. Cash had 11 points and 10 rebounds in MCC's 76-68 defeat of Monroe College over the weekend.
Alissa Johnson led Mercyhurst NE with 20 points. Shaquoia McCray turned in a double-double effort for the Saints with 14 points and 16 rebounds. Nia Phillips hauled in 11 boards for Mercyhurst NE.
The Tribunes travel to Toledo, Ohio this weekend where they will play in the Express Class at Owens Community College. MCC plays the host Owens CC Friday night. A 7 p.m. tipoff is scheduled.