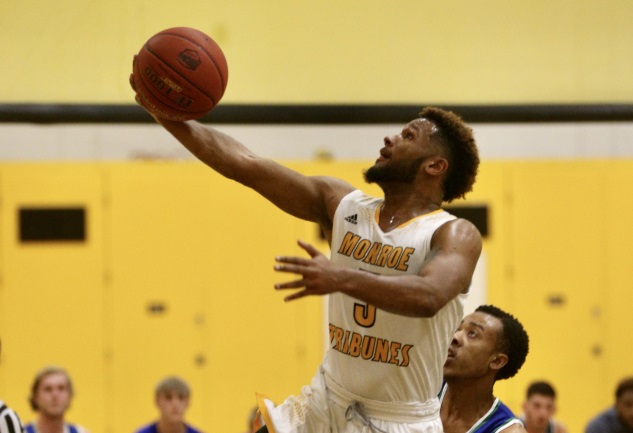 By PAUL GOTHAM
ROCHESTER, N.Y. — Gilberto Cue scored eight of his team-high 15 points during a second-half spurt, but it proved to be not enough as the Monroe Community College men's basketball team fell to Mohawk Valley Community College, 67-58 in the Murph Shapiro Classic on Monagan Court, Sunday afternoon.
Cue drilled back-to-back three-pointers and finished a bucket inside to pull Monroe CC within seven at 62-55, but the Tribunes could not get any closer in falling to 2-2 on the season.
Marquis Gilbert led four in double figures with 20, and Mohawk Valley CC improved to 4-1 on the year.
Monroe forced four turnovers in the early going and held MVCC to two field goals in its first 11 possessions. Ryan Beckles took a Kewan Platt feed and nailed a three ball from the top of the key.  Michael Kelly, Jr. finished in the lane off a baseline inbound play to give Monroe its largest lead of the game at 15-11.
Michael Gibson scored on a leaner in the lane for a 17-16 edge with 9:32 to go in the first half. It was Monroe's last lead of the day.
The Tribunes finished 23 of 70 from the floor including 5-of-29 long range. Monroe took just 13 free throws on the day and converted on just seven of those chances.
Kelly had 10 points for MCC on 6-of-11 shooting. The sophomore forward added seven rebounds.
Platt contributed 10 points and eight rebounds. Jayquan Smith also had eight rebounds as MCC won the battle on the boards 46-43.
Cue had five rebounds, three assists and three steals.
Donte Crumpler (Edison Tech) and Creig Goldson scored 12 points apiece for MVCC. Jordan Coleson had 10. Rian Carter (Bishop Kearney) added eight points.
MVCC finished 27 of 58 (46.6 percent) from the floor including 4 of 12 from behind the arc. The Hawks committed 17 turnovers on the day but jut six miscues in the second half.
Monroe had nine assists on 23 made field goals.
The Tribunes host Mercyhurst NE in Region 3 action on Wednesday. A 7:30 p.m. tipoff is scheduled at Monagan Court.