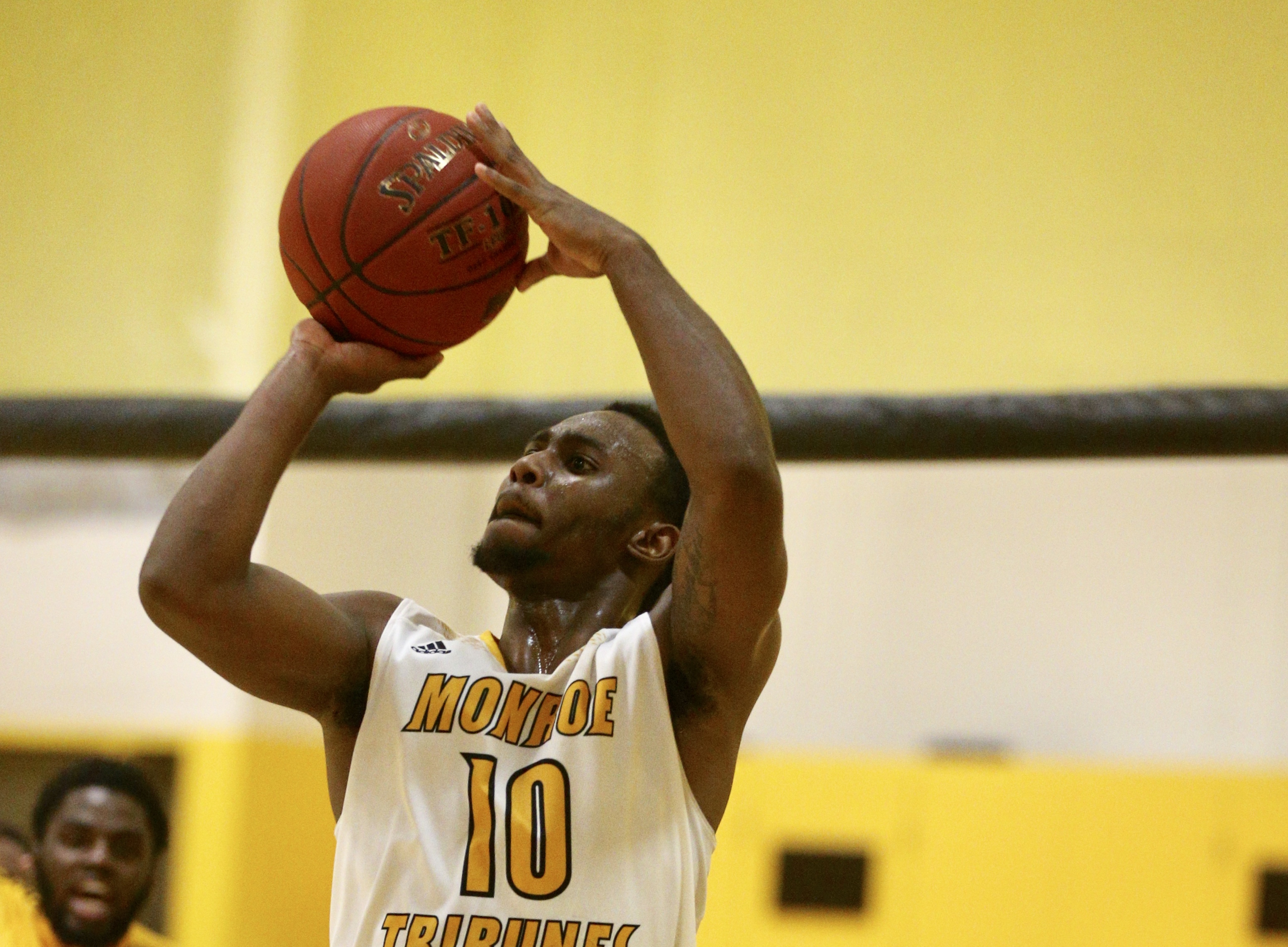 By PAUL GOTHAM
ROCHESTER, N.Y. — Majesty Brandon and Charles Prater combined for 35 points, but a second-half rally fell short as the Monroe Community College men's basketball team lost to Finger Lakes Community College, 82-79 in the 2017-18 season opener on George Monagan Court, Wednesday night.
Prater connected four times behind the arc during the second-half as the Tribunes trimmed a 14-point deficit to one.
Trailing 60-46, Prater drilled 3-pointers on two of three possessions. Brandon cut the deficit to single digits game at 64-55 with a catch-and-shoot trey from the left corner.
Kewan Platt joined the barrage with a triple of his own, and Prater made it a one-possession contest at 72-70 with a corner three.
But the Tribunes could not regain an advantage they had in the opening 10 minutes of the contest.
"There were only five minutes in the game that we played hard," said Monroe coach Jerry Burns. "That's what the problem is. It just looked like we were zombies."
Shane Fanning from the outside and Keon Dunbar breaking down the defense off the dribble, paced an FLCC offense which hit 26 of 51 shots from the floor.
"We've got a good shooting team," FLCC coach Richard Jones said. "They play well together. They look for each other."
Despite being recently released from concussion protocol and playing the last 11 minutes of the game with four fouls, Fanning led all scorers with 24. The 6-foot-2 guard hit 7 of 15 from the floor and three of five from long range.
"He's our only returning player," Jones said of the Rush-Henrietta high school alum. "He's the only guy we had tonight who's played a college basketball game. He's gotten more athletic from last year."
The Lakers as a team hit nine of 21 from behind the arc.
"We thought going in that to beat the better teams we were going to have to make at least eight threes because we just don't have much size," Jones added. "We don't have much inside game. We're not going to get a lot offensive rebounds and putbacks. It's important for us to shoot well."
Dunbar hit three of eight trifecta. But when FLCC needed a basket late, the 5-foot-9 point guard did his work in the lane.
Twice Monroe cut the lead to one in the final 3:28 of the game. On both occasions, Dunbar had the response.
"Couple of big baskets," Jones said. "We threw a couple away, and then we regained our composure."
MCC's Mike Kelly Jr. converted a rebound and putback to make it 78-77 game.
Three possessions later, Dunbar drove across the lane from right to left for a finish at the rim.
"They got the corner on us," Burns explained. We talked about containing the ball as well as ball-screen switching. The switching communication was poor."
Monroe recovered. Kelly found Brandon cutting baseline with a high-low feed and an 80-79 score with 1:30 to go in the contest.
Next trip down the floor, Dunbar used a hop step in the lane to create space for the final margin.
"We're down one and need to get a stop," Burns noted. "They just went ball screen. We wanted to switch. We switched and let Dunbar go right by us.
"Our defense was extremely poor in giving up 82 points."
Monroe had two looks from behind the arc on their final possession but could get a shot to fall.
Brandon finished with 17 points and handed out a game-high five assists. The Tribunes collected 17 dimes on 31 made field goals but committed 15 turnovers.
Prater had 18 points. Platt contributed 15 and a team-high nine rebounds. Monroe grabbed 43 rebounds to FLCC's 32.
Dunbar scored 23 on 8 of 13 shooting. Elijah Idlett chipped in 14 on four of nine from the floor. Enrique Mosman had 11 points.
After converting on five of 12 attempts from the free throw line in the first half, the Lakers, paced by Fanning (7-7), converted 17 of 21 charity tosses in the second half.
Monroe plays at Niagara County Community College next Wednesday, November 8th.
Finger Lakes travels to SUNY ESF for a 3 p.m. start on Saturday.