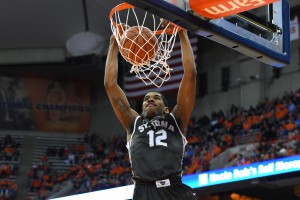 Courtesy of GoBonnies.com
St. Bonaventure basketball alumnus Denzel Gregg '17 has signed a professional contract to play for the Oberwart Gunners in Austria, the team announced Wednesday.
A 6-foot-7 forward from Syracuse, N.Y., Gregg enjoyed a productive career for the Bonnies highlighted by his junior and senior seasons. Last year, Gregg posted career-bests in scoring (12.0 points per game), rebounding (7.7) and blocked shots (1.7), recording eight double-doubles. He led the Atlantic 10 Conference in offensive rebounds (2.9 per game) and also ranked sixth in rebounding, third in blocked shots and 10th in field goal percentage (.495). His 55 blocks rank seventh on program's single season list.
Gregg finished his career fifth on St. Bonaventure's all-time blocks list with 137. Gregg played in 114 games over his career and was a part of teams that won 78 games, making him the third-winningest player ever at St. Bonaventure. He scored 816 career points.
In 2016-17, he helped lead the Bonnies to a 22-9 record and a share of the A-10's regular season title. St. Bonaventure reached the NIT. Last year, the Bonnies finished 20-12.
Gregg will be the second St. Bonaventure alumnus to play for Oberwart. His former teammate Andell Cumberbatch '15 played there the past two seasons.
Gregg, who graduated in May with a degree in finance, is the 19th St. Bonaventure men's basketball alumnus to sign a professional contract since Mark Schmidt became the Bonnies' head coach in 2007. Gregg joins former teammates Dion Wright, Youssou Ndoye, Cumberbatch, Charlon Kloof and Marquise Simmons as well as Matthew Wright, Michael Lee, Zarryon Fereti, Tyler Relph, Jonathan Hall, Ogo Adeboye, D'Lancy Carter, Da'Quan Cook, Chris Johnson, Demetrius Conger, Chris Matthews, Eric Mosley and Andrew Nicholson.