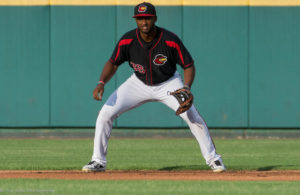 By CHUCKIE MAGGIO
It took a couple days, but the Rochester Red Wings finally tied the Lehigh Valley IronPigs for the International League wild card.
Rochester scored a 4-3 win over Norfolk on Sunday afternoon while the IronPigs dropped a 9-4 game to Charlotte. The loss was Lehigh Valley's ninth in its last 11 games.
Niko Goodrum delivered the big hit for Rochester with a go-ahead two-run home run to right center field off Tides starter Gabriel Ynoa in the sixth inning. The bullpen did the rest, as just one Norfolk runner reached second base in the last 2.1 innings on the combination of Nik Turley and Alex Wimmers.
For Goodrum, it was his 10th homer of the year. Three have given the Wings the lead and four others have extended a one-run lead to two or three. The timely power isn't lost on his manager.
"He gets streaky RBI-wise sometimes, but no time like the present," Mike Quade said. "…It's funny: I wasn't sure where we were gonna be at pitching-wise this year, and we've been probably better than my expectations as a group. The flip-side of that is I thought we were gonna hit for more power, and we haven't. Whether it's Niko's ten, you start getting contributions here and there… we're gonna need these down the stretch."
"They started me off-speed both my first two at-bats, starting with a slider," Goodrum said. "So I was pretty sure it was gonna be a slider in the zone, so I was just trying to be aggressive with it."
Tim Melville nailed down his fourth win of the year, allowing four hits (one solo homer) and three runs while striking out six in 6.2 innings. Ynoa fell to 4-9 despite only allowing three earned runs himself; former Wing Logan Schafer's fifth-inning error in center allowed Engelb Vielma to eventually score and cut the Norfolk lead to 3-2.
The IronPigs had similar problems last August, losing seven of their first 12 games that month. They do have the head-to-head season tiebreaker with Rochester in their back pocket, as the teams do not meet again. They also have just four more games with 77-43 Scranton/Wilkes-Barre while Rochester has eight. But with Rhys Hoskins called up to Philadelphia, the IronPigs are missing some of that pop in their lineup as they, like the Wings, embark on a six-game road trip this week.
Goodrum said he doesn't pay attention to the Lehigh Valley score. He acknowledged, however, that it's good to have a chance for the playoffs.
"The team, we know that we're right there in the race with them for the wild card spot," Goodrum said. "Just knowing that we have a chance for the playoffs is always good.
"As long as we're not losing series, we feel pretty good. You always want to win them, but as long as we're not losing them, we feel pretty good."
Rochester opens a three-game set at Columbus on Tuesday. A 7:05 pm first pitch is slated.