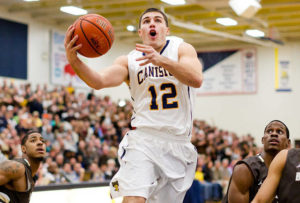 Courtesy of GoGriffs.com
Former Canisius guard Billy Baron '14 has been selected as one of 16 players who will participate in the USA Basketball Men's AmeriCup Team training camp, USA Basketball announced Monday. The group of 16 players boast NBA, NBA G League and international playing experience.
The training camp, which will be used to select the national team that will represent the United States at the FIBAAmeriCup 2017, will be held Aug. 17-24 at the University of Houston. The official, 12-man USA team will be announced prior to the team's Aug. 24 departure.
The USA AmeriCup Team, after training Aug. 25-27 in Montevideo, Uruguay, will participate in the AmeriCup Group C preliminary round games Aug. 28-30 in Montevideo, Uruguay.
Former NBA head coach and Rochester, N.Y., native Jeff Van Gundy is serving as the head coach of the USA Basketball Men's AmeriCup Team, while current NBA G League Northern Arizona Suns head coach Ty Ellis and veteran international coach Mo McHone are assistant coaches.
"Anytime you get the opportunity to put the USA on the front of your jersey and wear the red white and blue, you take it," Baron said. "I am truly honored to get the invite to training camp among other great players who are playing around the world.  I am really looking forward to learning under coach Van Gundy and I am going to give it my all down in Houston."
An Associated Press All-America Honorable Mention selection, just the fourth in Canisius history, Baron finished his senior campaign (2013-14) ranked fourth in the nation in scoring average with 24.1 points per game. He was the only Division I men's basketball player in the country to average better than 20.0 points, 5.0 assists and 4.5 rebounds per game in 2013-14, and he was one of two players in the nation to average more than 20.0 points and 5.0 assists per game in that season. The MAAC's leader in assists per game at 5.3 per contest that year, he finished his senior season with 180 assists in 34 games for the Griffs, which ranks fourth in school history for assists in a single season.
Baron scored in double figures 33 times in 2013-14, and he was good for 20-plus points in a game 26 times. He had 30 or more points in nine different games, highlighted by his career-high 40-point effort at Siena Feb. 16, 2014. His 821 total points in 2013-14 are the most for a senior in school history and he also set a school record with 107 makes from 3-point range in his senior campaign.
He closed out his career at Canisius as just the fourth Griff in the program's history to score more than 1,400 career points while dishing out 350-plus career assists. A two-time All-MAAC First Team honoree, Baron ended his career as a Griff ranked 11th in career scoring (1,405 points), fourth in career scoring average (20.7 points per game), fourth in career 3-point field goals (173), first in career free-throw percentage (85.9 percent) and ninth in career assists (351).
Baron, who is currently under contract with Eskisehir Basket in Turkey, will be joined at the USA training camp by Rod Benson (Wonju Dongbu Promy, South Korea), Alec Brown (Windy City Bulls), Larry Drew II (Sioux Falls Skyforce), Reggie Hearn (Reno Bighorns), Darrun Hilliard (Detroit Pistons), Jonathan Holmes (Canton Charge), Ra'Shad James (Cedevita Zagreb, Croatia), Kendall Marshall (Reno Bighorns), Darius Morris (Rio Grande Valley Vipers), Xavier Munford (Greensboro Swarm), Marshall Plumlee (New York Knicks), Jameel Warney (Texas Legends), C.J. Williams (Texas Legends), Reggie Williams (Oklahoma City Blue) and Derek Willis (Grand Rapids Drive).