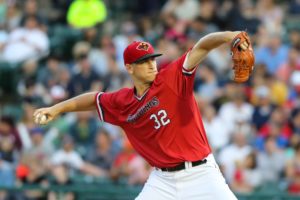 By Kevin Oklobzija
If Aaron Slegers is at some point going to make the jump from Triple-A to the Minnesota Twins, and have success when he gets there, it won't be because of his fastball.
He doesn't throw it hard enough, or with enough movement, to be an out-pitch in Major League Baseball. Instead, the 6-foot-10, 245-pound right-hander will need to get outs with his change-up.
Saturday night may very well have been a look into his future.
Slegers pitched 7 1/3 stellar innings and, thanks to home runs by Byungho Park and Mitch Garver, the Rochester Red Wings defeated the Norfolk Tides 3-2 at Frontier Field.
Slegers, 24, allowed eight hits and two runs. He struck out six and didn't walk a batter in improving to 13-4. He leads the International League in victories, something a Wings pitcher hasn't done outright since Dave Gassner in 2004 (16 wins).
"It's fun to pitch when your team gets the win," Slegers said, "but everyone knows it (a pitcher's win-loss record) is not the end-all, be-all in baseball. I've gotten some terrific run support."
And defensive support when necessary, though one of the hits, and by extension the second run, he allowed to Norfolk came when center fielder Zack Granite lost Drew Dosch's sixth-inning fly ball in the twilight, a common malady for outfielders at Frontier.
"Man, Slegers was good," said Wings manager Mike Quade, whose 68-52 club remained one game behind Lehigh Valley in the International League's wild card chase. "His change-up and slider were really, really good. I thought he used them in key situations to get outs."
That's precisely what he needed to do against the Tides, who had won 19 of their previous 29 and, with a predominately left-handed hitting lineup, entered Saturday hitting .263 against right-handers.
Slegers, a fifth-year veteran of the Twins minor-league system, was rarely in trouble, though the first inning started a little rocky. Dosch laced a two-out double and scored when Pedro Alvarez singled sharply to right.
No problem, he said.
"That was two straight hits on first-pitch fastballs, which I can live with," he said. "In the first inning I want to throw strikes, I don't want to get behind hitters."
As the game progressed, he mixed in his curve and especially his change-up much more often, and with great effectiveness.
"I think this was the best night for the change-up," he said. "It's definitely been a work in progress and today was a huge stride forward."
Quade was in agreement.
"The development of his soft game is going to be huge," Quade said. "As far as that goes is as far as he goes.
"I was really impressed with that aspect of his game tonight, maybe moreso than any point this year."
Park's 10th homer, a two-run shot, gave the Wings a 2-1 lead in the fourth. Garver's solo shot in the fifth, his 17th, made it 3-1. Garver is hitting .287.
"He might be having the best quiet year of anyone in the league," Quade said.
The week-long homestand concludes with a 1:35 p.m. game against Norfolk on Sunday.