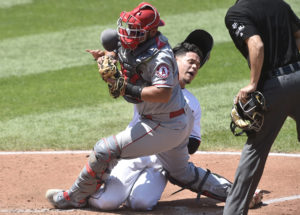 Tampa Bay Rays (53-50) 5
New York Yankees (54-46) 6
Final in 11 innings
NEW YORK– Brett Gardner scored the game-tying run in the ninth and later hit a walk-off home run as the Yankees won their fourth straight contest. CC Sabathia struggled to keep the lead during his start for New York, resulting in him getting pulled after four-and-one-third innings. He finished his night having allowed four runs, five hits and a base on balls. One of those runs came off a solo shot from Evan Longoria, who continued to rake against Sabathia (Career: 32 for 76, 8 HR, 17 RBI). Pitching for the Rays, Chris Archer gave up three runs on seven hits in addition to eliminating ten batters on strikes in six innings.
Milwaukee Brewers (54-50) 2
Washington Nationals (61-39) 15
WASHINGTON– Bryce Harper sparked the Nationals' offense by going 3-for-5 with two home runs, three runs scored and four RBI in their rout of the Brewers. However, he was not the only one that would participate in Washington's version of the home run derby. By the end of the game, the team tied a franchise record with eight long balls including back-to-back-to-back-to-back shots in the third inning. For Max Scherzer, all of the run support was as good of a birthday present as he could get. He responded by throwing six innings of one run ball and fanning nine batters. Getting the nod for Milwaukee, Michael Blazek lasted just two-and-one-third innings while getting lit up for eight runs on seven hits, six of which were home runs.
Oakland Athletics (44-58) 4
Toronto Blue Jays (48-54) 8
Final in 10 innings
TORONTO– Steve Pearce launched a walk-off grand slam in the bottom of the tenth inning to carry the Blue Jays to a series sweep. Struggling to find his command on the mound, Marcus Stroman ate up just four-and-two-thirds innings, surrendering three runs on six hits and six walks. Opposing him, Sean Manaea pitched seven innings of three run ball while eliminating seven on strikes. At the plate, Marcus Semien led the Athletics with three hits, a run scored and an RBI.
Los Angeles Angels (49-54) 1
Cleveland Indians (55-45) 2
CLEVELAND– Francisco Lindor hit a go-ahead single that scored Brandon Guyer as the Indians won their seventh consecutive game. Now 4-0 in his career against the Angels, Trevor Bauer tossed a season-high eight innings, allowing one run on seven hits to go with six strikeouts. Falling on the losing end of the pitching duel, JC Ramirez lasted six-and-two-thirds innings, giving up two runs on five hits while also walking six batters. The lone run for the Angels came in the fifth when CJ Cron produced an RBI single.
Chicago Cubs (54-47) 6
Chicago White Sox (39-60) 3
CHICAGO– Kyle Schwarber went 3-for-4 with two round trippers and four RBI to propel the Cubs to their third straight win. Continuing the dominance that Cubs starters have had (10-0 with a 2.50 ERA) over the last thirteen games, Jon Lester let up just two runs on four hits in seven innings. For the White Sox, Mike Pelfrey was charged with five runs on six hits and two walks in five innings. At the dish, Jose Abreu went deep twice for a team that has struggled to produce runs.
Arizona Diamondbacks (59-43) 4
St. Louis Cardinals (50-52) 0
ST. LOUIS– J.D Martinez was responsible for all of Arizona's offense as he hit a grand slam to help the Diamondbacks end the Cardinals' three-game win streak. After enduring two rough starts, Zack Godley tossed seven scoreless innings, yielding four hits to go along with seven strikeouts. St. Louis' Luke Weaver was tagged for four runs in five innings as he returned from Triple-A.
Cincinnati Reds (41-61) 1
Miami Marlins (47-53) 4
MIAMI– Derek Dietrich continued his hot two-game stretch as he went 2-for-3 with a home run and three RBI in the Marlins' series opening win. On the hill, Chris O'Grady pitched seven shutout innings, allowing five hits while striking out five. In four-and-one-third innings for the Reds, Robert Stephenson gave up three runs on four hits and seven walks. Eugenio Suarez was one of the lone bright spots in Cincinnati's lineup, going 3-for-5 with a run scored.
New York Mets (47-53) 5
San Diego Padres (45-57) 7
SAN DIEGO– Manuel Margot and Dusty Coleman drove in three runs apiece as the Padres earned a series split with the Mets. For Coleman, this was also the night that he hit his first career home run. Backed by the run support, Luis Perdomo ate up six-and-two-thirds innings while surrendering four runs on nine hits. Making his Major League debut for the Mets, Chris Flexen pitched three innings, letting up four runs (three earned) on five hits and four walks. Jay Bruce was the catalyst of New York's lineup as he had three RBI.