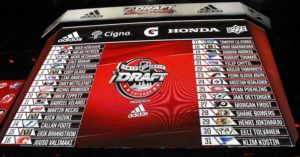 By KEVIN OKLOBZIJA
When it comes to pure skills, David Farrance and Jack Dugan meet the necessary requisites that NHL scouts seek.
That's why both were selected in Saturday's NHL Draft at the United Center in Chicago. The Nashville Predators chose Farrance in the third round (92nd overall) while Dugan was taken by the expansion Las Vegas Golden Knights in round 5 (142nd overall).
But before their names were bandied about in team war rooms and then ultimately announced from the podium on Saturday, the two Rochester youth hockey products spent the past two years solidifying their stock and wiping away the question marks that were listed on their scouting reports.
For Farrance, it was juggling the rigors of hockey with the demands of school and life, and proving he could thrive in the classroom and the ice. For Dugan, it was showing he had achieved another level of maturity. Both succeeded.
Meanwhile, another local standout, Jake Tortora of Victor, wasn't drafted. His vast puck skills were on display the past two seasons with USA Hockey's National Team Development Program, but scouts have always worried about his stature (he's only 5-foot-6 or 5-foot-7). Tortora is headed to Boston College, where smallish players traditionally have thrived and, in doing so, convinced the NHL that they could play. Maybe you've heard of the Gionta brothers, Brian and Stephen, Calgary Flames star Johnny Gaudreau and former Buffalo Sabres winger Nathan Gerbe.
And if Tortora dazzles at BC, he may actually have greater NHL opportunities because he'll be a free agent and can choose the best fit.
His lifelong good buddy, Farrance, was able to savor the draft moment late Saturday morning. He played for the Under-18 team with USA Hockey's National Team Development Program this past season, producing 7 goals and 30 assists in 64 games while meeting his off-ice expectations.
"To master those off-ice things and have a professional's mentality is a testament to him," said John Wroblewski, head coach of the U-18 team and a former assistant coach for the Rochester Americans.
The skill-set has never been questioned. Farrance, the All-Greater Rochester Player of the Year in 2014-15, can skate like the wind and has exceptional hockey sense. NHL Network analyst Brian Lawton called him a "new-age defenseman."
"His talent level is off the charts," Wroblewski said. "He's one of the smoothest skaters I've ever seen."
Farrance scored two goals and assisted on two others in helping Team USA win gold at the U-18 World Junior Championships in Slovakia. But he's not just a one-dimensional player.
"He's proven he can play on the big stage," Wroblewski said. "He was really good for us in our international events. And he was really good defensively with his gap control, his ability to recover and his dedication to keeping the puck out of the net."
Joining the Predators' organization was the ultimate birthday present; Farrance turned 18 on Friday.
His pro career won't begin yet, however. He's headed to Boston University. Made his verbal commitment to the Terriers before his sophomore season at Victor High School even began.
Unlike Farrance, Dugan hasn't always been on the scouting radar. The NHL bypassed him last year, his first year of draft eligibility. But the former standout center at McQuaid emerged as a diamond in the rough during the past two seasons while playing prep-school hockey for Northwood School in Lake Placid.
His quest while skating for Northwood in the 1980 Miracle On Ice arena in Lake Placid was to become more well-rounded as a player and person. For Dugan, a 19-year-old from Pittsford, it too was mission accomplished.
The New York State Division 1 player of the Year in 2014-15 as a junior at McQuaid, he produced 32 goals, 61 assists and 93 points in 47 games this past winter. The year before, he scored 24-29-53 in 49 games.
Both seasons were spent playing for Chadd Cassidy, the former Amerks head coach.
"He's always been a talented kid," Cassidy said. "But he needed to be in an environment where he could not only get better on the ice but where he could grow up on and off the ice. Scouts want to know you'll wear the emblem of the organization in the right way.
"He could have easily stayed where he was at. But he challenged himself by moving away from home and coming here. It made him realize there's a way bigger world out there.
"And give him a lot of credit: He came a long way in two years. He now understands the accountability part of it. To see where he is today, it says a lot about him."
Dugan will play the upcoming season with the Chicago Steel of the United States Hockey League. He was the second overall pick in the USHL draft this spring. Then it's off to Providence College for the 2018-19 season.
"When I look at Jack, he has it all," Cassidy said. "He's big (6-2, 185), he can skate and he's super competitive. That's what started all the hype about the draft; he's the full package."
Tortora possesses high-round skills but he's small. Even as the game puts more emphasis on speed and skill, a player in the 160-pound range will always deter scouts.
In 51 games with the U-18 team last season, he scored 18-20-38. With the U-17 team the year before, he produced 15-16-31 in 50 games. And he's not afraid. He'll go to the net and he has the keen ability to score and pass within tight spaces and traffic.
What's perhaps the greatest testament to Tortora's makeup: the events surrounding the 2015 tryouts for the National Team Development Program.
Players receive a two-year invitation from USA Hockey when they are 15 and/or turning 16. In other words, players on this season's U-18 squad were picked in the spring of 2015.
Tortora, however, was in the midst of the playoffs with the Don Mills Flyers, his midget team, in the Greater Toronto Hockey League. He refused to abandon his team in order to chase a personal goal at the Team USA tryouts.
That dedication to team spoke volumes about his character, and then NTDP coach Don Granato was very willing to extend an invitation to Tortora later that spring.