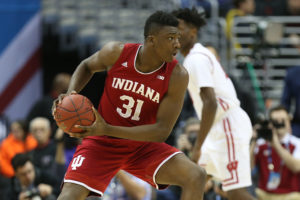 The torch has been passed.
With the 42nd pick, the Utah Jazz chose Bishop Kearney's Thomas Bryant. The selection marked the first time since 1996 that a Rochester native has heard his name called in the NBA Draft.
Soon after the selection, Bryant went in a trade to the Los Angeles Lakers where he will start his professional career.
Bryant garnered three straight All-Tournament team selections from 2011-2013 as Bishop Kearney won the A1 title in 2011, the A crown in 2012 and the AA1 Section V championship in 2013. Bryant earned Tournament MVP honors in 2013 when the Kings beat New Rochelle (I) to take the NYSPHSAA AA1 title.
Bryant played two years at Huntington Prep in West Virginia before spending his collegiate career at Indiana University.  The 6-foot-10 center averaged 12.2 points and 6.6 rebounds over two seasons with the Hoosiers. He blocked 1.2 shots per game and finished with a career field-goal percentage of 59.2.
Bryant joins a Laker organization which selected Lonzo Ball in the first round. The Lakers finished 26-56 in 2016-17. Rookie Brandon Ingram (Duke) scored 9.4 points per game under first-year Laker head coach Luke Walton.
Bryant joins Greece Athena's John Wallace who was taken with the 18th pick in the  1996 NBA Draft by the New York Knicks.  Wallace went on to play seven seasons in the NBA. He averaged a career-high 14 points and 4.5 rebounds with the Toronto Raptors in 1997-98.
Bryant is one of five Section Five alums to to be drafted in the last month including Ernie Clement (Brighton) and Logan Harasta (Webster Thomas) taken fourth and seventh rounds respectively of the MLB Draft. Jack Dugan (McQuaid) and David Farrance (Victor) were taken in the third and fifth rounds by the Nashville Predators and Las Vegas Golden Knights.
Aquinas alum Jarron Jones also recently signed a free agent deal with the New York Giants of the NFL.