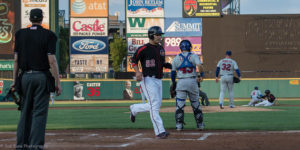 By CHUCKIE MAGGIO
ROCHESTER, N.Y. — Jake Reed may have been making his Rochester Red Wings season debut on Tuesday night, but it was no low-key icebreaker.
After starting pitcher Aaron Slegers allowed a two-out, RBI single by Shane Opitz that cut the Rochester lead to 4-3, the Buffalo Bisons had momentum, and Reed was called from the bullpen. With men on first and second, the 24-year-old was able to strike out Jonathan Diaz looking to end the inning.
The score ended up staying 4-3 in front of 4,323 fans at Frontier Field. Slegers earned his sixth win of the season as Rochester clinched a series win, with an afternoon finale tomorrow. Reed was credited with the hold while Ryan Pressly pitched two hitless innings to earn his third save of the year.
Counting his five outings in Double-A Chattanooga prior to being promoted, Reed has allowed opposing batters to hit just .167 this year. Pressly has 197 games of major league experience to his name, bolstering a young Wings bullpen.
"First of all, these are two pretty good relief guys that we've got… I would expect Jake to get that last out," Wings manager Mike Quade said. "If I bring him in in that situation with one out or nobody out, now that's tough. But these guys at the back end of your bullpen, they've gotta get it done in those situations. Does it happen all the time? No. But you feel pretty good when you can bring those guys in.
"You're bringing 95-97 (mile-per-hour fastballs) into the game with good breaking pitches. Doesn't mean you don't make a mistake, doesn't mean you can't get beat, but it's really nice to manage when you've got that in your back pocket."
It's also nice to manage when your lineup jumps out to an early lead again, like Rochester did with a 3-0 first inning. Mitch Garver and ByungHo Park roped RBI doubles and John Ryan Murphy recorded a sacrifice fly. Engelb Vielma produced the other run with his legs as Bisons pitcher T.J. House failed to make him pay for cheating towards second base in the fourth. House's pickoff attempt went haywire as Vielma stole second base and motored for third on the error. Matt Hague drove him in two batters later.
VIEW MORE SUE KANE PHOTOS HERE.
Even when Vielma almost cost the Red Wings by bobbling a ground ball and only managing one out instead of a double play, his pitcher got out of the jam and had his back, just like a winning team (the Wings improved to 34-33) should.
"He plays with some energy, doesn't he?" Quade remarked about his athletic shortstop. "Arms and legs going everywhere, and obviously that was a huge run."
As for Reed, he was just happy to pitch effectively in a potentially dangerous spot.
"It's kind of nice warming up in that kind of situation because you don't have much time to think," he said. "It's just kind of pick up a ball and get going and make sure you're ready to come into the game, so there's not really much time to think about anything other than just doing whatever you can to leave those guys out there.
"I'm happy to be back with this group of guys. I've only been here for two games, but it's been two solid games… I'm happy to be back with them and be here in Rochester."