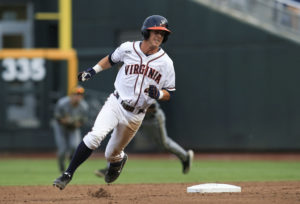 By KEVIN OKLOBZIJA
Even though Ernie Clement still has another season of eligibility remaining at the University of Virginia, his bio page on the official athletic department website used the phrase "finished his career with …" when highlighting his accomplishments this spring.
Now we know why there seems to be finality to Clement's collegiate career.
The dynamic middle infielder from Brighton was selected in the fourth round (132nd overall) of the Major League Baseball Draft by the Cleveland Indians on Tuesday.
As the 132nd selection, Clement, 21, is slotted to be offered $393,900 by the Indians and, if he signs, would begin his professional career later this month with either Mahoning Valley of the New York-Penn League or with the Indians' Arizona League affiliate in Goodyear, Ariz.
Since 1970 just five players from the immediate Rochester metro area have been selected higher: Pitcher Mike Jones, Pittsford Sutherland, 1st round, by the San Francisco Giants in 1982; infielder Cito Culver, Irondequoit, 1st round, by the New York Yankees in 2012; pitcher/outfielder Charles Steffen, Jefferson High School, 2nd round, by the Pittsburgh Pirates in 1973; outfielder Anthony Glassman, Monroe High School, 2nd round, by the San Diego Padres in 1971; and pitcher/outfielder Doug Farrell, Cardinal Mooney, 3rd round, by the Pirates in 1972.
Clement was a third-team All-ACC selection at shortstop this season, when he hit .315 with five doubles, one triple, two home runs, 34 RBI and 56 runs scored. He was successful on 14 of 16 steal attempts.
His trademark at the plate continues to be his ability to put the ball in play. No batter in the nation was more difficult to strike out than Clement; he fanned just seven times, an average of one every 36.3 at-bats. This isn't a new trick, however. He ranked third in the category as a freshman.
Clement, a 2014 graduate of Brighton High school, was an All-Greater Rochester selection on the diamond as well as hockey as a senior. As a freshman at Virginia in 2015, he played second base and some center field in helping the Cavaliers win the College World Series.
Last summer Clement played for the Harwich Mariners in the Cape Cod League and was named Most Valuable Player. The list of former Cape Cod MVPs includes Justin Smoak, Evan Longoria, Darin Erstad, Ron Darling, Paul O'Neill and Thurman Munson.
Other local players taken in the MLB Draft include Webster Thomas and University of Buffalo product Logan Harasta (7th round – 216 overall/San Francisco Giants). The Cincinnati Reds chose John Ghyzel (University of Rochester) in the 18th round, and the Arizona Diamondbacks selected Will Gorman (Rochester Institute of Technology) in the 32nd round.
Since Culver was chosen in the first round (30th overall) in 2012, the highest a Monroe County League product was selected was the eighth round. Thats when the Arizona Diamondbacks took Pittsford Sutherland graduate Grant Heyman, an outfielder, 240th overall. Greece Athena graduate Brian Dupra, a pitcher, was a seventh-round pick of the Washington Nationals in 2011.
When extending farther into the region, Hornell's Jordan Schwartz was chosen on the fourth round (132nd overall) by the Oakland A's in 2014. He was released this spring.