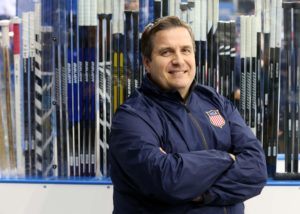 By KEVIN OKLOBZIJA
There will be no Rochester area players skating in the Stanley Cup Final, but at least one native Rochesterian will be wearing a championship ring when the series is over.
J.C. Ihrig, a 1986 graduate of Wilson Magnet High School, and Peter Rogers, who left Aquinas Institute with his diploma in 1984, will be on the benches attending to sticks, skate blades and every other piece of equipment for the Stanley Cup finalists.
Ihrig, 48, is in his first season as the assistant equipment manager for the defending-champion Pittsburgh Penguins. Rogers, 50, is the equipment manager for the Nashville Predators, and has been since the franchise entered the NHL for the 1998-99 season. One of Rogers' assistants is Jeff Camelio, who grew up in Gates and has been with the team for a decade.
Small world, this sport of hockey. Ihrig and Rogers have been friends for 30 years and both decided to pursue a career in pro hockey after working for the American Hockey League's Rochester Americans.
Ihrig was a stick boy in the early 1980s and then assumed the position of equipment manager in 1987-88. Rogers was a stick boy starting as an eighth-grader, worked as an assistant for Ihrig during the run to the Calder Cup finals in 1990-91 and became equipment manager the following year.
"It was a part time job that I really liked and I told my dad, 'This is what I want to do,' " Rogers recalled.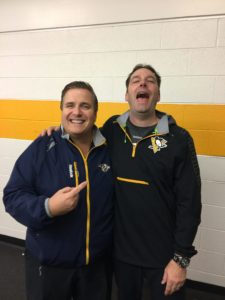 His father backed his son's decision, on one condition: He needed to go to college and get his degree, which Peter did.
Armed with a major in communications, Rogers continued to pursue a career in hockey. He worked his way up from the ECHL to the Amerks, won a Calder Cup with the John Tortorella-coached team of 1995-96, then was hired by the Predators.
But, oh, how life may have been different. He actually was supposed to become equipment manager of the Newmarket Saints of the AHL in 1990 until the team called back to nix the hiring. "They said, 'Oh, yeah, you're an American; you can't work for us.' "
They say things always happen for a reason. Rogers will certainly attest to that. He ended up with an NHL opportunity in large part because of the 1996 Calder Cup finals against the Portland Pirates. Barry Trotz was the Pirates coach, and a year later was hired to coach the Predators.
"It's been such a great place to live and raise a family," said Rogers, who along with wife Judy are raising their daughter, Lexi, 13.
Rogers and Trotz became acquainted during the series, and spent several minutes together following the Amerks' Game 7 victory outside the arena.
"He couldn't find their bus," Rogers said with a laugh. "The fans were all celebrating outside and their bus couldn't get to the rink. So there we were in front of the arena, looking for a bus."
Apparently Trotz liked Rogers' dedication. He was the one who hired him to be Nashville's equipment manager.
Despite 18 years in Nashville, Rogers still hasn't really embraced country music.
"Not at all," he said. "I'll always be a Rush fan."
Ihrig, meanwhile, took a different path to an NHL bench. After leaving the Amerks he worked elsewhere in hockey and even in professional baseball before equipment giant CCM hired him as a team representative. For 19 years he assessed stick patterns, outfitted goalies and made sure skates fit to player specifications for teams in the NHL, AHL and ECHL.
But when Penguins equipment manager Dana Heinze offered him the assistant's job, Ihrig couldn't resist.
"I was able to realize a dream I have had since age 11," Ihrig said. "I'm very glad I did this. How can I not be? I came back to a job that I really do have a passion for."
The irony of a Penguins-Predators Cup final: Ihrig was CCM's representative to the Predators for five seasons.
"I signed Filip Forsberg, Austin Watson and Colton Sissons to their endorsement deals," Ihrig said.
The difficult part of accepting the job late last summer was that it was too late to uproot his wife, Amy, and their 8-year-old son, Henry, from their home in Greenville, S.C. They'll join him in Pittsburgh for next season.
"I wish my family was here," he said. "But I went to an organization that quite frankly is the best. I wouldn't have taken this job with somebody else.
"And, hey, I get to watch Sidney Crosby play hockey every night. I get to spend time with Marc-Andre Fleury, who is such a great guy. And now I get to play for the Stanley Cup and get to be with my friends. I know how fortunate I am."
It's a long way from their days with the Amerks, that's for sure.
"It's pretty cool," Ihrig said, "that someone from Rochester is going to win the Stanley Cup."