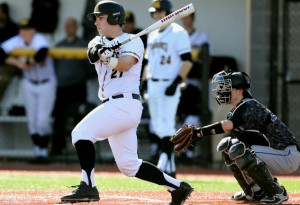 By PAUL GOTHAM
ROCHESTER, N.Y. — Unseasonably cold temperatures and rainy conditions didn't dampen the Monroe Community College Tribune bats on Saturday afternoon.
MCC pounded out 23 hits and swept a non-league doubleheader from Ithaca College JV (7-6/20-6) at Tribune Field.
Johnny Ricotta finished 5-for-6 on the afternoon and swatted career home run number 19 to set a new  program mark.
Ricotta's three-run shot to left highlighted an eight-run fourth inning of the nightcap as Monroe put the game out of reach and won for the sixth time in seven games.
Ricotta plated Alex Canty and Jonathan Catapano with his 14th home run of the season. The sophomore collected six RBI on the day and ran his season total to 59.
Ricky Sisto started the inning with a pinch hit walk, but the outburst almost didn't happen. Two outs later, Matt Wagner was originally called out on a play at first base. After an appeal to the home plate umpire a brief conference ensued, and Wagner was ruled safe on the play.
The next seven Tribune batters all reached base.
Ryan Brown singled to right center and brought in a run. Catapano doubled to left field. Canty walked, and Ricotta went yard.  Jake Hewitt kept the inning alive with a base on balls. Sisto knocked a base hit to center, and Mike Perlo capped the inning with a two-run single to left field.
Monroe put crooked numbers on the board in each of the game's first four innings.
Hewitt drilled a two-out, two-run triple and later scored on a wild pitch to give Monroe a 3-0 lead in the first.
A pair of Ithaca errors led to two runs in the second before Ricotta drove a two-strike pitch through the right side of the infield to score a run. Hewitt brought in another with a groundout.
Wagner sparked a five-run third with an RBI base hit. Catapano beat out an infield hit and scored a run. Canty drove in two with a triple to left center, and Ricotta made it a 12-5 game with an infield single.
Monroe scored two in the sixth inning of game one to break a 5-5 tie.
Andrew Czubaj rapped a one-out single up the middle. Sisto walked. Wagner made it a 6-5 game with a single to center and put runners on the corners. Wagner then stole second, and the throw sailed into center allowing Sisto to cross the plate with the eventual winning run.
Stuart Martin allowed three runs on four hits over five innings for the game one win. The right-hander came out of the bullpen with two on and no outs in the third and nearly escaped a bases-loaded situation, but an error brought in a run. The right-hander struck out eight and walked two.
Wagner finished the day 4-for-4 at the plate with three RBI, a run scored, a stolen base and a sacrifice bunt.
Brown was 5-for-7 with a walk, six runs scored and two RBI.
Catapano collected four RBI and three runs scored for the afternoon. Canty had two RBI and four runs scored. Sisto was walked three times and scored two runs.
Frankie Pizzo was 1-for-3 with a walk and two runs scored in the nightcap.
Temperatures hovered in the mid-40s throughout the afternoon. Showers of varying intensity cascaded the field making between-inning mound work a routine.
Monroe will host Herkimer College on Sunday. A 1 pm first pitch is scheduled.