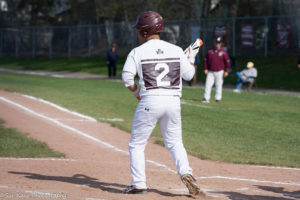 Webster Schroeder 14 Churchville-Chili 4
On a day when Phil Ferranti tripled his fun Webster Schroeder, ranked No. 1 in the first NYS Class AA poll of the year, improved to 11-0 on the season. Ferranti finished the day 3-for-3 with three triples, three runs scored and three RBI to lead the Warriors. Ferranti plated Shane Marshall in five-run first, and Schroeder never looked back. Schroeder led 10-0 after three innings. Marshall went 2-for-4 with three runs scored, and Schroeder pounded out 15 hits. John  Stocum was 2-for-3 with a run scored, and Nick Vogt went 1-for-3 with a triple and three RBI. Tyler Candelaria drove in two runs. Connor Bisaillon allowed one run on three hits over four innings for the win. The senior drove in three with one hit. Pete Smith tossed an inning and  third of scoreless ball. Jayson Wallace had a hit and scored two runs for Schroeder.
Greece Athena 13 Pittsford Mendon 3
Jorge Oropeza pitched a complete game, walked one and struck out two for his first varsity win. Jayson Russell had four hits and four RBI to pace the Trojans offense. Mike Ruta collected three hits and two RBI. James Sciortino broke the game open in the top of the fifth with a grand slam to make it 11-2. Jamie Shoemaker, Jorge Oropeza, and Jagger Nucci each added two hits.
James Sciortino with the GRAND SLAM in the top of the 5th. @AthenaHigh leads 11-2 going in to the bottom of 5. pic.twitter.com/fX5dR4pja5

— Ellen Shoemaker (@EllenShoemaker1) April 26, 2017
Irondequoit 5 Webster Thomas 3
Will Porter plated Nick Serce with a single in the fifth for the eventual game-winning run as Irondequoit rallied from an early deficit and improved to 4-3 on the season. Ryan Mason spotted Thomas an early edge with an RBI in a three-run Titan first. Irondequoit responded with three in the home half. Chris Butler plated one with a double, and Porter brought home two with a single. Connor Colbey drove in Butler with a squeeze bunt in the fifth.  AJ Gartland struck out three over six innings for the win. Porter finished 2-for-3 with three RBI. Butler was 1-for-2, with two runs scored and an RBI. Serve had a hit in two at bats with two runs scored. The sophomore also earned a save pitching a scoreless inning. Mason was 3-for-4 for Thomas. Devin Mulcahy finished 2-for-4. Thomas fell to 7-3.
Brockport 6 Brighton 4
Ashton Scott delivered a two-out, two-run double in the third inning, and Brockport held on to beat Brighton for the second straight game. READ MORE.
Fairport 6 Victor 0
Schuler struck out five, walked none and scattered five hits as Fairport improved to 7-2 with its third straight win. READ MORE.
Canandaigua 4 Sutherland 1
Sophomore Mike Sculli threw a complete game 1-hitter with four strikeouts, and Canandaigua improved to 7-3 on the season.  Hayden Roeder was 3-for-3 at the plate. Jordie Johnstone finished 2-for-3 with a double and an RBI, Cooper Crunick was 1-for-2 with an RBI.  Tanner Cooper added.  a double. Jack Bergin had the lone hit for Sutherland.
First @nysswa baseball poll is out, @cabravebaseball, ranked number seven in Class A, beats @SutherlandBSBL 4-1. https://t.co/UqG2fxLQIl pic.twitter.com/NWOfYHNLWL

— Tim Irving (@TimIrvingSports) April 27, 2017
Batavia 10 Greece Olympia 4
Mike Calderon struck out three, walked two and allowed three hits over four innings for Batavia. Hunter Mazur surrendered a hit and a walk over three innings. Chandler Baker paced the offense going 4-for-4 with two doubles, three runs scored and an RBI. Casey Radka finished 2-for-2 with an RBI and two runs scored. Jerry Reinhart drove in four going 2-for-2 with a double. Hunter Mazur was 2-for-4 with two RBI. Batavia improved to 5-1 (4-0 league) on the season.
Greece Arcadia 6 Spencerport 4
Joe Meath highlighted a three-run fourth inning with an RBI single, and Arcadia won despite being outhit 10-5. Kyle Blum earned his first varsity win, and the Titans improved to 5-2 on the season. Meath collected two RBI. Ray Mineo started for Arcadia and fanned two over 4.1 innings of work. Joshua Brase spotted Spencerport an early lead with a  two-run triple in the first.
Hilton 6 Penfield 5
Justin Devos capped a four-run sixth inning with a two-run single and Hilton held on to beat Penfield. Devos brought home Max Hendry and Gavin Moore as the Cadets sent nine to the plate in the decisive inning. Penfield left the bases loaded in the bottom of the seventh. Ryan Schmitt finished 1-for-3 with two RBI and a run scored for Hilton. John Cavallaro was 2-for-3 with a run scored. Josh Battaglia chipped in two hits in three at bats. Enfield's Paul Cullen finished 2-for-4 with a double, RBI and run scored. Logan Martella-Tasick collected a hit, two walks, two RBI and two runs scored. Hilton improved to 3-5. Penfield fell to 6-3. The loss snapped a five-game winning streak.
Greece Odyssey 6 HF-L 4
Jeff Wilson finished 3-for-4 with a home run, double and four runs scored to lead Greece Odyssey. Vince Alongi allowed four runs (three earned) on eight hits over a complete-game effort.
McQuaid 6 St. Joe's (VI) 5
Tyler Cyrus finished 2-for-3 with three RBI including a walk-off single as McQuaid improved to 7-4 on the season. Cyrus doubled home a run in the fifth and brought home another with an RBI ground out in a three-run third. Billy Kehrig finished 2-for-3 with a walk and a run scored.
Cyrus drives in the game winner in the bottom of the 7th! Knights win 6-5 pic.twitter.com/Oay2dgTImB

— McQuaid Baseball (@McQuaidBaseball) April 27, 2017
Aquinas 16 Bishop Kearney 2
Trey Brown led the Li'l Irish going 4-for-6 with two triples, three RBI and three runs scored.
Aquinas picked up its first win of the season today vs. Bishop Kearney. pic.twitter.com/l0NUUGyOOC

— Aquinas Baseball (@AQIrishBaseball) April 27, 2017
Gananda 3 Lyons 1
Sophomore Zach Ciprich pitched six innings for the win. He gave up five hits and struck out four. Austin Jacobs earned the save. Cody Hill went 2-for-3 with an RBI. Kyle Evans pitched all seven innings for Lyons giving up four hits and striking out seven.