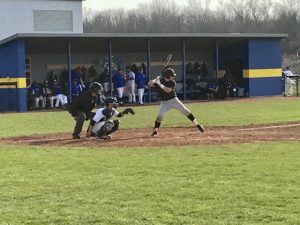 By PAUL GOTHAM
BATAVIA, N.Y. — Matt Wagner snapped a 10-10 tie with an RBI single in the eighth, and the Monroe Community College Tribunes continued their dominance of Genesee Community College with a doubleheader sweep (14-2/11-10) on Saturday.
Wagner fouled off a pair of two-strike pitches before lifting an opposite field base hit that touched just inside the left field foul line.
"I was in the zone just wanted to barrel it up," Wagner said. "Choked up on the bat, got really wide and punched it to left field."
Wagner plated Frankie Pizzo to put the finishing touches on a three-run comeback as the Tribunes downed GCC for the 15th straight time.
"It was a fastball high and away," Wagner explained. "There were a few high ones I wanted to get after. I jumped on them and fouled them back."
Pizza started the stanza with a base on balls and moved to second on a passed ball. Nick Ficarella followed with a fly ball to right field, and Pizzo advanced another 90 feet setting up Wagner's game winner.
Ficarella's contribution to the winning run capped a day which saw the sophomore catcher finish 4-for-6 with two walks, fours runs scored and five RBI. Sidelined earlier in the season with a sprained medial collateral ligament, Ficarella connected on a pair of home runs in the game one romp.
"I was just trying to stay short through the ball. Really wanted keep it simple and put good swings on the ball."
After missing nearly a month for rehab, Ficarrella returned to the lineup on Thursday against Ithaca College JV.
"It's good to get back in the lineup. It feels good. I told myself I was ready to go."
Trailing 10-7 going into their final at bat, Ficarella led with a base hit to center. One out later, Ryan Brown singled up the middle. Bubba Boutelle reached on a fielder's choice. Ficarella scored on the play and Boutelle advanced when the throw to first was wide of the bag. Alex Canty also reached on a throwing error, and Johnny Ricotta walked. Nick Rubino forced extra innings with a single to left field.
Canty gave Monroe a 9-7 lead in the fourth inning of the nightcap with a three-run shot over the scoreboard in left center.
But three Tribune errors in the home half of the frame led to three runs, and the Cougars added a run in the sixth to grab 10-7 advantage.
Damian Clarke improved to 3-0 on the season. The left-hander struck out five over four innings of work.
Ricotta got MCC on the board with a two-run home run in the first inning of game one. The round tripper was the 10th of the season for the Tribune first baseman.
Ficarella added a two-run shot in the shot in the second, and his three-run dinger highlighted a seven-run fifth as the Tribunes put the game out of reach at 11-2.
Canty, Rubino and Ricky Sisto added RBI hits in the sixth.
Canty went 4-of-8 with six runs scored on the day.
Ricotta was 4-of-7 with two walks.
Rubino had four hits in nine at bats with three RBI and a run scored.
Sisto was 2-of-4 with a pair of doubles in game one with three runs scored.
Boutelle was 3-of-8 with a triple, three runs scored and four RBI.
Brown collected three hits and sacrifice in game two to go with a run scored and an RBI.
MCC last lost to Genesee CC on May 2nd of 2014.
Monroe improved to 14-16 on the season.
The Tribunes travel to West Windsor, New Jersey to play Mercer County Community College (31-10/6-2) on Tuesday and Wednesday. The Vikings finished 51-10 a year ago and ranked No. 2 in the final national poll.