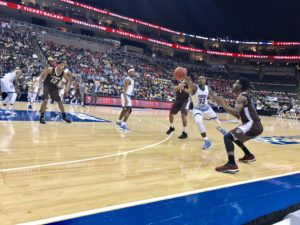 By PAUL GOTHAM
PITTSBURGH, PA — E.C. Matthews sparked a decisive 11-2 run early in the second half, and the Rhode Island Rams went on to defeat the St. Bonaventure Bonnies, 74-63 in the quarter-finals of the Atlantic 10 tournament at PPG Paints Arena, Friday.
Facing their only deficit of the day early in the second half, Matthews nailed a pull-up three from the right wing to give Rhode Island a lead it did not surrender.
"We've been through a lot this whole season," Matthews said. "So I mean, that comes out when a team makes runs or things go bad. We look at each other and we just know we've been there before. We just relax and we believe in each other and trust each other."
The junior guard finished the day with a team-high 20 points on 5-of-11 shooting.
"We emphasized making winning plays and we made more winning plays than them," he added. "We got the results we wanted. It's the same with any other team. We're not really focused on them. It's more about us and the mindset we have."
Teammate Hassan Martin fueled a Rams interior attack which outscored its counterparts 38-20 in the paint. Martin connected on eight of 10 shots on the day part of an overall effort which saw the Rams hit 19 of their first 28 attempts on the day inside the arc.
Martin netted eight of his 11 first-half points in the final eight minutes before heading into the locker room as the Rhode Island Rams took a 32-26 at the break.
"Just got focus really on catching the ball when they lob it and going up strong to the basket," Martin said. "They didn't have that much size, so when the guys lobbed it, I was just there to finish it."
Rhode Island's defense, which came into the game holding opponents under 41 percent from the field, limited Bona's Matt Mobley to eight points on 0-of-4 shooting from the floor and the Bonnies overall to 22 of 57 shooting from the floor.
URI also limited Jaylen Adams to four assists while forcing six turnovers out of the Bona point guard.
"Obviously we just wanted the ball out of Adam's hands as much as we could," Rhode Island head coach Dan Hurley said. "We were staying a long time on those ball screens, hedging them hard.
"Jared Terrell obviously didn't have a great offensive game today, but I mean, he held — I voted, you know — I had Matt Mobley as borderline first-teamer in this conference this year. The guy's been amazing. Jared, to hold him to no field goals in the game, that's a major, major effort. Our pregame goal was we felt if those guys didn't combine, we wanted to keep both guys under 30 combined, and we were able to do it."
Adams tallied five as Bona came out of the locker room and outscored URI 9-2 to take its only lead of the game at 35-34.
"We knew they were going to come out and surge a little bit because I think they felt fortunate to only be down six," Hurley said. "We're a resilient team. Dealt with a lot of stuff the whole year, dealt with the preseason expectations and then just dealt with a couple guys being down for extended periods of time. You know, so we're resilient and gritty. There was no panic. I was pretty comfortable that we would respond."
Adams led all scorers with 21 on 8-of-18 shooting. Denzel Gregg and Idris Taqqee scored 12 apiece.
"They are just more physical than us," St. Bonaventure head coach Mark Schmidt said. "They are men inside and we had young guys trying to battle, and they fought, but they were just out-matched. We need to do a better job offensively of scoring the ball a little bit better.
"But it was hard defensively. We go into the one-three-one and they just seal us, and when they get the ball in the middle of the zone, it was really difficult. But yeah, you just try to do the best you can, and our guys fought. But they were, at times, overmatched, physically."
Matthews missed all of last season with an injury. Martin has been in and out the lineup, and Jarvis Garrett missed timed with an illness.
"At Providence, Hassan, he tears his quad and you see how important he is to us," Hurley said of a non-league loss earlier in the season. "The guy's a monster. You know, if he was healthy, he would have had a chance to get Player of the Year in the league.
"So I think it's as simple as we just got healthier late in the year. After the Fordham game, we hit rock bottom. We had the devastating late loss to Dayton, and bottomed out against Fordham, and just decided at that point, these guys decided they wanted to bear down and have a chance to be great, late."
Rhode Island (22-9) has won six straight and moves on to play Davidson in Saturday's semi-final round.
St. Bonaventure fell to 20-12.