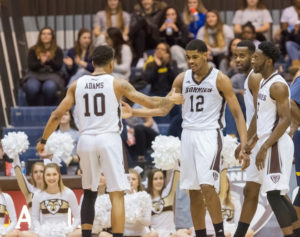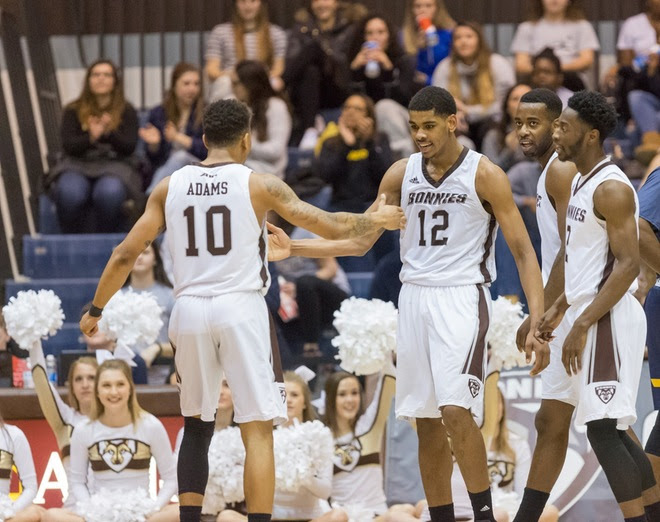 Courtesy of GoBonnies.com
A red-hot first half and Denzel Gregg's career high 28 points powered St. Bonaventure to an 83-65 win over La Salle on Wednesday night at the Reilly Center.
The Bonnies improved to 8-5 in the Atlantic 10, good for a three-way tie for fourth place with Rhode Island and George Mason with five games to play.
St. Bonaventure (16-9) came into the game tied with La Salle in the A-10 standings, but the Bonnies were in control from the start. The Bonnies led 51-30 after a first half in which they made 20 of 29 shots (69 percent) while limiting the Explorers to 8-25 shooting (32 percent). St. Bonaventure pushed the lead to as many as 29 early in the second half.
Gregg, a 6-7 senior forward, made his first five shots and finished the game 13-18. He also pulled down eight rebounds. All-Conference junior point guard Jaylen Adams scored 16 points and handed out 12 assists for his fourth double-double of the season, while his backcourt partner Matt Mobley scored 18 points.
How It Happened:
After La Salle led 4-2 at the start, the Bonnies never trailed again after three by Matt Mobley at the 17:11 mark.
The Bonnies led 28-25 but then seized control with a 12-0 run. Gregg scored seven of his 18 first-half pointed in that surge.
Jaylen Adams, who scored 14 first half points, powered the Bonnies to a 23-9 run to close out the first half.
Gregg took advantage of opportunities in the paint, scoring 18 points in the first half on 8-9 shooting.
The hot first half carried over after halftime, as they began the second half on a 13-5 run to give them their largest lead of the night at 64-35 at the 15:22 mark in the second half.
St. Bonaventure maintained at least a 20-point edge until the final minutes in cruising to its eighth A-10 win.
La Salle's 40 percent shooting was the second-best defensive field goal percentage for the Bonnies in an A-10 game this year, while St. Bonaventure's 54 percent shooting was its best in A-10 action.
Quotes from Head Coach Mark Schmidt:
"I thought this was the most complete game we've played all year at both ends of the court. I thought we defended really well. (La Salle) missed some shots, but I thought we had a lot to do with them missing some shots. I thought we were in good rhythm offensively and we finished the game … I was proud of the way that they played at both ends."
On Denzel Gregg's game: "When Denzel plays like he did tonight, we can beat anybody. He was aggressive, wasn't hesitant. You always want to have three guys who are playing well. When we get three guys playing way they played tonight, it's harder for guys to lock on to Jay and Matt."
On confidence heading into the final five games: "I think our guys are confident. One game is not going to make you more confident or less confident. I think they believe that they are good players and we have a good team … we know it's going to be difficult at Dayton. That's a hard place to play, but we're going to go in there and give it our best shot."
Beyond The Box Score:
The Bonnies' 83 points were their second-most in A-10 play this season behind 89 at UMass on Dec. 30.
St. Bonaventure is now 8-4 at the Reilly Center this season.
Gregg now has scored in double figures 16 times this season and has five games of 20+ points.
Gregg's prior career high was 24 against George Mason on Jan. 7.
Adams 12 assists are two shy of the school record that he shares.
St. Bonaventure was 11-11 at the free throw line, its first perfect game there this season. The Bonnies entered the day 19th nationally in free throw percentage (.765).
Up Next: St. Bonaventure will visit Dayton this Saturday afternoon for a 2 p.m. tipoff at UD Arena. It will be the second of the team's home-and-away series this year. The game will air nationwide on NBC Sports Network.