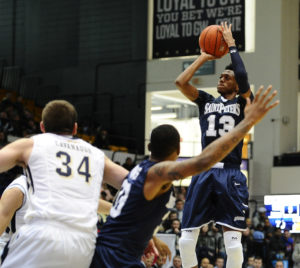 Courtesy of SaintPetersPeacocks.com
POUGHKEEPSIE, NY – Saint Peter's men's basketball shot a season-best, 65.0 percent from behind the arc and hit a season-high 13 three-pointers, in an 81-65 blowout win over Marist College on Thursday night on ESPN3. The Peacocks improve to 8-3 in Metro Atlantic Athletic Conference (MAAC) play, and 12-9 overall.
Antwon Portley (Lancaster, TX/Lancaster) scored a game and season-high 19 points, shooting 6-8 from the field, 3-3 from three-point range, and 4-4 from the charity stripe. Nick Griffin (Rockville, MD/Col. Zadok Magruder (George Washington)) added 14 points shooting 4-6 from long range and Trevis Wyche (Neptune, NJ/Saint Peter's Prep) scored 14 points, not missing a single shot on the evening, going 4-4 from the field, 2-2 from three, and 4-4 from the free throw line. The Peacocks had five players make two or more three-pointers in the win.
The Peacocks scored nine points on the first three possessions powered by back-to-back threes by Wyche and Griffin, taking an early 9-6 lead. With the game tied at 9-9, Marist went on an 11-4 run, hitting three three-pointers in the process taking a 20-13 lead. By the second media break, Marist was shooting over 80 percent from the field and from long range. After returning to action, the Peacocks put together a 7-0 run, sparked by Nnamdi Enechionyia (Springfield, VA/St. James School (Samford)) hitting a jumper and a three, and two Wyche free throws to knot the game up at 20-20. Portley's deep trifecta, gave the Peacocks their first lead since 11-9, at 25-24 with six minutes left in the half. The lead changed hands twice and tied once before the Peacocks closed out the half outscoring Marist 12-9, taking a 39-36 lead into the break. Portley scored 12 of his 19 points in the first half leading all scorers. Marist started the game hitting 5-6 threes but the Peacock defense settled in and forced Marist into missing their last six straight threes of the half.
The Peacocks began the half on a 9-5 run, led by Griffin's back-to-back threes, followed by an Enechionyia block that lead to him hitting a transition three on the other end, giving the Peacocks a 48-41 lead. The Peacocks used three point shooting to extend the lead to 56-48, hitting five threes within the first eight minutes of the second half. Cavon Baker (Queens, NY/New Hope Academy [Md.] (Houston)) and Portley each combined to score the next eight Peacock points (four points each) to give Saint Peter's their first double digit lead at 64-51 (8:52). The Peacocks continued their hot three-point shooting, adding a couple more threes to take a 73-54 lead with six minutes remaining in the game. After Marist put together a brief 5-0 run, the Peacocks closed out the game scoring six of the final nine points to close out Marist 81-65.
Baker finished his night with nine points, while Enechionyia chipped in with eight points hitting two three-pointers and Chazz Patterson (Browns Mills, NJ / Trenton Catholic) made two long range shots for six total points.
Marist was led in scoring by Khallid Hart who scored 13 points.
The Peacocks are back in action on Sunday, January 29 when the team heads to Iona for a 4p.m. tip on ESPN3. The Peacocks close out their 6 games in 12 days stretch with an impressive 5-1 record.