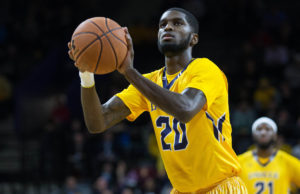 Five nationally-televised contests make up the weekend slate in Atlantic 10 men's basketball. Here's your rundown. 
By PAUL GOTHAM
Saturday:
Fordham (8-11/2-4) at UMass (12-7/2-4) 12:30 pm NBC Sports Network
Winners of two of three, Fordham creates a precarious matchup. This isn't exactly the same Rams team that finished 17-13 (8-10 in conference play) a year ago. There was reason, though, to think they could improve from there, and Jeff Neubauer's squad opened the season 5-1 before dropping nine of 10.  Fordham beat VCU in overtime last time out. Can they put two wins together? Bishop Kearney's Antwoine Anderson scores 11.3 per game while handing out 3.1 assists for the Rams. Rashaan Holloway scores 11.8 per contest for UMass while grabbing 6.1 rebounds.
Rhode Island (11-6/3-2) at Duquesne (9-10/2-4) 2:30 pm NBC Sports Network
Three of Duquesne's conference losses have been by a combined total of 16 points, and Jim Ferry's Dukes have played conference heavyweights Dayton, La Salle and VCU. Freshmen Mike Lewis II and Isiaha Mike combine to score more than 23 points per tilt. E.C. Matthews has averaged a touch under 20 points in Rhode Island's three A-10 victories.
Penn (6-8/0-3 Ivy League) at Saint Joseph's (8-9/2-4) 7 pm
The Hawks will look to snap a three-game skid when they step outside of conference play to take on Big 5 rival, Penn. Lamarr Kimble scores 14.2 per game while handing out 4.2 assists for Saint Joseph's.
Sunday:
George Mason (12-6/2-3) at Richmond (11-7/5-1) 1 pm American Sports Network
Richmond hopes to rebound after dropping their first game in A-10 play last time out when they fell on the road to Dayton, 75-59. The Spiders matched a season low connecting on just two three-pointers in the game. UR is 11-3 when hitting six or more triples in a game and 0-4 when connecting five or fewer times. T.J. Cline leads Richmond with 17.9 points, 7.7 rebounds and 5.2 assists per game. Marquise Moore averages a double-double for Mason with 18.1 points and 10.8 rebounds per game.
La Salle (11-5/5-1) at VCU (14-5/4-2) 2 pm NBC Sports Network
In an eye-opening reversal of roles VCU, losers of two straight, are the hunters and La Salle with its conference-best five-game win streak is the hunted. VCU rallied from 14 down to force overtime before falling to Fordham on Antwoine Anderson's buzzer beater. La Salle's only conference setback came on the road to A-10 favorite Dayton. B.J. Johnson scores 18.6 and grabs 5.9 rebounds per game for the Explorers. Justin Tillman leads VCU grabbing 7.5 caroms per game while tallying 11.4 points
Saint Louis (5-13/1-5) at Dayton (14-4/5-1) 2 pm CBS Sports Network
Senior starting guard Kyle Davis will be a game-time decision for Dayton. Davis missed last time out. Didn't matter. The Flyers ratcheted up the defense without their leader in a 75-59 win over Richmond. UD is 13-0 when shooting 40 percent or better from the floor this season and 1-4 when falling below that number. St. Louis opponents are 44.1 percent from the field. Dayton's Scoochie Smith hands out 3.8 assists while scoring 13.6 per game. Jermaine Bishop has missed the last nine game for SLU. Reggie Agbeko scores 9.7 while grabbing 7.9 rebounds for the Billikens.