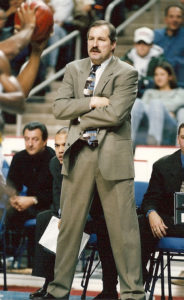 By PAUL GOTHAM
More than a decade had passed since he last addressed a crowd at the Reilly Center, but for Jim Baron it was like so many bounce passes he had delivered to former teammate, Essie Hollis.
With 5,012 on hand to honor the 1977 NIT Championship St. Bonaventure Bonnies, Baron, the team's co-captain and point guard, looked up into the stands and delivered from the heart.
"This is one of the greatest moments of all our lives," Baron said when speaking on behalf of the 1977 champions. "Being here at Bonaventure it feels really, really great."
The weekend dedicated to the team from 40 years ago was a chance for team members to rekindle friendships and celebrate the program's rich history.
"It was a tremendous weekend," Baron said by phone. "One that I'll never forget and will treasure for the rest of my life.
"It was a great, great time to share with my teammates and my coaches. To say thanks to the Franciscans, the teachers, the community and the student body. It was very, very special for me and my family."
For Baron, a kid from the Cooper projects in Brooklyn, it took on an added meaning. His collegiate playing career ended on his birthday winning a national championship in front of family and friends at Madison Square Garden.
"When I was younger, a priest took me to see St. Bonaventure at Madison Square Garden with Bob Lanier and Bill Kalbaugh," Baron recalled. "They won the Holiday Festival. I learned a lot of great lessons and started to form my life and my passions when I went there."
Baron averaged 3.9 assists per game to lead the 1976-77 Bonnies. They finished undefeated at home including wins over Villanova coached by Rollie Massimino, Virginia Tech and Syracuse in Jim Boeheim's first season at the helm. The Bonnies went on to beat Rutgers, Oregon and Villanova for the second time that season to advance to the title game.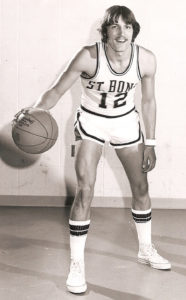 "People don't realize there were 32 teams in the NCAA Tournament and 16 in the NIT at that time," Baron said noting the difference in perception of the NIT between the mid 70s and currently. "It wasn't like what it is today with so many teams."
Then on March 20th Baron's 23rd birthday, Bona upended Houston, 94-91 on the Madison Square Garden floor.
"Little did I know what was going to happen," Baron said when thinking back to his experience. "It was just unbelievable. It was a magical time, magical experience especially for me coming from Brooklyn."
Upon leaving school, he moved to Rochester where he coached the high school boys team at Aquinas Institute. He played for the Rochester Zeniths. He moved on to an assistant coaching position with the University of Rochester and then to Notre Dame. His first head coaching gig came with Saint Francis (Pa.).
He returned to Bonaventure as head coach in 1992. He took over a program that had suffered six straight losing seasons. In 40 years from 1947-1986 the Bonnies amassed a record of 662-337. In the six seasons prior to his return, Bona was a combined 53-115.
"It was a time of rebuilding," Baron stated. "The program was in disarray. We built it back up. We didn't start from the beginning, but pretty close."
In his third season as coach, Bona hosted an NIT game against Southern Mississippi. Five years after that the Bonnies returned to the NCAA Tournament. In nine seasons, Baron's teams went 132-131.
Off the court, it was a time of growth for the campus. A weight room was built along with an academic center as well as the Hall of Fame room. The men's basketball team locker room was moved and completely refurbished.
"It was a rebuilding process in more ways than one. Rebuilding the student body and rebuilding the passion, the intensity and enthusiasm and excitement of the student athlete.
"Whether it was the infrastructure of the weight room or the academic center, the Hall of Fame room, the training facility. We did so many other things as far as fundraising just building it back up."
Baron eventually coached 11 years at Rhode Island before retiring last spring after four seasons with Canisius. At both schools he competed against his alma mater.
"I never really left," he said. "Coming back to Western New York being at Rochester, coaching at Aquinas, playing for the Rochester Zeniths. Coming back and being a part of Bonnies for not only coaching here but for 15 more I had always been back there. We had a mutual respect for one another."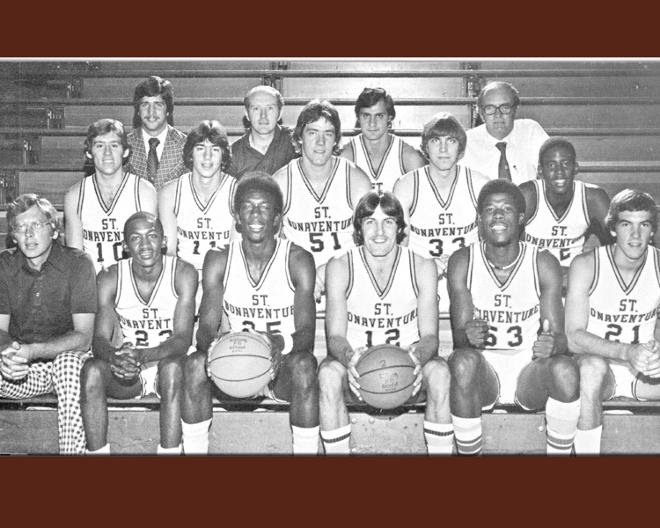 Raising to the Rafters
St. Bonaventure retired the jersey of Baron's teammate, Greg Sanders, the program's all-time leading scorer with 2,238 points. It was also an opportunity for Baron and Hollis to reenact a time from the past.
"When Essie and myself had our last game at the Reilly Center, they gave us gifts. I remember taking Essie's hand and raising it to the rafters, him and I that day. When we were named the Ideal Bonaventure Students, Essie was sitting in one place, and I was sitting in another for graduation. I remember going down the aisle, and he was coming out. I grabbed his hand, and I raised it to the rafters. That moment was really, really special."
Saturday night, the long-time friends raised their hands together again.
Make Mine A Sausage with Peppers and Onions
Upon his return for the weekend Baron made a point to get together for lunch with Fr. Dan Riley.
"The first person I saw when I went there was Father Dan Reilly. We had lunch up at Angees. There I looked on the menu, and they still had the Baron sandwich (Sausage with Peppers and Onions) on the menu. After all these years. The price went up a little bit, but they still had the Baron sandwich on it after all these years."

Video courtesy of St. Bonaventure Athletics.
Post-Game Handshake
When the current St. Bonaventure Bonnies finished off the University at Buffalo Bulls 90-84, they were congratulated at center court by members of the '76-'77 team. It wasn't his idea, but Baron played a part.
"We were up in the Hall of Fame room, and Coach Kalbaugh said when the Final Four team came back, they did that. I was listening to him, and I said 'wow, that is really something special.' I grabbed the guys They always listened to me no matter it was because we had such a bond. I said 'Es let's go. I said Greg let's go.'
"All the other players. They followed. (Glenn) Hagan was in the crowd. He saw me. I said 'let's go' and we just went right out into the middle of the floor. We just grabbed them and went out and said congratulations and keep it going. It was special. That's the kind of place it is. It's just relationship-building type of atmosphere."
Brothers In Arms
Former roommates, Baron and Hollis have remained close throughout the years.
"We've never departed. He's been a such a big part of my life. That's why I'm down south. I'm not too far from him and his wife and his family."
Jim Baron was inducted into the St. Bonaventure Athletics Hall of Fame in 2009 and into the New England Basketball Hall of Fame in 2013. His two sons, Jimmy Baron (Rhode Island '09) and Billy Baron (Canisius '14) play professionally overseas. Jimmy most recently played for Proximus Spirou Charleroi of Eurocup. Billy plays for UCAM Murica of Liga ACB.