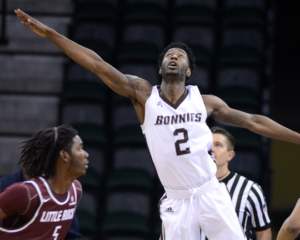 Courtesy of GoBonnies.com
A hot shooting second half propelled St. Bonaventure over Pepperdine, 89-63, on Wednesday in final game of the Lone Star Showcase. The Bonnies (3-2) finished the tournament with a 2-1 mark.
Matt Mobley scored 24 points and Jaylen Adams finished with 22 to lead St. Bonaventure. The pair combined to make nine of their 19 three-point shots. Mobley, a 6-3 shooting guard, also grabbed a career high 10 rebounds for his first double-double of the year. Adams handed out five assists and had two blocks and a steal.
Denzel Gregg also recorded a double-double with 10 points and 10 rebounds, while Idris Taqqee scored 10 points and Josh Ayeni and David Andoh added nine apiece.
The Bonnies led by just two points at halftime, 42-40, but in the second half St. Bonaventure took control with an 8-0 run to open a 61-48 advantage with 12:58 left. The Bonnies led by double digits the rest of the game.
If Central Michigan defeats Arkansas Little Rock in Wednesday's nightcap, St. Bonaventure will be crowned champion of the round-robin Showcase.
How It Happened:
For the second game in as many days, the Bonnies started well, jumping out to a 19-7 lead six minutes into the game. Matt Mobley made a pair of early three-pointers to help set the tone.
Pepperdine battled back with 10 straight points to pull within 19-17 by the 11:12 mark.
Waves leading scorer Lamond Murray made a trio of three-pointers before the midpoint of the half, the last of which made it a 25-22 score.
The game remained close the rest of the first half and St. Bonaventure led by just two, 42-40, at halftime.
It remained close early in the second half, as a Pepperdine three-pointer kept it a 50-47 Bona lead at the 15:50 mark.
St. Bonaventure took control with a 8-0 run to open a 61-48 advantage with 12:58 left. Jaylen Adams capped the run with an NBA-range three-pointer.
Energized by that surge, the Bonnies only pushed their lead the rest of the game. A three-point play by Josh Ayeni and a Denzel Gregg dunk gave St. Bonaventure a 79-59 lead with 4:31 left.
In the second half, the Bonnies went 6-11 from three-point range and made 17 of 32 shots (53 percent) overall as they found holes in the Pepperdine zone defense.
Active on defense, the Bonnies limited the Waves to 38 percent shooting including 8-25 (32 percent) in the second half. Chinonso Obokoh had his best game with two points, three rebounds and three blocked shots.
Beyond The Boxscore:
Matt Mobley has scored 20 points or more in four of the five games this season. He is averaging 23.2 points per game.
Adams was a steady hand at the point against the Pepperdine zone, as he had just one turnover with five assists. St. Bonaventure committed only eight turnovers. In two tournament wins, he had 14 assists and one turnover.
The Bonnies have scored 89 points or more three times already this season; in the two wins in the Showcase they totaled 191 points.
Tareq Coburn scored his first collegiate points on a three-pointer late in the game.
Up Next: The Bonnies will return home Thanksgiving day and after a weekend off will host Siena on Nov. 30 at the Reilly Center.