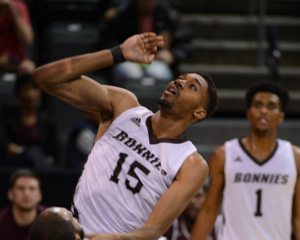 St. Bonaventure climbed out of a 17-point first half hole but was unable to finish the job, falling 68-65 to Arkansas Little Rock on Monday in the first round of the Lone Star Showcase.
The Bonnies overcame a foul-plagued first half with a 15-3 run to open the second half, taking a 43-41 lead midway through the second.
The game remained close from there. Denzel Gregg's dunk off a lob pass from Jaylen Adams made it a 62-60 St. Bonaventure lead with 2:55 left, but Little Rock regained the lead for good on a step-back, off-balance three-pointer by Kemy Osse with 1:56 remaining that made it a 64-62 score.
With 52 seconds left, Matt Mobley cut the Trojans' lead to 66-65, but after Lis Soshi missed a jumper for Little Rock, Osse grabbed the offensive rebound and gained the Trojans another possession. Jalen Jackson was fouled and he made two free throws with 21 seconds to play.
Adams got off a contested, last-second three-pointer that was off the mark.
The loss dropped the Bonnies to 1-2 while ALR, which won the Sun Belt title and went to the NCAA Tournament last season, is now 3-1.
The Bonnies were undone in part by fouls and turnovers. They were whistled for 26 personal fouls, committed 17 turnovers and went 3-16 from three-point range.
Adams led St. Bonaventure with 18 points while Mobley added 15. Sophomore LaDarien Griffin scored a career high 11 points off the bench. Mobley added eight rebounds and four assists.
How It Happened:
In a foul-plagued first half, St. Bonaventure fell behind by as many as 17 points, trailing the Trojans 35-18 with 4:00 left in the opening stanza.
The Bonnies were called for 14 fouls in the first half and Little Rock went 12-16 at the free throw line.
LaDarian Griffin helped pull St. Bonaventure out of its hole, scoring nine straight points for Bona to make it a 38-25 game with 1:20 left until the break. He had scored exactly nine points in his career prior to Monday.
Little Rock led 38-24 but a Griffin free throw and a three-pointer by Jaylen Adams made it a 38-28 game at halftime.
The Bonnies opened the second half determined, using a 15-3 run to regain the lead at 43-41 on a layup by Adams following a steal. Matt Mobley scored nine points in that surge.
Despite making 52 percent of its shots in the second half, St. Bonaventure could not pull away. In fact, ALR battled back and took a 58-53 lead with 5:52 to play.
The Trojans led 60-54 when the Bonnies scored eight unanswered, including six in a row by Denzel Gregg, to grab a 62-60 edge with 2:55 left.
Osse's mentioned three-pointer at the 1:34 mark gave Little Rock a 64-63 lead the Trojans would not relinquish.
Beyond The Boxscore:
There were six ties and 14 lead changes in the game.
Entering Monday, LaDarien Griffin had scored nine points in his career. Griffin's previous career high in points was four against Canisius last season.
Up Next: The Bonnies will face Central Michigan on Tuesday at 6 p.m. ET in the second game of the Lone Star Showcase. CMU faced Pepperdine in Monday's second game.