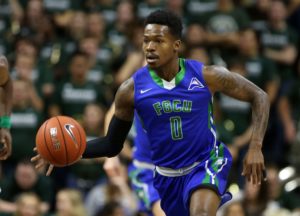 Courtesy of FGCUAthletics.com
LAKE POINT, Ga. – Following three games in which he led, or tied, FGCU in scoring, Brandon Goodwin has been named the ASUN Men's Basketball Newcomer of the Week for the first time, league officials announced on Monday.
Goodwin, a transfer from UCF, averaged 21.3 points, 3.7 rebounds and 3 assists over the Eagles' three games, in addition to shooting 53.5 percent from the floor as a guard.
The Norcross, Ga., native began his week with 24 points against UT Arlington on Wednesday in which the Eagles overcame a 13-point halftime deficit to win, 85-72. The redshirt junior tallied 16 of his points in the 2nd half as FGCU – then-ranked #23 in the CollegeInsider.com Mid Major Top 25 – dispatched of UTA, ranked #5 in the poll.
Goodwin reached the 20-point mark for the second-straight outing with a game-high 22 on Friday at Baylor as the Eagles were locked in a one-possession battle with the Bears with less than 2 minutes remaining before falling just short, 81-72. The Norcross High School product issued three assists and grabbed three rebounds, in addition to going 5-5 from the free throw line for the second-consecutive contest. Earlier in the week, Baylor destroyed then-#4 and Final Four favorite Oregon by 17 points.
The week for Goodwin concluded with FGCU's third game in six days in three different states as the Eagles nearly took down then-#13 Michigan State in East Lansing, but controversially finished on the wrong end of a 78-77 score after a timing error by one of the referees in the closing seconds. Goodwin finished with 18 points, four assists and four rebounds. He was responsible for each of FGCU's final five made field goals to end the 1st half, and 11 of its 14 points overall, as the Green and Blue importantly finished the stanza on a 9-2 run to pull within two at the break and put themselves in position for the upset.
FGCU is now 1-3 on the year, but have statistically played the 11th-hardest schedule in the nation. The Eagles opened the year with four-straight opponents which claimed at least 20 victories last season and played in the postseason.
Goodwin and the Eagles are back in action on Wednesday at Alico Arena when they host Binghamton (2-2) at 7 p.m. The Green and Blue remain at home to take on Long Beach State (1-4 with losses at Wichita State, North Carolina, Louisville and UCLA) on Friday at 8 p.m.