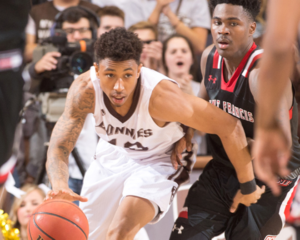 Courtesy of GoBonnies.com
St. Bonaventure opened the season with a flourish on Saturday at the Reilly Center, topping Saint Francis (Pa.) 92-82 behind three 20-point scorers.
Jaylen Adams and Denzel Gregg both scored 23 points and Matt Mobley added 21 in his St. Bonaventure debut.
The Bonnies led by as many as 18 points midway through the second half but the Red Flash came back within three at 69-66 with 6:42 remaining. Mobley helped St. Bonaventure hold off the visitors as he scored eight points in a 55-second span that pushed the lead back to 81-71.
Gregg's 23 points were a career high, and junior guard Idris Taqqee grabbed a career high 12 rebounds to go with five points. Freshman forward Josh Ayeni was impressive with 10 points, three rebounds and three steals.
How It Happened:
St. Francis came out of the gate firing and took an early 11-7 lead behind two three-pointers from Georgios Angelou and five points from Jamaal King.
St. Bonaventure responded with two Denzel Gregg layups and a three-pointer and a three-point play from Jaylen Adams.
It was a 16-10 Red Flash lead when St. Bonaventure went on an 11-2 run to take a 20-19 lead with 11:56 left in the first half. Adams had five points during the stretch, Gregg contributed an emphatic dunk, and freshman Josh Ayeni scored four points.
The game stayed close, and the Bonnies led 39-36 with 3:31 left before Gregg drained a three-pointer that sparked a 12-3 run.
Gregg got hot late in the first half, scoring 11 points during the latter part of the half, capped by a last second jumper that gave the Bonnies a 51-39 lead heading into halftime.
St. Bonaventure expanded its lead as large as 18 points at 65-47 by the 12:33 mark of the second half.
The lead remained in double figures until St. Francis' Angelou made a three-pointer to make it a 69-60 game with 9:05 left.
Around that point, Adams left the game due to cramps which affected him the rest of the game.
The Red Flash pulled within three at 69-66 with 6:42 remaining.
It was a 71-68 game when Adams returned and drove down the lane for a score. After St. Francis' Keith Braxton missed a free throw, Mobley followed with a three-pointer to push the Bonnies' lead up to 76-68.
At the 4:35 mark, Mobley made another three-pointer to make it a 10-point edge at 81-71, and the Red Flash could not threaten the rest of the way.
Chinonso Obokoh, the graduate transfer from Syracuse, started the game but picked up two early fouls. He finished with two points, three rebounds and a block in 13 minutes, all in the second half.
David Andoh was solid in his debut with five points and three boards in 12 minutes.
Sophomore LaDarien Griffin saw 10 minutes of action; his three points included a fastbreak dunk off a steal.
Quotes From Coach Mark Schmidt
"From an offensive stand point, I thought we played relatively well. We just need to work on some things defensively. We didn't do a good job with keeping their guards out of the paint. That's where your whole defense breaks down."
On Matt Mobley: "Matt's three-pointers down the stretch were huge. We needed those shots … they gave us the momentum."
"Denzel (Gregg) played extremely well in the first half. We gained a lot of momentum toward the end when he hit those shots."
Beyond The Boxscore:
Gregg's previous career high in scoring was 22 against Rhode Island last season.
Freshmen Amadi Ikpeze and Tareq Coburn both played but did not score.
Prior to the game, St. Bonaventure unveiled a banner commemorating its 2015-16 Atlantic 10 Conference regular season championship.
The attendance was 4,322.
Up Next: The Bonnies will play Florida on Thursday, Nov. 17, at the Lakeland Center in Lakeland, Fla.