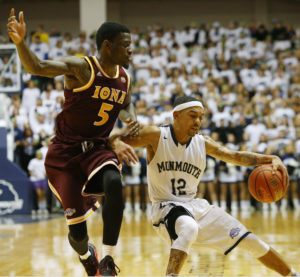 Originally published in USA Today Sports Weekly's College Basketball Season Preview issue.
By RYAN McDONOUGH­­
Monmouth returns most of their roster from the 2015-16 season in which they earned the MAAC Regular Season Championship and went on to earn a top seed in the NIT. Reigning player of the year Justin Robinson (20.2 ppg) leads this established core group of players. Among three other returning starters, Robinson is supported by third team All-MAAC selection Micah Seaborn (13.0 ppg).
One of the deeper teams in the MAAC is Siena. First team All-Conference Brett Bisping (15.8 ppg, 10.4 apg) leads the way, along with Marquis Wright (14.5 ppg).
Iona faces a tall task as they look to replace all-time program great A.J. English. In doing so, they will look to Schadrac Casimir (14.5 ppg) and eligible transfers Jon Severe and Sam Cassell Jr. to carry the load.
Fairfield went to the MAAC Tournament semifinals. They lose their top scorer in Marcus Gilbert, but returners like Tyler Nelson (16.0 ppg) will look to carry them this year. Manhattan has won two of the last three MAAC Championships. The Jaspers lost a bit of last year's scoring to graduation, but Steve Masiello always gets everything out of his teams.
Rider's three seniors will look to mesh with six new freshmen as nine out of 11 non-conference games are on the road for an early test. Saint Peter's tied for fourth in 2015-16 after being picked ninth in the preseason poll. They are poised to repeat as a sleeper if transfers can make up the lost scoring.
With three freshmen, Niagara will rely on Matt Scott (15.4 ppg). In similar fashion, the young Quinnipiac will rely on Daniel Harris (10.2 ppg).
Up-and-coming Marist looks to avenge a last-place finish in the conference last year behind five returning sophomores and Khallid Hart (20.3 ppg). Canisius has a new head coach in Reggie Witherspoon, who will rely heavily on his returners with seven newcomers.
Projected Order of Finish

Team                          2015-16 Record
Monmouth                 28-8 (17-3)
Siena                           21-13 (13-7)
Iona                            22-11 (16-4)
Fairfield                      19-14 (12-8)
Saint Peter's              14-16 (12-8)
Manhattan                 13-18 (9-11)
Rider                           13-20 (8-12)
Marist                         7-23 (4-16)
Quinnipiac                 9-21 (6-14)
Niagara                       7-25 (5-15)
Canisius                      14-19 (8-12)
All-Conference Team
Justin Robinson G  5-8, 175 Sr., Monmouth
Brett Bisping F  6-8, 234 R-Sr., Siena
Khallid Hart   G 6-2, 180 Sr., Marist
Matt Scott  G 6-4, 170 Jr., Niagara
Tyler Nelson  G  6-3, 170 Jr., Fairfield
Player of the Year
Justin Robinson, Sr. G Monmouth
Rookie of the Year
Sammy Friday, F Siena
Don't-Miss Games:
Canisius at Niagara
Jan. 23- This is the first of two times the cross-town rivals square off. Canisius and Niagara fans always circle the matchups on the calendar and pack their respective arenas.
Monmouth at Iona
Jan. 6- Iona emerges as a top contender to give Monmouth a run for the MAAC championship, so when the Hawks come to town, the Iona fans will be out in full force.