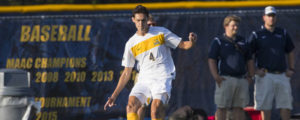 Courtesy of GoGriffs.com
The Canisius men's soccer team played to a 1-1 double overtime draw in its first MAAC game of the season Saturday evening against Rider.
The teams would go scoreless in the first half of play with Canisius recording four shots on net to Rider's two.
In the second half of play, the Griffs took a 1-0 lead over the defending MAAC Champion Broncs at the 61:41 mark. The goal was scored on a header from sophomore defender Alex Grattarola off a corner kick from teammate Francesco Strangio. Rider would return the favor with senior back Rob Nardiello scoring on a rebound off of his own header at 67:53.
In overtime, the pace of the game slowed as both teams had few scoring opportunities. The Griffs would end overtime with three shots on goal, while the Broncs were held without a shot.
The draw was the first for both teams this season, with the Golden Griffins now holding a record of 4-4-1, going 0-0-1 in MAAC play.
COACH MCGRANE THOUGHTS:
"I am really pleased with how our team performed tonight against the reigning MAAC champions. It was a very even game, with both sides having some quality chances to score and I think a tie is a fair result in the end. This could turn out to be a very important point that we just won tonight as we enter the MAAC season."
GAME NOTES:
• With their result on Saturday, the Griffs and Broncs played to their first ever tie, as the Blue and Gold is now 10-11-1 against Rider.
• With the tie tonight, the Blue and Gold are now unbeaten against the Broncs in three-straight contests, winning the last two matches in 2014 and 2015.
• Canisius is also unbeaten in its last six MAAC regular season contests, after reeling off five-straight to end the regular season last year.
• Dating back to last season, the Canisius defense has held its opponents to two-or-fewer goals in 18 consecutive outings.
NEXT UP:
Canisius will next head on the road for a conference matchup as the squad takes on Manhattan on Oct. 1 in Riverdale, N.Y. The match is slated for 7 p.m.