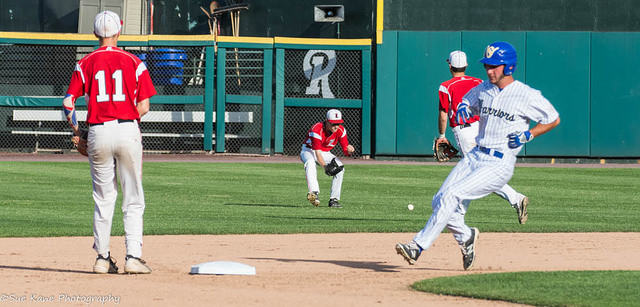 By PAUL GOTHAM
ROCHESTER — Nick Lawlor hurled a complete game, and the Webster Schroeder Warriors defeated the Lancaster Legends (VI), 3-1 in the NYS Class AA Far West Regional at Frontier Field, Saturday evening.
Lawlor limited the Legends to just three hits on the night. The senior right-hander struck out two and walked two to send his school to the state's final four for the first time in program history.
"He doesn't get nervous in games like this," Schroeder coach Matt Knight said.  "He stays the same and in the middle no matter what the game is. He's what you want your pitchers to be."
Lawlor retired the first ten batters to come to the plate. He proved his mettle after that stranding at least one runner in each of the last four innings.
"He's a different kid," Knight added. "He does not get caught up in where you're playing or the drama of it being just such a big game here. Nick just goes out and pitches."
Schroeder used a fourth-inning rally to get all the runs it needed. Steve Smith singled through the middle. Shane Marshall walked, and one out-later Phil Ferranti worked a free pass to load the bases.
Lawlor delivered at the plate with an RBI infield hit. Zach Jenkins followed with an RBI double to left field. Marshall scored easily on the play, but Ferranti was thrown out at the plate as the result of what appeared to be obstruction by the Legends third baseman, Max Girodani. As Ferranti rounded the bag, Giordano was standing in the cut out in foul territory and created contact on the play.
VIEW MORE SUE KANE PHOTOS HERE.
"It's a crazy game and things happen like that in every game," Knight noted. "It's a team that makes one or two great plays, gets the clutch hits and stays in it mentally they win.
"It's a smart play. Usually you stand on the inside of the bag, but he stood on that cut out so you had to go way around him."
Schroeder took advantage of a wild pitch to push across another run in the inning for a 3-0 lead.
Jenkins finished with two hits in the game.
"You got to love a kid like that," Knight noted. "Zach probably played maybe six innings last year, but he worked harder than anybody else. He's come so far this season. He's comes so far just over the summer."
Lancaster threatened in the fifth. A pair of errors put runners on second and third with one out. Collin Reformat followed with a drive that Schroeder's Steve Smith tracked down in deep left field.
"I gotta to get on my horse," Smith said when he saw the ball of the bat. "I just turned and ran. Right when I looked up the ball was right there in my glove. If I didn't catch that it probably would have been a huge momentum shift for them."
Giordano scampered home with a run on the sacrifice fly,  but Lawlor ended the inning getting a ground ball from the next batter.
"That's a great play," Knight said of Smith's catch. "I thought he needed to turn around a little bit earlier. He caught that ball in a difficult way, but he made the play. It was a great play."
Lancaster's Ben Monti walked to lead the sixth, and LG Castillo followed with a single. A fly ball put runners on the corners with two outs, but Schroeder catcher Sean O'Neill ended the threat when he threw out Castillo trying to steal second.
"I know he is a threat to run," O'Neill said.  "We were expecting him to go. It feels good to throw someone out."
Schroeder will move on to play Ketcham (IV) next Saturday at Binghamton University. A 1 p.m. first pitch is scheduled. This marks the Warriors first trip to the state tournament in program history.
"Winning sectionals as a senior is special," O'Neill said. "Going to states is something different."