Class A1 gets going with a pair of games on Tuesday. Quarter-finals follow on Thursday. Top seed Greece Arcadia last won a sectional title in 2008. Here's a glance at the field:
No. 1 seed GREECE ARCADIA (18-2)
Players to watch: Dan Freese, Brian Rivera, Alex Rodriguez and Joe Skibinski.
Trends: The Titans won their second straight Monroe County Division IV title.
No. 2 seed BROCKPORT (14-6)
Players to watch: Shaye Bartnick (.394/.488 OBP/.636 SLG) and Mitch Henshaw (.462/.583 OBP/.738 SLG).
Trends: Brockport has scored 10 or more runs eight times this season, but haven't reached double digits in their last seven contests.
No. 3 seed PITTSFORD SUTHERLAND (13-7)
Players to watch: Nate Richardson (.323/23 R/20 SB), Michael Ryan (.472 (25 for 53)/9 2B), Alec Vaules (.377/19 RBI/1.58 ERA) and Jack Zielinski (0.91 ERA). Vaules and Zielinski combined for 7W/9 CG/3 shutouts/91 K/86 IP/2 saves.
Trends: Knights played nine one-run games this season.
No. 4 seed PITTSFORD MENDON (13-7)
Players to watch: George Gines (.418/11 RBI/ 25 R), Jared Petrichick (.318/7 2B/24 RBI/ 16R), Max Troiani (.552/22 RBI/29 R/.563 OBP) and Sam Cestra (5-3/3.00 ERA/19 K).
Trends: Vikings have won 10 straight.
No. 5 seed CANANDAIGUA (11-9)
Players to watch: Cody Cooper (.439/23 RBI/22 R/4 2B/1 3B/4 HR) and Tanner Cooper (.333/18 RBI/17 R/7 2B/2 HR/4 W/51 IP/64 K/1.23 ERA).
Trends: Braves have won three of their last five.
No. 6 seed FRANKLIN (10-9)
Players to watch: Juan Acevedo (.309/13 RBI/23 R/3.1/1.58 ERA), Michael Lopez (5-4/1.82 ERA/ 92 K/73 IP) and Frankie Santiago (.500/30 RBI/30 R/9 2B).
Trends: Quakers have won three straight.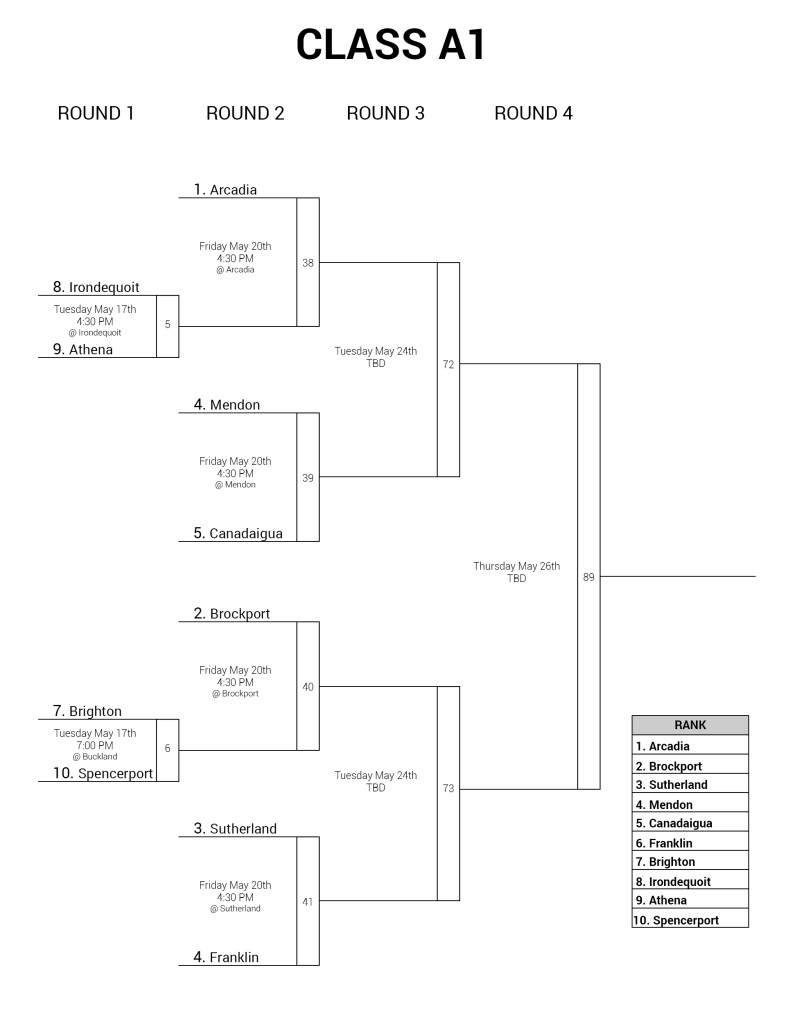 No. 7 seed BRIGHTON (11-9)
Players to watch: Tim Brown (.361 (22-61)/6 2B/5 RBI/16 R) and Isaac Nelson (.362 (21-58)/1 2B/16 RBI/16 R).
Trends: Barons carry a pair of late-inning losses as they head into the tournament.
No. 8 seed IRONDEQUOIT (10-10)
Players to watch: Matt Brennan (.288/11 RBI/11 R), AJ Gartland (4 W/1.50 ERA/45 K), Chad Gartland (2 W/0.95 ERA), Sean Mannion (.283/20 R), Jason Tisa (3 W/2.51 ERA/ 31 K/.328/10 RBI/12 R).
Trends: Irondequoit won two of its last three games.
No. 9 seed GREECE ATHENA (9-11)
Players to watch: Justin Bunting (.412/4 2B/12 RBI/ .513 OBP) and Trevor Layne (.394/5 2B/16 RBI/.519 OBP).
Trends: All teams are 0-0 at this point. Trojans like their chances.
No. 10 seed SPENCERPORT (4-16)
Players to watch: Nick Bellone, Josh Cuzzupoli (.324), Steve Dent, Aidan Eldridge, Don Eldridge and Josh Gillette (.455).
Trends: Spencerport might be a team that can sneak up on other teams in the tournament. Despite their record, the Rangers played in many one to two-run games in the second half of the season.